Hard Work, A Love Story & Family Tradition: A Brief History Of Lo Duca Pizza
Giuseppe and Vincenza Lo Duca raised six sons on Newkirk Plaza.
Lo Duca Pizza, the shop the boys grew up learning how to operate, opened at 5 Newkirk Plaza (now home to Don Burrito) 1989 before moving to its current spot across the way in 1996. According to family lore, Giuseppe immediately knew Newkirk Plaza was perfect–the high volume of foot traffic would contribute to a successful pizzeria.
Giuseppe and Vincenza were sweethearts in Carini, Sicily. Though dear to the couple, Carina held little financial opportunity–so Giuseppe immigrated to New Jersey in 1979 looking for a better life, and Vincenza moved separately to Brooklyn in 1980.
Giuseppe grew tired of his distance from Vincenza, solving the problem by marrying his darling  in 1984. The Lo Ducas then moved to Marine Park, where they've been ever since. By the time they opened their first pizzeria, they had two sons–and today, a photo of Carina hangs in the front of their shop.
The Lo Duca brothers had the run of Newkirk Plaza from the start, but it wasn't all fun and games–they were expected to work, too.
"We were boys," Salvatore Lo Duca, Giuseppe and Vincenza's second child and current manager of the shop, laughs. "To keep us out of trouble, our parents put us to work.
"I know everyone here," he says. "I've always been here." As if on cue, a customer walks in and greets him by name.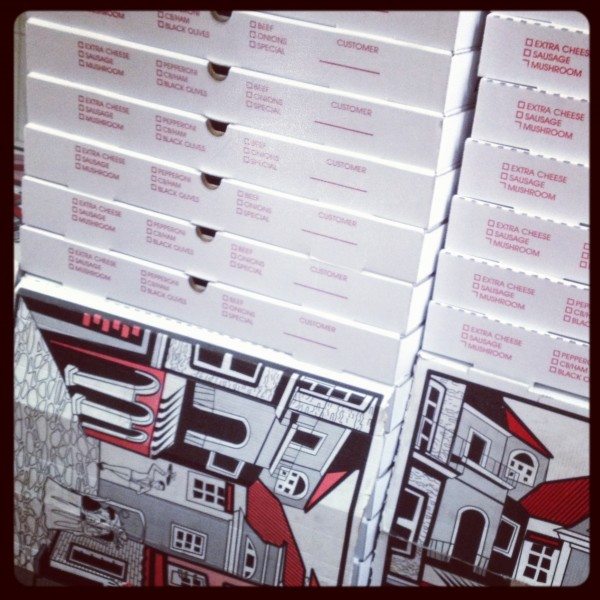 The strategy seems to have worked, as each of the sons has carried on their parents' tradition in the modern Lo Duca pizzerias. Salvatore and his brother Daniel run the Newkirk Plaza shop, while siblings Vito and Alessandro opened a location in Somerset, NJ in 2010.
The family routine even trickles down to the youngest brothers, middle schoolers Francesco and Matteo, who are put to work building pizza boxes when they stop by.
Lo Duca's most popular pizza is, of course, plain cheese. Pepperoni is the close runner-up. The most popular non-pizza item is the chicken Parmesan hero. But Salvatore knows pizza, and if a customer is looking for creative toppings, he is up for the challenge. Right before our interview, a customer orders a calamari, shrimp, and pesto pie. Effortlessly, Salvatore whips up a shrimp pizza with a brandy cream sauce.
But the question most neighbors want to know is, why doesn't Lo Duca deliver?
Salvatore chuckles like he's heard this question before. "Well," he explains, "my dad is content with what he has. He doesn't want to be reaching out for more than he needs."
And just as Giuseppe has found a routine in which he's comfortable, Lo Duca's most loyal fans have adjusted their routines to accommodate the restaurant's no-delivery policy–including one family who calls Lo Duca every Friday night. All it takes is a call on the way home from work, popping off the train, and picking up their pie before heading to Glenwood to begin their own tradition around the table.
Lo Duca is located at 14 Newkirk Plaza, 718-859-1501. Open Monday-Saturday, 11:30am-10pm; closed Sundays.