Hans S. Christian Memorial Kindergarten Building Is Back On The Market For $4.95M
CARROLL GARDENS – 236 President Street is back on the market following the NYC Landmarks Preservation Commission's (LPC) decision to calendar the building in response to pleas from the community to save it from demolition.
Back in March, Council Member Brad Lander and Assembly Member Jo Anne Simon were joined by Carroll Gardens residents and community groups at a press conference to call on the LPC to grant 236 President Street, and a neighboring co-op building at 238 President, individual landmark status.
The developer, AVO Construction, was in the process of closing on a deal to purchase 236 President Street and planned to demolish the building to make way for a six-story luxury condo.
The two-story French Renaissance Revival-style building was designed by architects Hough & Deuell in 1897 to serve as the first public kindergarten in Brooklyn—the Hans S. Christian Memorial Kindergarten. It was later the home of the First Methodist Episcopal congregation—the first Spanish-speaking parish in the borough that was founded by Joan Baez's grandfather. The folk singer/activist even penned an impassioned letter to the LPC in support of saving the two buildings.
Earlier this month, the LPC agreed to "calendar" both 236 and 238 President Street and consider each for landmark designation. Once the LPC calendars a building, a public hearing follows, then the LPC Commissioners cast a final vote, according to 6sqft. While this process may be lengthy, 236 President is protected in the meantime and cannot be demolished.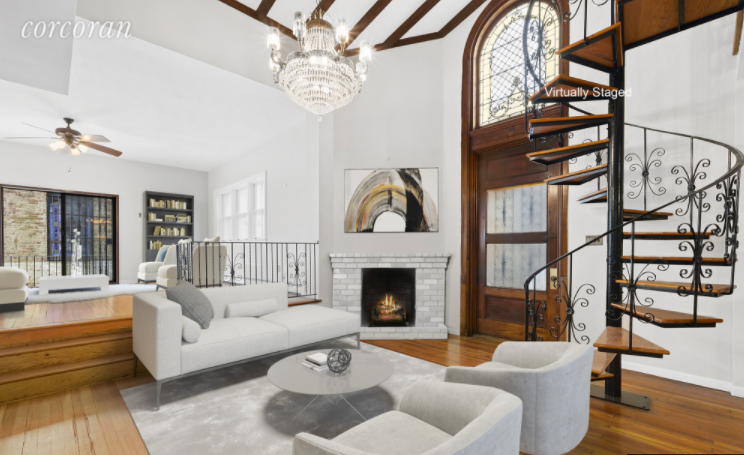 Corcoran is currently listing 236 President Street for $4.95 million, 6sqft reported. The structure is currently split into two units across approximately 3,485 square feet. The building features six bedrooms, four bathrooms, a front and rear yard, a private attached garage, and a 1,353-square foot basement, according to the listing. It also boasts high ceilings, stained glass windows, original beams, and lots of architectural details throughout.
Check out the listing and more "virtually staged" images at corcoran.com.