Congressman Hakeem Jeffries & Mathylde Frontus Honored For Efforts To Revitalize Coney Island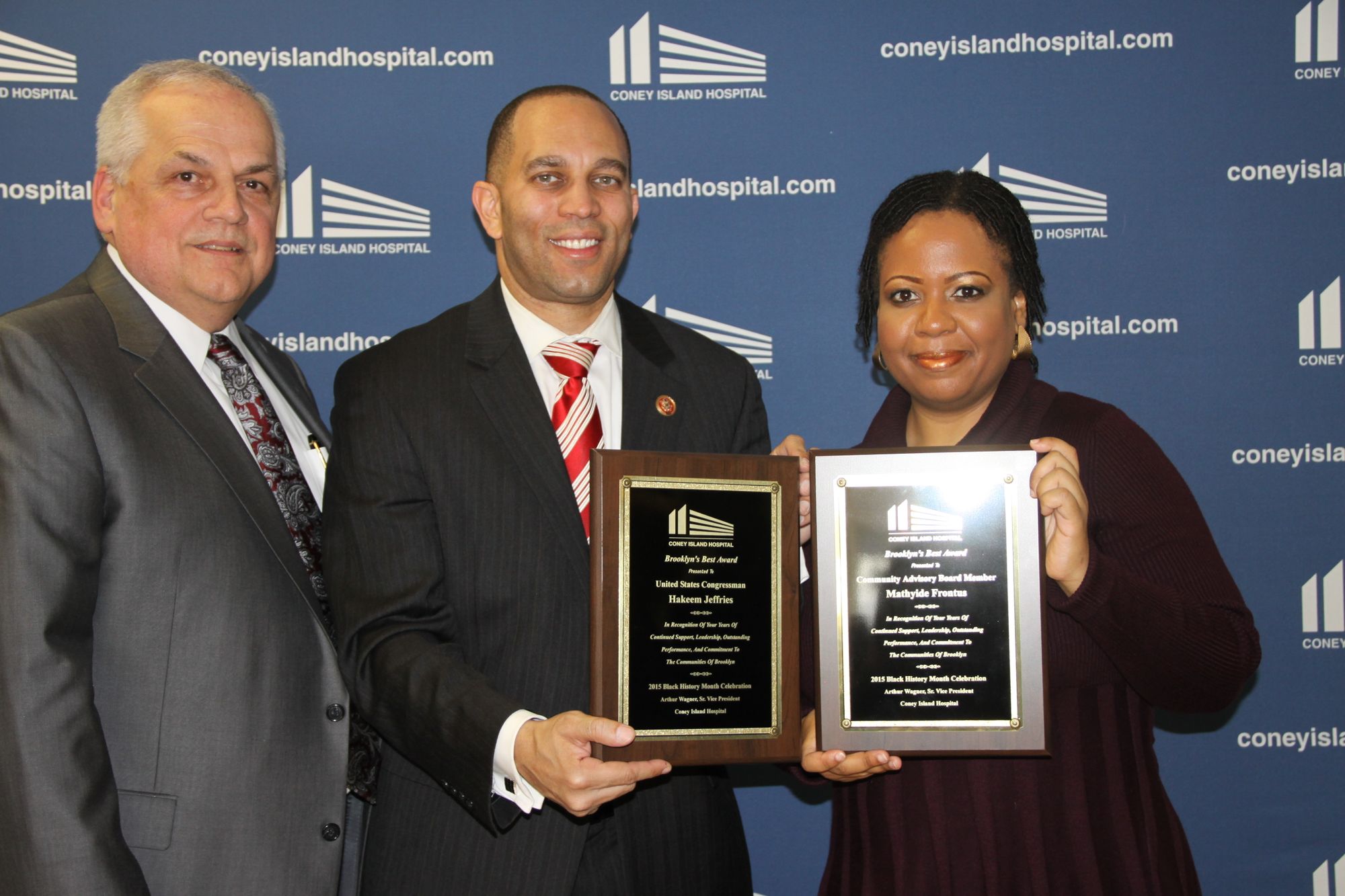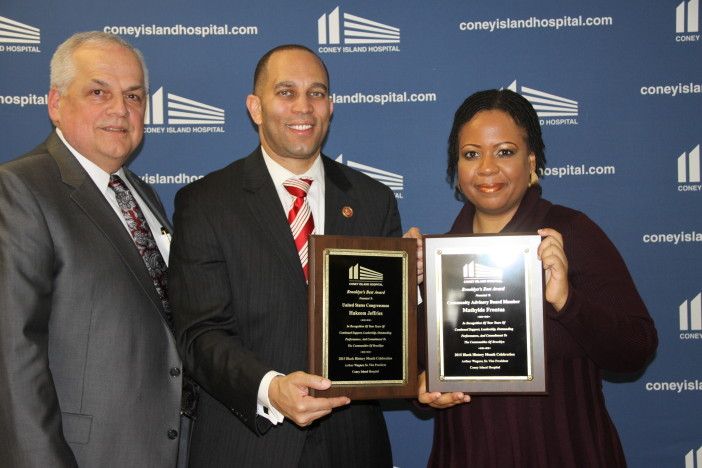 Congressman Hakeem Jeffries and Dr. Mathylde Frontus were honored for their contributions to Coney Island and neighboring communities as part of Black History Month at Coney Island Hospital (CIH) last week.
Despite the frigid temperatures, a modest crowd came out to show their support for the pair on February 20. Jeffries was praised for helping to secure funds to rebuild CIH, as well as neighboring communities like Seagate, Brighton Beach, and Coney Island, after Superstorm Sandy. The audience applauded Frontus for revitalizing the Coney Island community through her social services organization, Urban Neighborhood Services (UNS).
"Immediately after Superstorm Sandy, Mr. Jeffries was here… he asked whatever he could do. He was here for us. He was here for the community. At this point in time we have worked with FEMA, and – for those of you who don't know, FEMA has basically granted Coney Island Hospital over $900 million to put up a new building so that we don't have another situation like Superstorm Sandy. And that was mostly due to the efforts of Mr. Jeffries," said Arthur Wagner, Executive Director of CIH.
Frontus, too, was there for Coney Island – and long before Superstorm Sandy hit. Having been fascinated with community building from the age of 7, when she first moved to the neighborhood with her Haitian immigrant parents, Frontus realized that the various issues plaguing Coney Island, such as underdevelopment, health problems, incarceration, and poverty, were all interrelated.
Frontus, who now holds three masters degrees and recently completed a PhD in social work at Columbia, started UNS in 2004 to address many of those issues.
Through her organization, Frontus has helped thousands beat the odds of poverty by offering mental health services, financial literacy, job and housing services, and more. Frontus also the founding and acting chair of the Coney Island Anti-Violence Collaborative, a community coalition which works to reduce gun violence in the neighborhood.
Both honorees spoke briefly at the ceremony and accepted their plaques.
"It truly has been a life changing experience to see how one person's idea can turn into a concrete reality and touch so many lives in the community," Frontus said.
She wrapped up the event with the timeless words of Martin Luther King Jr.:
"An individual has not started living until he can rise above the narrow confines of his individualistic concerns to the broader concerns of all humanity."