Ground Floor Gallery Presents "Give And Take" By Visual Artist Ian Trask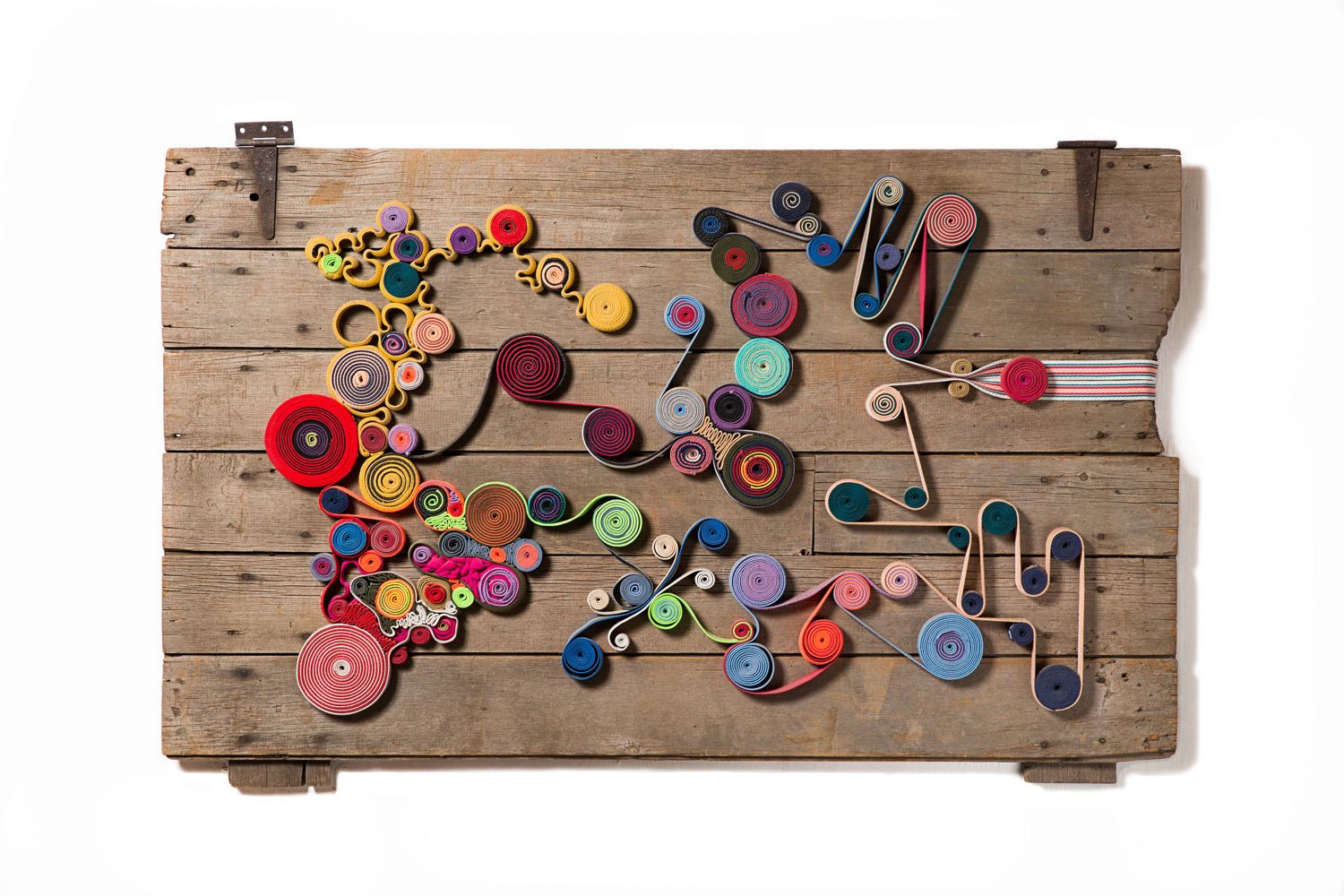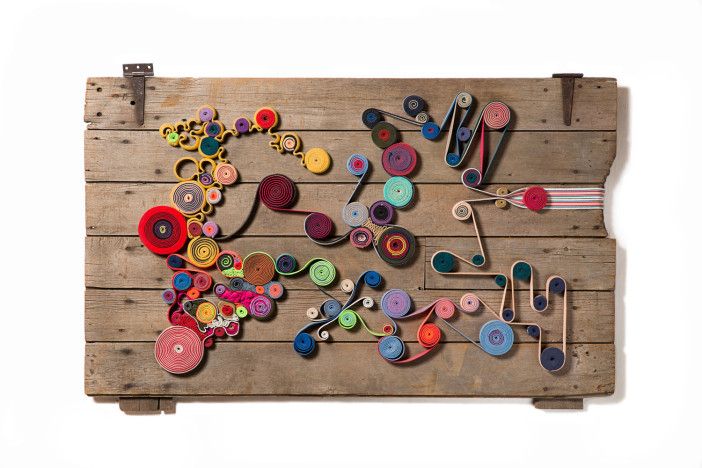 Scientist. Technician. Hospital groundskeeper.
Surprisingly, those were some of the occupations and studies of Ian Trask before he became a visual artist. His background has informed not only his artwork, but his fascinating approach and aesthetic.
Trask's new solo exhibition — entitled "Give and Take" — opens this Friday, September 11 and will run through Sunday, October 4 at Ground Floor Gallery at 343 5th Street (between 5th and 6th Avenues). A "Meet the Artist" event with open the show this Friday, September 11 between 6pm-8:30pm.
Co-founders and curators Jill Benson and Krista Saunders Scenna are greatly looking forward to hosting Trask's solo exhibition.
"Jill and I have followed Ian's work for several years now and have been perpetually impressed with his inventiveness and original use of such disparate materials," says Krista. "He's contributed so much to the Brooklyn art scene that we felt it was both fitting and exciting to see what he would do if given a space all his own … especially before he leaves us for Maine later this fall!"
Park Slope has played a significant role in his previous work as well as this upcoming exhibition. We spoke with Trask to discuss his background, approach, and the neighborhood.
PSS: You've been a long-time Park Slope resident. Has your style and approach been influenced by the neighborhood?
Ian Trask: My approach to art-making is centered around the use of garbage as both an inspiration and a material source. In this respect, my work is continually influenced by my routine and environment. Certainly some of Park Slope's discards have been incorporated into my art over the last few years.
My biggest art exhibition to date actually depended heavily upon a steady stream of material donations from the community. Over the course of seven months, I collected thousands of clear, thermoformed plastic packages, or blister packs, from local consumers.
With the help of some amazing and generous Park Slope parents, I even organized weekly material collections at PS 321 during their Green and Healthy Month. The project culminated in an exhibition at the Invisible Dog Art Center, where I created Blister Pact, a monumental plastic tomb.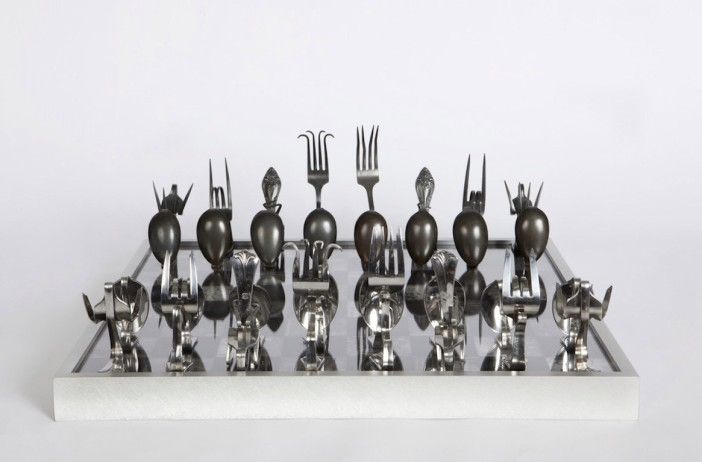 How long have you been working on the art you'll be featuring at the upcoming show at Ground Floor Gallery? And what connects them as works of art to feature them together?
The majority of the work that will be in my upcoming show at the Ground Floor Gallery was made over the last two years, but there are also a few pieces that were created as far back as 2011.
Ever since I worked as a hospital groundskeeper in Massachusetts years ago while transitioning from a career in science research to art, I've taken a bit of a "freegan" approach to sourcing my art projects. Not only do I scour sidewalks, and the occasional dumpster, but I've also encouraged my local community to donate their unique trash which would otherwise be destined for the landfill.
Inspired friends and supporters began gifting me random collections of raw materials, and I'm fascinated by this interaction. Whenever possible, I've tried my best to take what the community gives to me. This history of exchange is what unifies the works chosen for the show.
Just to give you an idea, there are colorful elastic textiles given by the Invisible Dog Art Center. Another body of work uses thousands of spent vaccine vials donated by One Love Animal Hospital on Atlantic Ave. And the picture framing was made possible by a local art gallery/frameshop that has been donating used, old picture frames to me for years.
Have you worked with Ground Floor Gallery before? What's unique about putting together an exhibition in this particular space?
I've known Jill Benson and Krista Saunders for a few years now. I met Jill at the Invisible Dog Open Studios in 2014 and I met Krista through Art Connects New York, a charitable organization that helps create permanent art installations for social service facilities in New York.
Back in 2013 I worked with Krista to donate a sculpture installation to the Safe Haven facility in The Bronx. And most recently I showed a few pieces in their 2015 summer exhibition "You've Got Mail," where they encouraged artists from all over to mail art to the gallery. It was a fun concept that got them a lot of attention.
I'm particularly excited about this show at the Ground Floor Gallery because it gives me a chance to share some new work before I move away from the city. "Give and Take" will present a snap-shot of a unique moment in time for my work, as I expect my studio practice to change after the move. Access to new materials will undoubtedly impact my future artistic direction.
You were a scientist before become an artist — do you still feel connected to that world in terms of how you relate it to your craft?
It's impossible for me to disconnect myself from my past as a scientist, not that I have any interest in doing so. Science was way more than a profession; it was a way of thinking, a way of viewing the world.
This scientific perspective still informs everything i do, not just my art. That being said, I can see plenty of overlap between my lab practice and my studio practice. In the lab, you definitely benefit from being patient, detail-oriented, and courageous. Maybe the parts of my personality that made me well-suited for science also made me well suited for art-making.
Tell us about some of your favorite neighborhood haunts.
My favorite neighborhood haunt would have to be my backyard, where I can look into Annie's Garden and chat with my amazing neighbors and fellow local artists Brian Kenny, George Horner, and Michelle Hemsoth. As for local restaurants, I'm a big fan of Taco Santo and Palo Santo. They're both owned and operated by a neighbor of mine. It's good to support local business, and it doesn't hurt that the food is excellent. I also spend a lot of time just exploring the neighborhood while walking my dogs.
We hear we're losing you to Maine! How come? What will you be working on up there?
Yes, it's true, I'm moving to Maine. The decision is first and foremost a lifestyle choice. NYC has been an incredible place to learn and grow as an artist, but city life comes with a cost.
I'm looking forward to being surrounded by nature again. I'm also excited about the lower cost of living and finding a more affordable and spacious studio space. NYC is really the only place I've ever actively been an artist. I've learned to adapt my lifestyle and my artistic style to this high-speed, high-stress environment.
When I lacked space to make large work, I had no choice but to make small work. When I needed to make large work, I was forced to scramble to find unusual spaces in which to produce my large projects. While facing these challenging conditions forced me to find creative solutions, I'm excited to begin making my work in a simpler, more spacious environment.
The Exhibition Rundown: "Give and Take" by Ian Trask.
Where: Ground Floor Gallery, 343 5th Street (between 5th and 6th Avenues)
When: Friday, September 11-Sunday, October 4
Phone: 646-801-3338
Hours: Special "Meet the Artist" event on Friday, September 11 from 6pm-8:30pm. Regular hours: Thursdays: 2pm–6pm, Fridays: 2pm–6pm, Saturdays: 12pm–6pm, Sundays: 12pm–5pm.
Admission: Free