GOP Leader who OK'd Proud Boys Event Works for Golden
The GOP leader who defended his decision to host the far-right group Proud Boys at his political club Friday also works for a Brooklyn Republican lawmaker who will not return calls about the event.
The Chairman of the Metropolitan Republican Club, Ian Reilly, received at least 13 payments of $605.05 from State Sen. Marty Golden's senatorial campaign fund between July 24 and the 26th of September, according to the New York State Board of Elections. All payments are listed as wages on the state's website.
"Ian Reily is the campaign's office manager and a friend," said spokesperson Michael Tobman.
Reilly was criticized for inviting Proud Boys leader Gavin McInnes to the Upper East Side clubhouse to speak. The club chair then publicly defended the choice after a skirmish between white nationalists and Antifa members broke out near the venue, leading to three arrests and an ongoing investigation.
"He is part of the right," Reilly told Gothamist about McInnes. "We promote people and ideas of all kinds from the right. We're open to different views. We would never invite anyone who would incite violence."
This after McInnes came specifically to re-enact a killing of a Japanese Socialist leader Inejiro Asanuma by nationalist Otoya Yamaguchi, according to his podcast. The invitation announcing the event read more subtle but still contained coded language such as "Deep State Socialists", "Western Values" and "Liberty's Loudest Voices."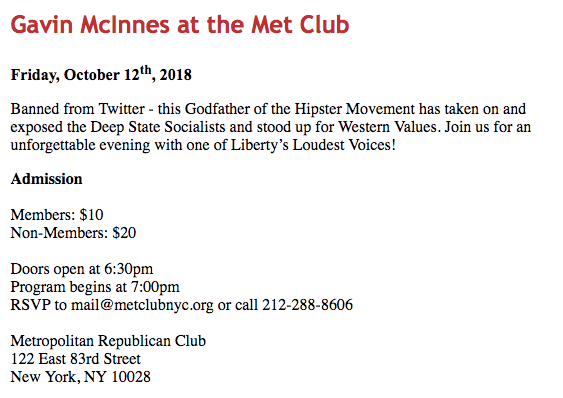 McInnes went on his podcast, Get On my Lawn with Gavin McInnes the following day to recount the event and in doing so admitted to intimidating journalist Christopher Mathias of the Huffington Post and stated the victims of the brawl "wanted to get beat up."
Proud Boys and Antifa members faced off again Saturday in Portland, OR.
Several Democratic leaders denounced Friday night's event with Gov. Cuomo calling to "repudiate the Proud Boys," while City Council Speaker called for Republican leader Ed Cox to step down. But there was no word from Brooklyn Republican leaders.
State Sen. Marty Golden did not respond to requests for comment about this weekend's event that resulted in three arrests and a pending investigation.