Goodbye, 7-Eleven Of Sheepshead Bay Road. We Hardly Knew You.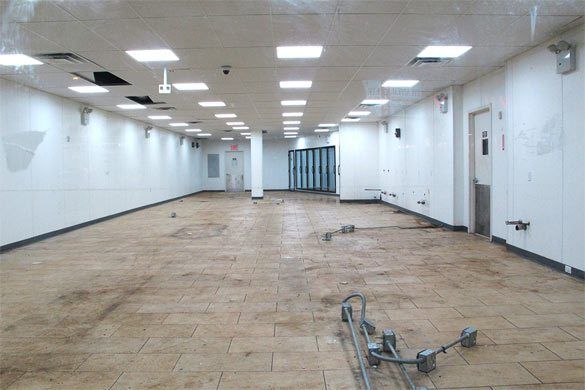 At long last, the 7-Eleven at 1509 Sheepshead Bay Road has been cleared out after nine months of serving as a symbol of corporate callousness on the shopping strip since Superstorm Sandy.
Unlike other 7-Elevens in the area, this location was owned and operated by the corporate headquarters in Dallas, Texas, not by a small, local owner with a franchise agreement.
And so, 10 months after it opened in January 2012, when Superstorm Sandy crashed through, drowning local businesses, those kind folks in Texas just kind of shrugged it off, leaving their storefront a damp, padlocked mess for nine more months, until it was finally cleared out last week.
Meanwhile, local mom-and-pops sought to bring back the neighborhood, reopen their stores, and revive Sheepshead Bay Road. It was a sad juxtaposition, and the storefront's rotting carcass served as an unfortunate welcome mat to would-be visitors getting off the train (although the overflowing trash cans don't help much either).
Glad to see it gone. Hopefully the next tenant will give a damn about our neighborhood.
Thanks to Laine for the photo and Freddie for the tip.