Golden Pushes Bills To Protect Kids From Abuse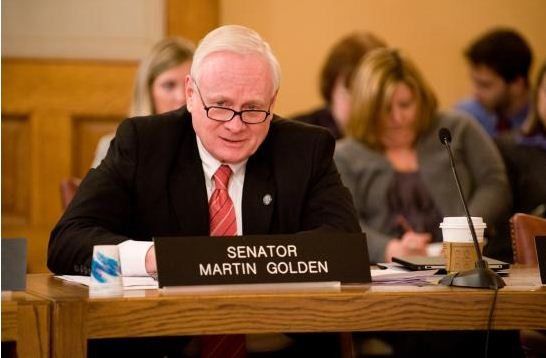 In an effort to eradicate the rising trend of child abuse through New York, State Senator Marty Golden is asking members of the State Legislature to help push forth legislation to provide greater protection for our city's most vulnerable citizens.
Prompted by the shocking news that 17-month-old Kymell Oram is currently fighting for his life at Brookdale University Hospital after his foster mother's boyfriend broke three of the boy's ribs and shattered his spleen, Golden immediately introduced bill S. 2163, which will "establish a temporary commission to  study  child abuse prevention and make recommendations to the Governor and the Legislature for the implementation of child abuse prevention programs across New York State," and is also sponsoring S. 1990, which "seeks to amend the State's penal law so to make the murder of a child under the age of twelve a first degree offense, and at the same time, make the definition of torture to mean the intentional and depraved infliction of extreme physical pain."
Cases of child abuse over the past decade have sky-rocketed by 20 percent throughout New York State, according to statistics from Golden's office, with approximately 12,000 children being subjected to extreme physical pain annually. Approximately 75 of the state's youngest citizens die every year as a result of the abuse. More than 33,000 cases are estimated occur annually in New York City, 6,000 of which are in Brooklyn. Statistics also suggest that a cycle of violence for those who have been subjected to abuse are at greater risk of becoming a juvenile delinquent, entering a life of crime, and becoming abusers themselves, a fact that Golden says "is happening too often here in New York."
"We need to figure out how to reverse the trend that is damaging families and our society and we must do all we can to protect our children," he said.
The temporary commission, introduced in S. 2163 "would study the availability of successful prevention programs and recommend to the Governor and the State Legislature as to the best way to expand their services to more families at risk."
"The most recent case of child abuse reported in Brooklyn has horrified all New Yorkers," Golden said. "I am hopeful that both of these important pieces of legislation will win the legislative support of my colleagues in both the Senate and the Assembly, so that the work can begin to prevent abuse of children and save families here in New York State."