Golden Farm Boycott Is Over After Workers Land New Contract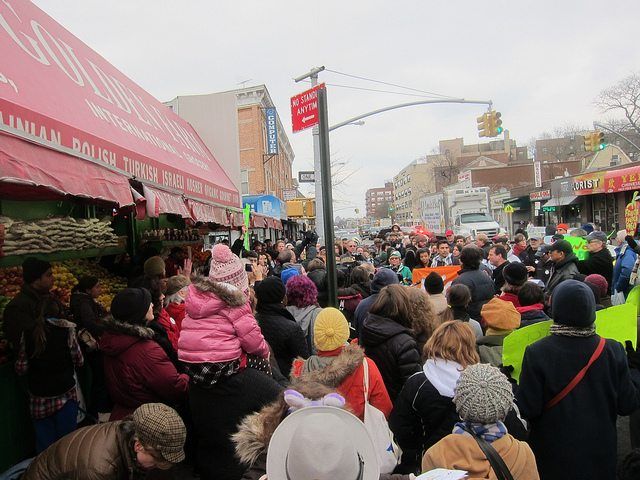 Following almost two years of neighbors, civic leaders, and Occupy Kensington members refusing to shop at Golden Farm because of deep-rooted concerns over labor practices at the shop, the boycott is over after grocery store workers said they now have a contract that includes paid sick days, holidays, vacation time, and a raise that takes their pay above minimum wage for the first time ever.
(Also, remember that, as of July 30, employers are legally required to give paid sick leave to anyone working more than 80 hours a year in New York City.)
According to Occupy Kensington, the new contract at Golden Farm additionally includes a "good cause" clause, which requires the employer to be able to provide a reason for firing an employer and allows workers to be part of an active union – something to which store ownership had vehemently opposed.
Golden Farm could not be reached for comment.
The end to the boycott follows some high-profile protests (one of which is pictured above) outside the store, which a number of neighbors said they stopped patronizing because of the labor issues.
"This victory is a testimony to the determination of the Golden Farm workers, the support they received from their union, RWDSU Local 338, and from our community,"  wrote Occupy Kensington leader Eleanor Rodgers.

"For our community the time has come to end the boycott and start shopping in our new union store," continued Rodgers, who lives about one block from the store.
When the workers reached out to Occupy Kensington, they asked the group to pass on the following messages to the community:
We the workers of Golden Farm thank you for all your help, thank you for your time on the picket line. Above all, thank you for making this campaign a dream come true – a campaign that nobody stopped, only victory. Yours truly, Martin Gonzalez
Hi, my name is Roberto and in the name of my co-workers from Golden Farm we greet you most sincerely and thank you very much to every one of you for the unconditional help. This victory is also yours. Thank you to everyone and God bless you.
Photo via Peter Walsh