Go For A Test Ride At Propel Bikes' Grand Opening Party On Sunday
When Chris Nolte was an 18-year-old college student studying computer science and living in his hometown of Huntington, Long Island, he purchased 55 used bikes at $3 apiece from a police auction with the intention of rehabilitating and reselling them. Life had other plans, though, as he enlisted in the U.S. Army Reserves as a way to earn college tuition — then, after the September 11 attacks, was deployed to Kuwait and Iraq. When he came home with a combat injury, he didn't have the physical ability he was used to. But eventually, his love of bikes saved him.
"I drove fuel trucks in Iraq until an accident injured my back and I was not active when I came home, was not motivated," Nolte said. "But I was [still] interested in bikes and built my own electric-assisted bike. There was no intimidation to riding it. Normally I would be too tired or lazy."
That was when the entrepreneurial bug bit again and Nolte founded Long island Electric Bikes — now called Propel Bikes — which quickly became one of the nation's leading dealers of electric-assisted bicycles. "I realized no one was really selling them, so I built up an online store out of the second floor of a shared space. But I always wanted a retail space."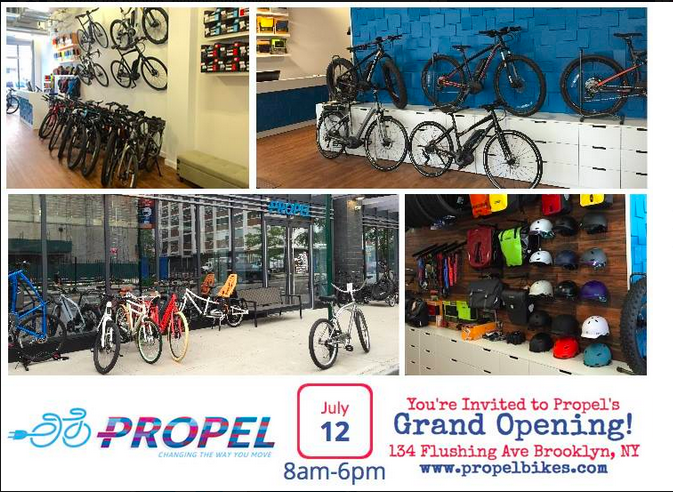 Now he has one. Located at 134 Flushing Avenue, the Propel Bikes store holds around 50 bikes on-site, along with a variety of bike accessories such as helmets, Kleen Kanteens, locks, gloves, bike bags, and more for both electric- and non-electric bikes.
The shop's grand opening is this Sunday, July 12 from 8am to 6pm and will feature test rides, music, food, and possibly a live mural painting by artist Claudio Limon.
Why open his dream store in Brooklyn? "I see bikes as a greater transportation option in Brooklyn than anywhere else. People [just] need to feel safe," Nolte explained, also noting that he lives in Fort Greene now, on Adelphi Street.
"Flushing Avenue is one of the most trafficked lanes in the state," he said. "In Germany, one in three bikes is electric. In the U.S., one in 100 are. The difference is in perception of reckless[ness] and confusion about laws."
Electric-assisted bikes have no throttle and although equipped with an electric motor, requires a pedal-assist by the rider in order to work. That lack of an independent engine is why e-assisted bikes are legal, but vehicles like motorized scooters aren't.
It is also why Nolte sees e-assisted bikes and Propel Bikes as another front in the movement to change to conversation around alternative, energy-efficient modes of transportation. "It's something new for a lot of people, so it might take time for them to wrap their heads around it."
It's a passion that Nolte is dedicated to, especially after his time in the Army transporting fuel trucks. "I realized how dependent we are on foreign oil. I want to recreate the transportation landscape," he said. "I'm just excited about the future. More people are seeing bikes as a viable option, especially as infrastructure is built. We can help prevent any further loss of life in the fight for energy resources overseas."
An electric-assisted bike at Propel Bikes retails for anywhere from $1,500 to $4,000 with a two-year warranty — "it's a lot, but it's quality and we service it," said Nolte. "Now we're preparing for back-to-school, giving parents options for carrying kids and delivery people for carrying cargo. So models like Cargo, Longtail, Bakfiets/Long John bikes.
PROPEL BIKES
134 Flushing Avenue
Open daily at 8am-8pm, except Sundays when it closes at 6pm