Get to Know Names You Can Trust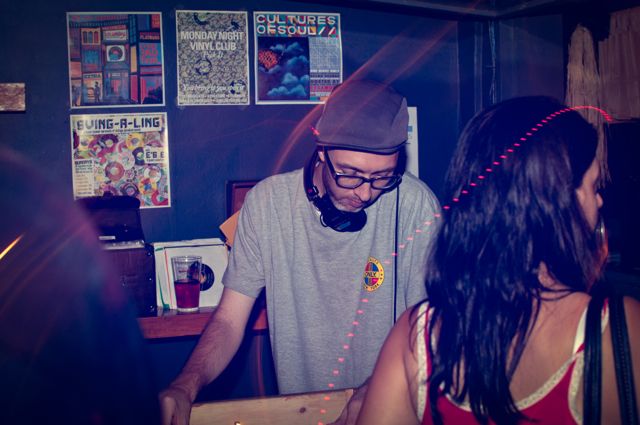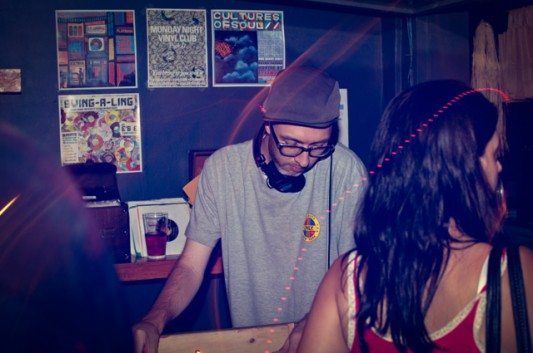 Eric Banta, aka E's E, is probably a familiar face to anyone who's been in Sycamore at some point in the two and a half years. That's when he and a small group of neighborhood DJs began spinning music at the Cortelyou Road bar, and they've kept it up ever since.
"We were simply looking for a local place to hang out together and play a selector's choice of records, not necessarily your average party records that everybody knows," Eric said. "The crowd, atmosphere, and management there are all amazing, open, and sophisticated, and they immediately dug the style of records we were playing."
They quickly expanded by throwing some outdoor events and a few live music parties featuring some of the artists they work with through Names You Can Trust, a record label that Eric and friends Monk-One and Oneman founded in 2004. A team-oriented project, they began producing and distributing mix CDs, doing everything in house, from creating the content, to the artwork, marketing, and manufacturing.
"Its origin was simply a vehicle and creative outlet for us as DJs," Eric said. "Nobody was doing exactly what we were looking for, so we just did it ourselves."
That developed into making actual vinyl records of their own original productions, and over the last six years or so they've expanded NYCT to work with other artists and musicians in variety of collaborative work.
"We've grown since 2004 in terms of our roster, but we very much maintain a DIY spirit," he said.
Of course, in 2013, selling music — let alone music on vinyl — can be a challenge.
"It's not easy or sensible, that's for sure, especially for a small independent label, but personally speaking, collecting and playing vinyl is what brought me into the music world," Eric said. "It's a dynamic relationship that one can have between yourself, music, and a physical artifact, and I feel a sort of obligation and commitment to nurture that relationship by putting out our own records into the universe."
Even so, NYCT is working in a time when consumers get more and more of their music digitally, distributors and wholesalers provide only questionable support, and labels with enormous budgets dominate press campaigns. Basically, it can be tough to reach a wide audience.
"Despite all that, we still find a good amount of success in a niche market," he said. "We sell mostly to DJs and avid record collectors in Europe and Japan and some other parts of the world, where the culture of buying records is much healthier. It's these supporters who keep the label going, and it's our ultimate goal to expand on that list locally and domestically."
Their label produces a number of record formats, but 45s are possibly the biggest part of the business. Focusing on a "single" as opposed to a full-length LP gives NYCT a lot of flexibility, and gives them the best opportunity to put out a greater number of records, since they're typically two songs at most.
"Not only is it one of the most well-loved and collected formats throughout the world (think Jamaican music and soul music), it's one of the more cost effective formats to manufacture," Eric explained. "It's also simply one of the most enjoyable to play, and its portability lends itself to the traveling and working DJ."
Their first few records were all done in-house, and their longest-running group is a project that Eric produces with Monk-One called Greenwood Rhythm Coalition. All of those records were produced in Eric's basement studio in Kensington, with some of the recording taking place at other studios in Brooklyn, like The Hook Studio, New Dutch, and Studio BPM.
"We've connected with other artists in a variety of ways," Eric said. "Either through friendships, mutual friendships, or just receiving demos from aspiring artists as word of NYCT has spread. We've released music originating from Colombia, Brazil, Argentina, and Europe, to name a few places."
In addition to playing music and doing events at Sycamore and working on the label, NYCT also produces a radio show. It's online and archived through their website for streaming and free download. It's taken on several different forms and formats over the years, but it's currently more or less a monthly program and each episode is usually a deeper listen into a specific style of music, whether it's 1960s proto-salsa, Colombian and Pervuvian Cumbia, Japanese hip-hop, Caribbean funk, or new-era electronic sounds.
"It's an exploration into the sounds that influence Names You Can Trust as a whole," Eric said.
Being able to make and play music in the community that he lives in has been great experience for Eric, and one that he recognizes and appreciates, in much the same way that he knows this area is a special one.
"I think everybody who lives down here knows what the neighborhood has to offer," he said. "It's a different slice of Brooklyn, with a unique vibe and community that I haven't experienced living or hanging out in other neighborhoods."
You can catch Names You Can Trust at Sycamore (1118 Cortelyou Rd) every Saturday and every third Thursday with a variety of guest selectors each time. They also do all types of events, parties, production, and artwork, and you can contact them through their website or through Facebook.
Top photo by Elliott Negron Jr