Get Ready To Vote In Participatory Budgeting!
Participatory Budgeting (PB) Vote Week is March 26th to April 3rd!
Residents of the 39th (Brad Lander), 40th (Mathieu Eugene), 44th (David Greenfield), and 45th (Jumaane Williams) City Council districts will be able to vote directly for a wide variety of capital projects — physical improvements to schools, parks, libraries, public housing, and other public and community spaces — that have been proposed by their neighbors.
All residents, 16 years of age or older, with proof of residency in their Council district can vote. (In Councilmember Lander's district, residents age 14 and up can vote.)
Residents of City Council districts that have opted to participate in PB will get to decide how to spend at least 1 million dollars of their local Council Member's discretionary funds — this totals to over 35 million dollars citywide.
PB was first launched In 2011 by four New York City Council Members – Brad Lander, Melissa Mark-Viverito, Eric Ulrich, and Jumaane Williams.
Here's how to participate:
First — Find out which City Council district you are living in.
Second — Click here to bring up a map for your City Council district showing all the proposed PB projects in your area.
Third — Click on the icons for individual projects to learn more — such as this proposed dog run to be located at the southwest corner of the Parade Grounds.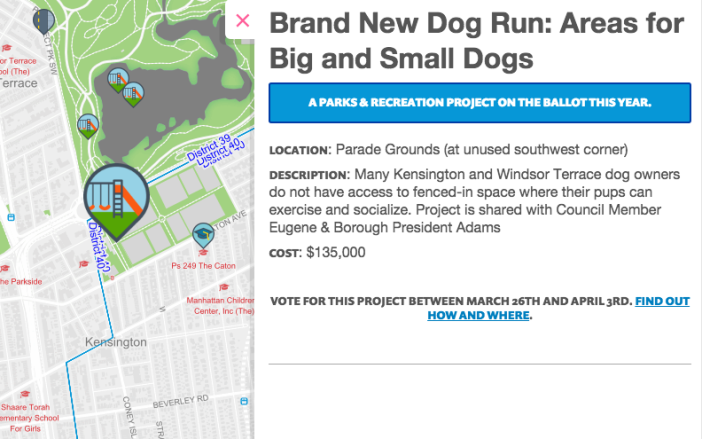 Fourth —  VOTE!! Voting is from Saturday, March 26th to Sunday, April 3rd.
CHECK BACK HERE for a complete list of voting locations, or call your local City Council Member.
Residents of participating districts can also vote at Brooklyn Borough Hall from Monday, March 28th until Friday, April 1st, between the hours of 9am and 5pm.