Gallo Says Using Craigslist Puts Cymbrowitz In League With Drug Dealers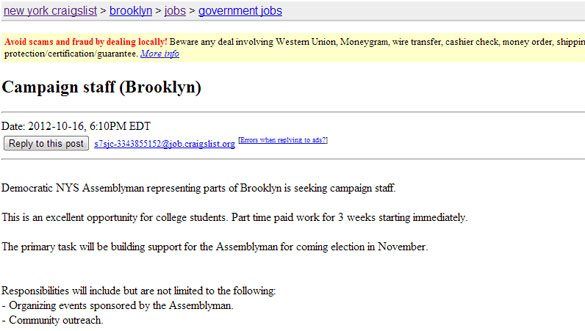 Republican contender Russ Gallo, seeking to unseat Assemblyman Steven Cymbrowitz, blasted the incumbent in a press release this morning for advertising a job posting on Craigslist, which he said is "notorious for being used by criminals and those peddling immorality."
According to Gallo, Cymbrowitz's campaign used the website to advertise a recent job opening. That action, Gallo suggests, puts him in the company of drug dealers and prostitutes.
"Instead of reaching out directly to college students, activists or employment agencies, Steven Cymbrowitz chose a website notorious for being used by criminals and those peddling immorality," wrote Gallo. "Steven Cymbrowitz is supposedly sensitive to issues of addiction, yet advertises to employ people on the same website where drug pushers freely sell addictive prescription drugs like Adderall.  He also proclaims to be 'conservative', yet advertises alongside drug dealers, prostitutes and people seeking 'casual encounters'.  How can he justify this?" said Gallo.
The ad Gallo refers to was posted yesterday, and is seeking part-time staffers for his campaign. A second ad mentioned in Gallo's e-mail was posted in July, advertising for interns to work on constituent issues in his office. It has since expired and been removed from the site.
To prove the point that Craigslist is more nefarious than an opium den, Gallo notes that the NYPD recently conducted a major sting, netting 21 arrests of those illegally selling prescription narcotics on the site. Selling illegal items is against Craigslist's Terms of Service.
In the press release, Gallo describes Craigslist as "a website where users place advertisements for just about anything, including illegal and immoral wares."
It also just happens to be the ninth most visited website in the United States, and claims 60 million individual users in the United States a month.
That's a lot of prostitutes and drug dealers. We await Cymbrowitz's justification for throwing his lot in with them.