Funeral Services Today Honor Brendan J. Dugan, President of St. Francis College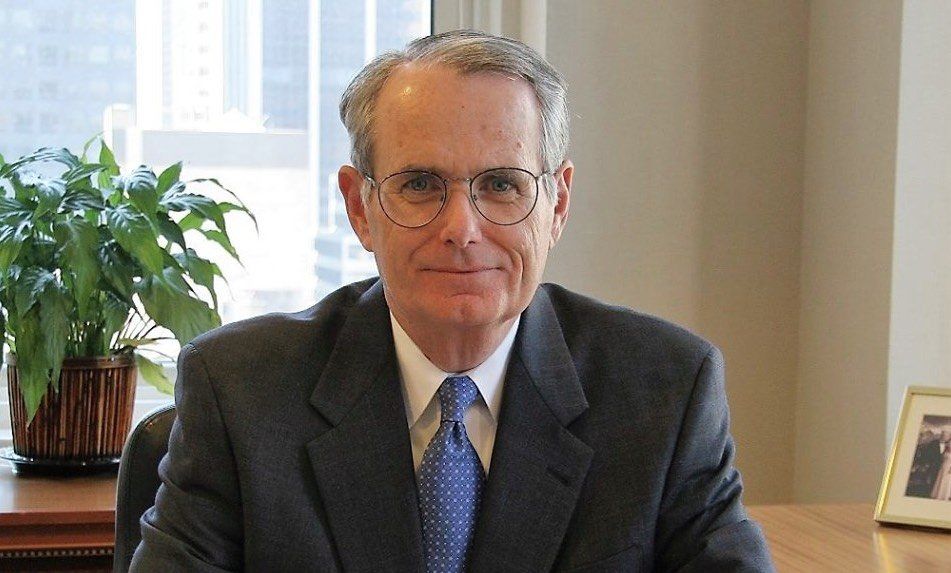 The president of St. Francis College, Brooklyn native Brendan J. Dugan, is being mourned today by students, faculty, friends and family.
Dugan, who served as president of St. Francis for eight years, died Sunday at age 69. In a statement, the historic Brooklyn Heights college described Dugan as a "transformational leader." His funeral will be held this morning at St. Mary Star of the Sea Church in Carroll Gardens, the community where Dugan grew up.
Dugan had a wide impact across Brooklyn. Throughout his adult life, he was very active with the borough's Roman Catholic community, as well as St. Francis College. He was also a board member of the Brooklyn Chamber of Commerce, the Downtown Brooklyn Partnership, the Brooklyn Academy of Music, and the Brooklyn Bridge Park Conservancy.
Dugan is survived by his wife Barbara A. Dugan, three sons, and six grandchildren. He was a 1968 graduate of St. Francis, which was founded in 1859 by the Franciscan Brothers of Brooklyn.
Dugan worked in commercial banking for 40 years before becoming president of St. Francis in 2008. After being named president, Dugan said that his mission was "to offer working class families a college that provides a great education at an affordable price and one that makes sure its graduates are not just prepared to enter the job market but will be productive in all aspects of their lives."
During his four decades in banking, Dugan served as Chairman & CEO of Sovereign Bank's Metro NY/NJ Division, and held leadership posts at Independence Bank, Citibank, European American Bank, and NatWest USA.
Dugan, whose family emigrated to the U.S. from County Donegal, Ireland, cherished both his Irish roots and Catholic faith, the college noted.
"Barbara and I would not be the people we are today were it not for our Catholic faith and the Catholic education that we have received throughout our lives," Dugan said in a statement after receiving the Emma A. Daniels Benefactor Award earlier this month from the Catholic Diocese of Brooklyn.
"It [Catholicism] has formed our identity, and that of our family, reinforcing the values and beliefs that our parents lovingly instilled in our homes," Dugan continued.
Dugan served on the Brooklyn archdiocese's finance council, and held volunteer leadership posts with the Futures in Education Foundation, Bishop Loughlin Memorial High School, and St. Mary Star of the Sea Parish. In 2009, he was inducted into the Pontifical Order of the Knights of St. Gregory the Great by Pope Benedict XVI.
Before becoming president of St. Francis, Dugan chaired the college's Board of Trustees and was "instrumental" in completing a $40 million campaign, which led to the construction of the Anthony J. Genovesi Athletic Center, the college's Academic Center, and the Eileen C. Dugan Life Sciences Center. The Life Sciences Center, which houses the college's nursing program, is named for Dugan's late sister, a well-known New York State Assemblywoman.
"His strong belief in helping others extended well beyond the College and the Diocese," the college said.
During the course of his adult life, Dugan was honored for his contributions by a wide range of organizations, such as the Anti-Defamation League of B'nai Brith, Brooklyn Legal Services Corp, Helen Keller Services for the Blind, the American Jewish Congress, Neighborhood Housing Services, the Crohns and Colitis Foundation, Good Shepherd Services, Touro Law School, the Greater Jamaica Development Corp, the Brooklyn Children's Museum, and the Boy Scouts of America.
"When you hung around with Brendan, unless you were in the banking business you really didn't really know he was a banker. Not only that, you didn't even know he was CEO of a bank," said Domenick A. Cama, Senior Executive Vice President & Chief Operating Officer of Investors Bank, who grew up with Dugan in Carroll Gardens.
"He's a pretty humble guy…a person that exhibits humility and modesty. Those are the two lessons that I've learned, the two words that I've learned from Brendan from him in his career."