Friends Of The BQX Launch Coalition, Hoping To Gain Community Approval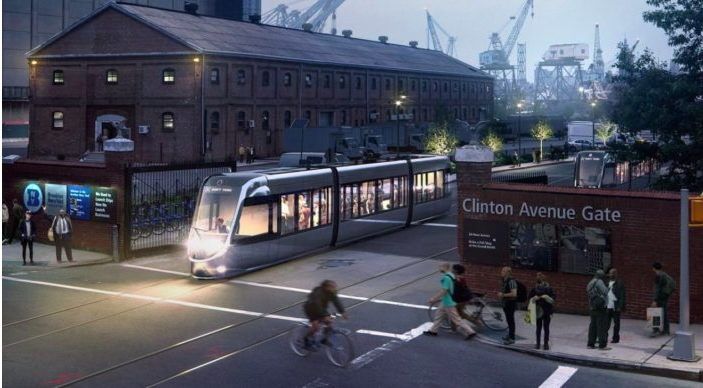 Video via YouTube
In an effort to gain approval for the proposed streetcar line intended to link the waterfront from booming Sunset Park to Astoria, the Friends of the Brooklyn Queens Connector have announced a coalition of community members, transit experts, educational and cultural institutions, small businesses, and large employers.
The Friends also tapped Ya-Ting Liu, who was named Executive Director of the Friends last week. The Friends describe Liu as "an experienced community organizer who has been advocating for transportation equity and environmental justice for the past decade."
"The Friends of the BQX exists to make sure that this investment in a corridor historically underserved by transit will be as equitable, impactful and resilient as possible," said Liu. "We believe the BQX has the potential to dramatically improve quality of life for those who have been left out by the existing transportation network, and we look forward to growing our coalition to represent everyone who will benefit."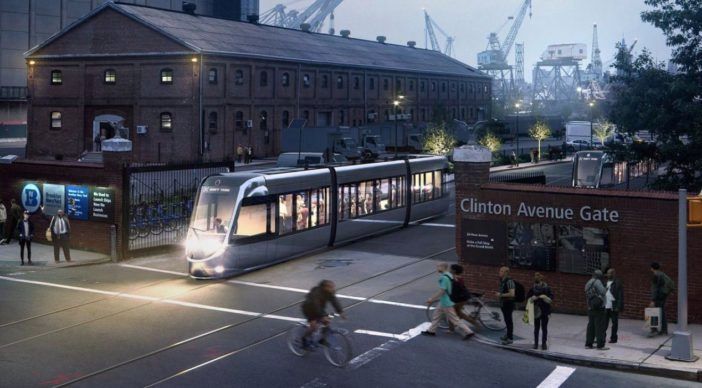 The community organizing and education campaign includes a newly launched BQX website, as well as a video (see above) which includes proponents such as hip hop artist Talib Kweli, Brooklyn Brewery CEO and Founder Steve Hindy, and Paul Steely White, Executive Director of Transportation Alternatives.
"The Brooklyn Queens Connector will become more and more important as the waterfront communities along the corridor continue to grow as residential and employment centers. That's why area residents need to get involved in the planning process," said White. "In particular, we hope New Yorkers who bike and walk will attend the project's visioning sessions to weigh in about how to improve bike and pedestrian access and safety, and help make sure the streetcar's right-of-way is as protected as possible from cars."
Friends also announced an expansive inaugural Board of Directors:
Michelle Adams, Tishman Speyer
Margaret Anadu, Goldman Sachs
Jordan Barowitz, The Durst Organization
Gail Benjamin, Attorney
Michelle De la Uz, Fifth Avenue Committee
Jill Eisenhard, Red Hook Initiative
Alex Garvin, AGA Public Realm Strategies
Tom Grech, Queens Chamber of Commerce
Jukay Hsu, Coalition for Queens
Andrew Kimball, Industry City
Joe Lhota, NYU Langone Medical Center
Elizabeth Lusskin, Long Island City Partnership
Ramon Peguero, Los Sures
Tucker Reed, Downtown Brooklyn Partnership
David Rosen, Brooklyn Allied Bars & Restaurants
Carlo Scissura, Brooklyn Chamber of Commerce
Alexandria Sica, DUMBO BID
Doug Steiner, Steiner Studios
Eddie Summers, Brooklyn Educational Innovation Network
Bishop Mitchell Taylor, Urban Upbound
Jay Walder, Motivate
Jed Walentas, Two Trees Management
Paul Steely-White, Transportation Alternatives
Fred Wilson, Union Square Ventures
Tom Wright, Regional Plan Association
In addition to education and community outreach, Friends will likely focus on public opinion of the project, which has not been universally embraced. Issues include commute time, flood zone issues — particularly in the Gowanus section of Brooklyn, and the $2.5 billion price tag announced by Mayor de Blasio.
In addition, there has been criticism concerning whether the BQX will be — according to Streetsblog — "a highly-subsidized transit route with modest ridership at best."
However Bishop Mitchell G. Taylor, co-founder and CEO of Urban Upbound, refers to the BQX as a "vital lifeline to increased job opportunities." Taylor believes that "lower-income residents have some of the longest commutes in the city, taking away precious time with family and friends. The BQX would go a long way to making our city's transit system more equitable, especially in underserved communities outside of Manhattan."