Free Movies Without Leaving the Hood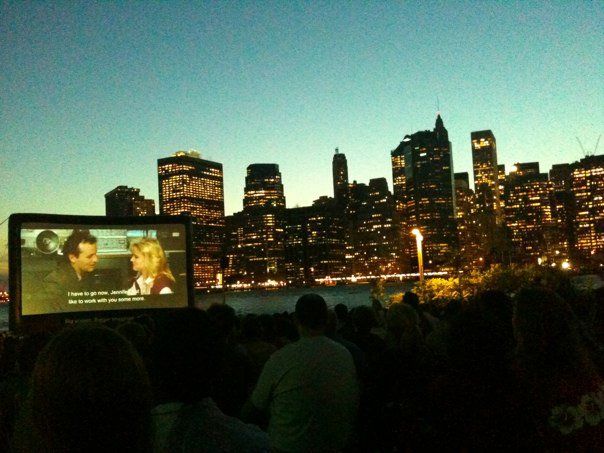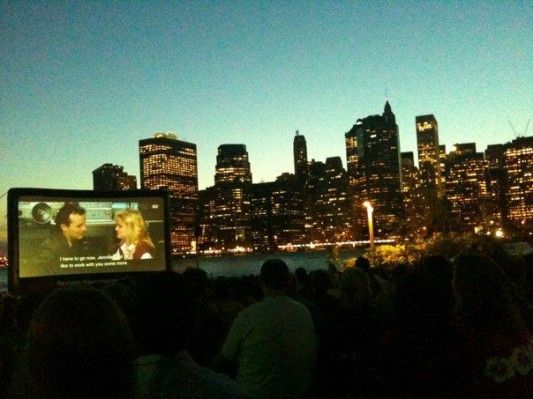 We may not have the view, but we've got the movies. Photo via Brokelyn.
One of the great pleasures of Brooklyn summer is the steady stream of free outdoor movie screenings. None of the major beach-blanket venues are in the neighborhood (though they're hardly inaccessible — trains! bikes! long walks!), but it turns out we're even less deprived than I'd thought. They may not be Brooklyn Bridge Park-scale ventures, but there are a number of series (indoor and out) to keep you in free and nearly-free screenings without leaving the Song delivery zone:
Postmark Cafe: there's no set lineup, but every few Tuesdays, they host a film — this week, it was Some Like It Hot; two weeks ago, they did Raising Arizona. In true cafe fashion, there's no website, but you can stay up to date on upcoming screenings via their events-only Facebook page.
326 6th Street, some Tuesdays at 8:30pm.
Two Moon Art House and Cafe: Like Postmark, there's no set schedule, but the 4th Avenue cafe (also: beer and wine) puts on a Sunday night film series. It's not every Sunday night — again, you've got to keep checking in with the website — but  when it does, it features indie movies "from all genres of filmmaking," curated and moderated by Heather Freudenthal. Each screening is followed by a post-show Q&A with the filmmaker — whether that's a pro or a con is up to you. Next up: this Sunday, they'll be showing "Raising Gemini," a 2009 Webby Award-winner about a "semi-successful 70s progressive rock band."
315 4th Ave, some Sundays at 6pm. Next up: July 29th, "Raising Gemini."
Celebrate Brooklyn!: It's hardly a secret that Celebrate Brooklyn! has a film series — of the Park Slope options, it's the biggest by far. This Saturday, the feature is "The Muppet Movie" (the 1979 original, obvi). Then on August 2, Zeffirelli's "Romeo and Juliet" will wrap up the series.
Prospect Park Bandshell, 9th Street and Prospect Park West. 7:30/6:30 doors. Next up: July 28th, "The Muppet Movie," August 2, "Romeo and Juliet." Suggested donation: $3.
Greenspace @ President Street: A two-weekend-only engagement, the series in the garden at 5th Ave and President Street is all about the old-time detective movies: this Saturday, it's "Dressed to Kill;" next Saturday, it's "The Phantom Creeps." Both evenings kick off with cartoon shorts starting at sundown. Snacks will be provided, but it's BYOlawnchair.
5th Avenue and President Street. Sundown. Next up: July 28th, "Dressed to Kill," August 4th "The Phantom Creeps."