Free Fall Events In Downtown Brooklyn: Jazz, Swing Dance, Block Parties & More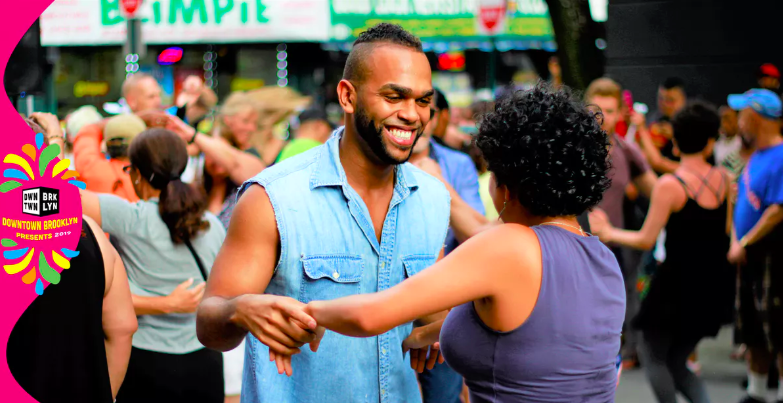 DOWNTOWN BROOKLYN – Downtown Brooklyn Partnership announced its lineup of community events for the Fall 2019 season. The "Downtown Brooklyn Presents" series features weekly lunchtime jazz concerts, lots of dancing, fitness classes, art and literary festivals, and more.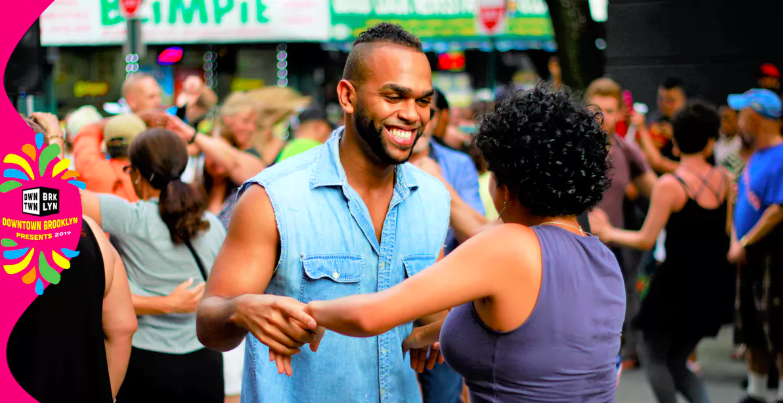 The free outdoor events will take place at locations across Downtown Brooklyn including Albee Square, Columbus Park Plaza, MetroTech Commons, and the Plaza at 300 Ashland.
See the "Downtown Brooklyn Presents" Fall 2019 schedule below (organized by location). Visit downtownbrooklyn.com for more information.
MetroTech Commons:
Dance Around Downtown: Swing!
Thursdays throughout September, 5pm to 8pm
Every Thursday in September MC Dandy Wellington will host an evening of live music and dancing, featuring bands, DJs, and dance instructors.
Sept. 5 – Dandy Wellington + His Band, with DJ Andrius, and dance lesson with Tony + Jaime
Sept. 12 – Gordon Webster + Friends, with DJ Odysseus Bailer, and dance lesson with Jennifer Sowden + Brooklyn Swings
Sept. 19 – Charles Turner + Uptown Swing, with DJ Brian Ferdman, and dance lesson with Gaby Cook
Sept. 26 – Eyal Vilner Big Band + Queen Esther, with DJ Ryan Swift from Frim Fram, and dance lesson with Evita Arce
Brooklyn Brews
Friday, Sept. 13, 4pm to 8pm & Saturday, Sept. 14, 12pm to 5PM
Presented by Brookfield Properties, Brooklyn Brews features local breweries, snacks, music, lawn games, and kid-friendly activities. The two-day event is family-friendly and dog-friendly!
Brooklyn Book Festival Children's Day
Saturday, Sept. 21, 10am to 4pm
The Brooklyn Book Festival's popular Children's Day features free literary activities for young book lovers, including readings, workshops, the Picture Book Tent and Young Readers Stage.
Columbus Park Plaza, Brooklyn Borough Hall:
Lunchtime Jazz Concerts
Fridays throughout September, 12pm to 1:30pm
Enjoy lunch outside while being serenaded by local jazz musicians every Friday afternoon in September.
Sept. 6 – Danny Mixon Trio
Sept. 13 – Tulivu's Seasoned Elegance
Sept. 20 – Gene Ghee Quartet
Sept. 27 – Greg Lewis Organ Monk
The Plaza at 300 Ashland:
Mark Morris Dance Center Open House
Saturday, Sept. 7, 10am to 2pm
Check out Mark Morris Dance Center's annual open house for a variety of outdoor dance classes.
Class Schedule:
10am to 10:45am – Family Fun: Broadway Jazz
11am to 11:45am – MMDG company members teach families how to perform "Flowers" from Mark Morris' The Hard Nut.
1pm to 1:45pm – Teen Hip-Hop
Brooklyn Caribbean Literary Festival
Sunday, Sept. 8, 12pm to 6pm
The Plaza at 300 Ashland will host the final day of the Brooklyn Caribbean Literary Festival, presenting a series of readings of classic and contemporary stories, talks, and a book market. The festival celebrates Caribbean culture and its "centuries-long tradition of storytelling." The inaugural theme, "Caribbean Beyond Carnival," will inspire conversations about identity and "what it truly means to be Caribbean."
Movement Mondays
Every Monday through October 7, 6:30pm to 7:30pm
Start the week off with Movement Mondays, featuring high intensity workouts, Pilates, and dance-inspired exercise.
Sept. 9 & Oct. 7 – Chelsea Piers BK Burn
Instructors from Chelsea Piers will lead this 45-minute high intensity interval training workout, combining strength exercises with short bursts of cardio intervals for a challenging total body workout. All fitness levels welcome.
Sept. 16 – BollyX
Join instructors from Mark Morris Dance Center for a Bollywood-inspired dance workout.
Sept. 23 – The Beyoncé Dance Workshop
This dance workout features moves inspired by Beyoncé's original choreography.
Sept. 30 – Pilates Mat with Nathalie Georges
Strengthen and lengthen your muscles with a focus on the core and breathing. Bring your own mat.
Brooklyn United Day
Saturday, Sept. 21, 11am to 6pm
Brooklyn's own marching band and dance group, Brooklyn United, hosts a day of dancing and drumming workshops as well as live performances at the Plaza at 300 Ashland.
Downtown Brooklyn Arts Festival
Friday, Oct. 4 through Sunday, Oct. 6
Join Downtown Brooklyn's celebration of the artists, writers, and performers who inspire the borough's creative spirit and community. Visit dbartsfestival.org for more info.
BRIC JazzFest Kickoff Concert
Saturday, Oct. 19, 3pm to 5pm
BRIC's annual jazz festival will kick off with a free outdoor concert at the Plaza at 300 Ashland.
NYRR NYC Marathon Cheering Station
Sunday, Nov. 3, 10am to 1:30pm
Mile 8 of the NYC Marathon is at the Plaza at 300 Ashland. Cheer on all the runners of the 26.2-mile race at this special cheering station that will feature music, treats, and Downtown Brooklyn cowbells for extra noise.
Albee Square:
Brooklyn United Back-to-School Day
Saturday, Sept. 14, 11am to 6pm
This back-to-school event will feature dancing and drumming workshops, live performances, and the chance to win Downtown Brooklyn back-to-school swag.
BKLYN BOO!
Saturday, Oct. 26, 2pm to 5pm
The annual outdoor Halloween party features fun activities, live music, art, and more, with the fun continuing inside at City Point.
DTBK Gets Lit! Holiday Lighting Party
Thursday, Nov. 21, 5pm to 6pm
Downtown Brooklyn's annual holiday season kickoff will feature special guest performances at Albee Square as well as a countdown to switch on the festive holiday lights.