How The Former Watchtower Building Will Be Transformed Into A High-End Office & Retail Complex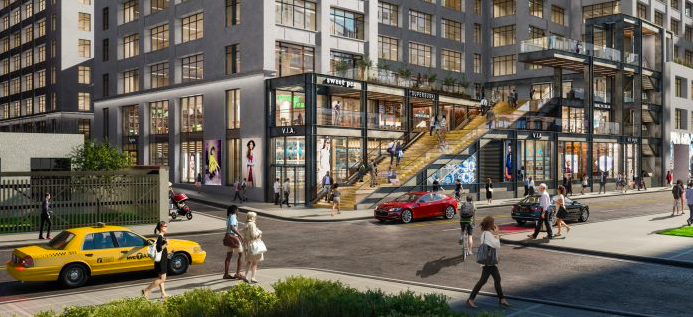 BROOKLYN HEIGHTS – After removing the iconic Watchtower sign from the Brooklyn skyline last December, Columbia Heights Associates are forging ahead with $80 million in renovations to transform five former Jehovah's Witnesses buildings into Panorama, a 600,000-square-foot-plus deluxe office and retail complex.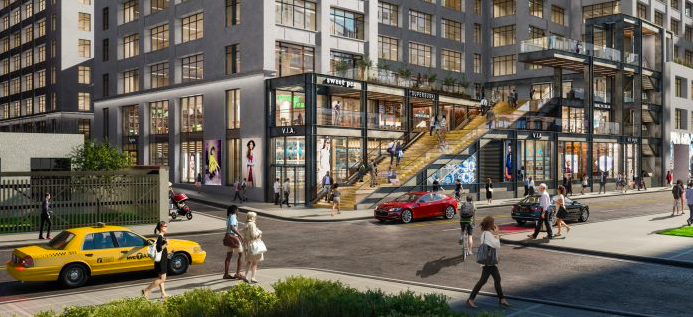 A joint venture comprised of CIM Group, LIVWRK Holdings, and Kushner Companies, Columbia Heights Associates purchased the five Watchtower buildings, located on two acres in Brooklyn Heights, for $340 million in August 2016.
LIVWRK's CEO Asher Abehsera tells the New York Post that the buildings will be repainted from a "sand color to 'early dawn,'" or light grey, and the black films covering the massive windows will eventually be removed.
The two largest buildings in the project, numbers 25 and 30 Columbia Heights, are connected by a sky bridge, and will offer approximately 600,000 square feet of office space combined. Number 25 will feature approximately 1,000 square feet of retail space while number 30 will have about 23,000 square feet for retail and an outdoor staircase leading to the stores, the Post reports.
The smaller buildings, numbers 50 and 58 Columbia Heights and 55 Furman Street, will provide a total of 63,000 square feet of office space and approximately 10,000 square feet of retail space. 58 Columbia Heights is being considered for a boutique hotel, according to the article.
Along with views of the East River and Brooklyn Bridge Park, many tenants will have access to outdoor terraces that will provide "55,000 square feet of undulating gardens," the Post notes.
Asking rents for office space will be "$75 to $85 per square foot," Abehsera tells the Post, however a NYC program that encourages moving employees to the outer boroughs could reduce rents by $15 to $20 per square foot.
The properties were home to the Jehovah's Witnesses headquarters for nearly fifty years before the group relocated to Warwick, New York and began unloading its many real estate holdings in the area.