For Red Hook, Justice Center is Much More than a Court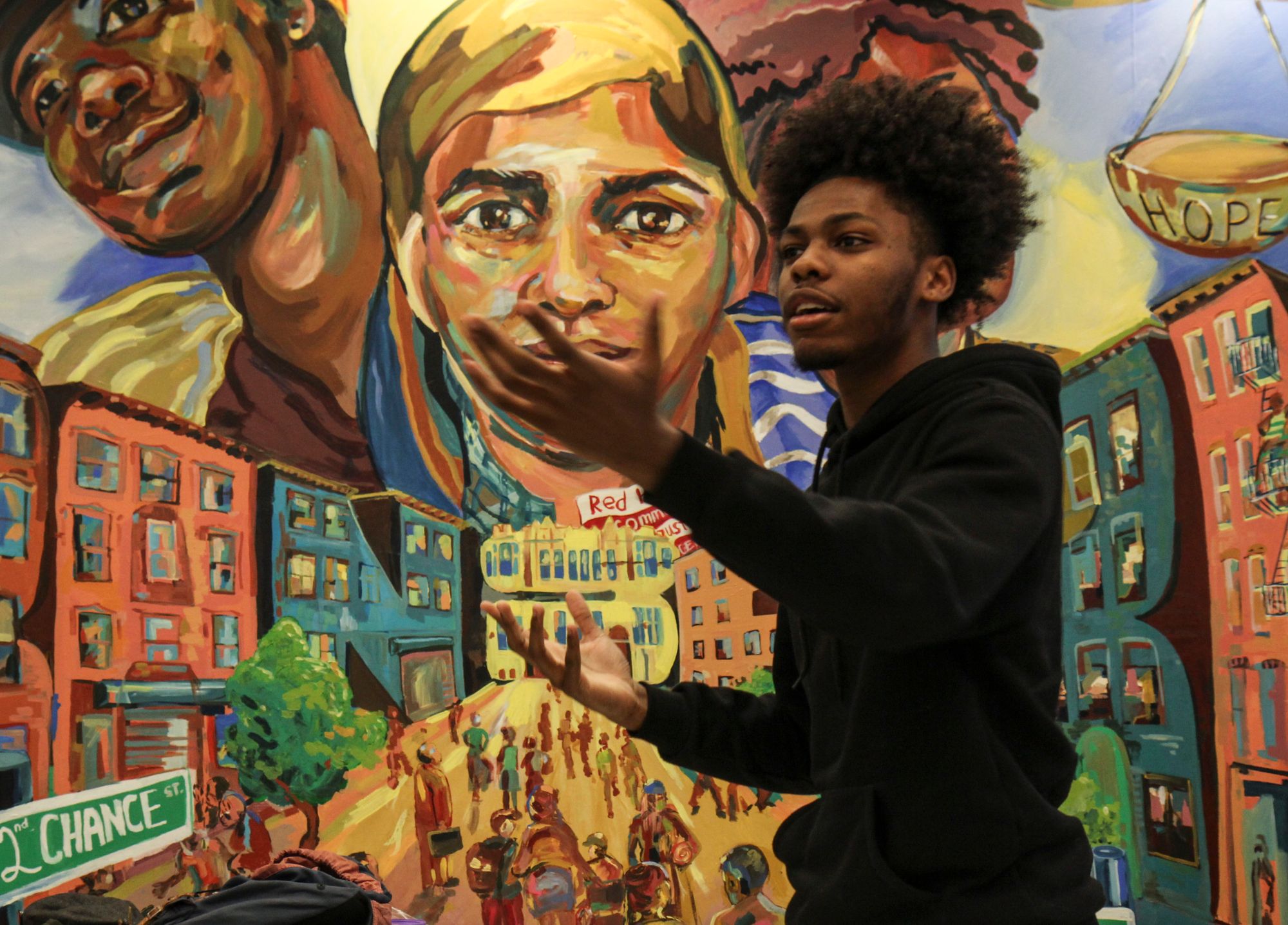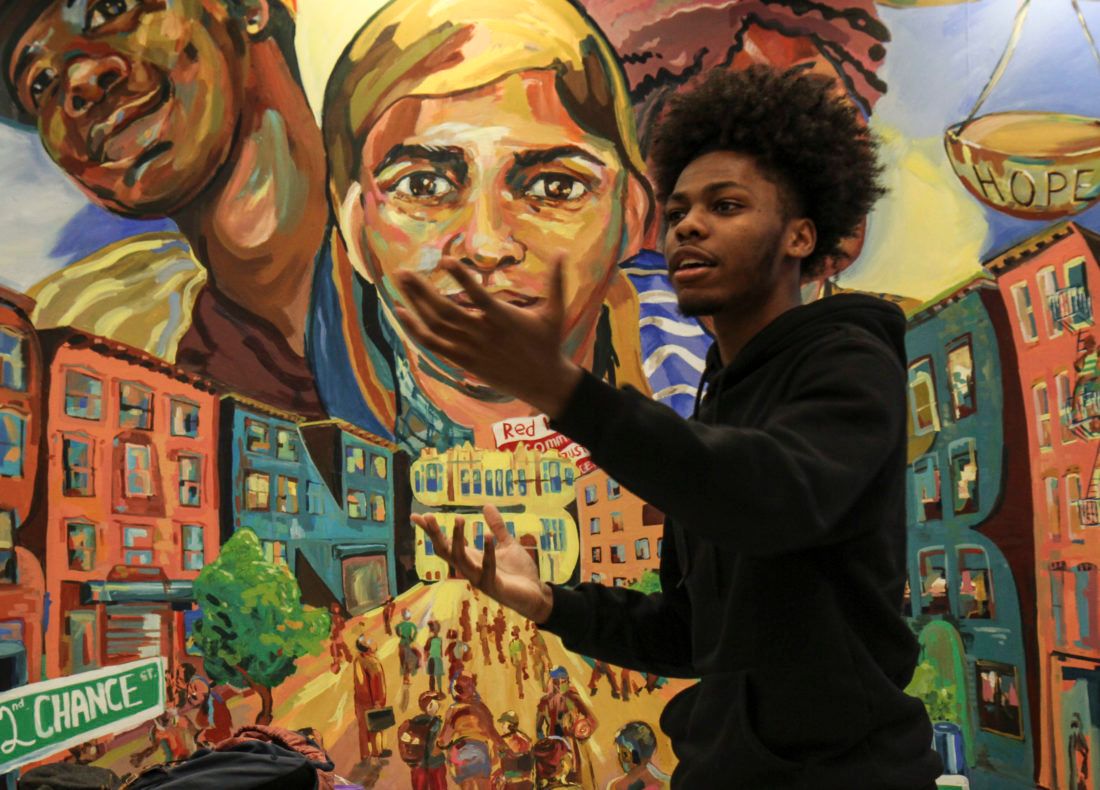 RED HOOK – From the number of people streaming into the Red Hook Community Justice Center last Tuesday afternoon, no one would have guessed that court wasn't even in session.
In one room, a circle of teens defined what being a good citizen meant to them. Down the hall, a troupe of young actors silently acted out scenes of conflict drawn from their own experiences. In the lobby, area residents and officers gathered before the 76th Precinct Build the Block meeting.
The variety of programs held at the RHCJC grew out of nearly two decades of work to reduce crime and incarceration by addressing community needs. Last month, the center was one of five nonprofits awarded the Brooklyn Community Foundation's annual Spark Prize and $100,000.
RHCJC Project Director Amanda Berman says that money will help sustain and expand the center's many programs, which include social services like job training and GED classes, a Housing Resource Center for tenants of the nearby Red Hook Houses, and youth activities.
"We occupy a unique space as both a community center and a court," she said. "Historically, that didn't exist, so we're trying to model how a court can play an engaging, productive, transformative role in a community. We want the community to feel a sense of ownership here."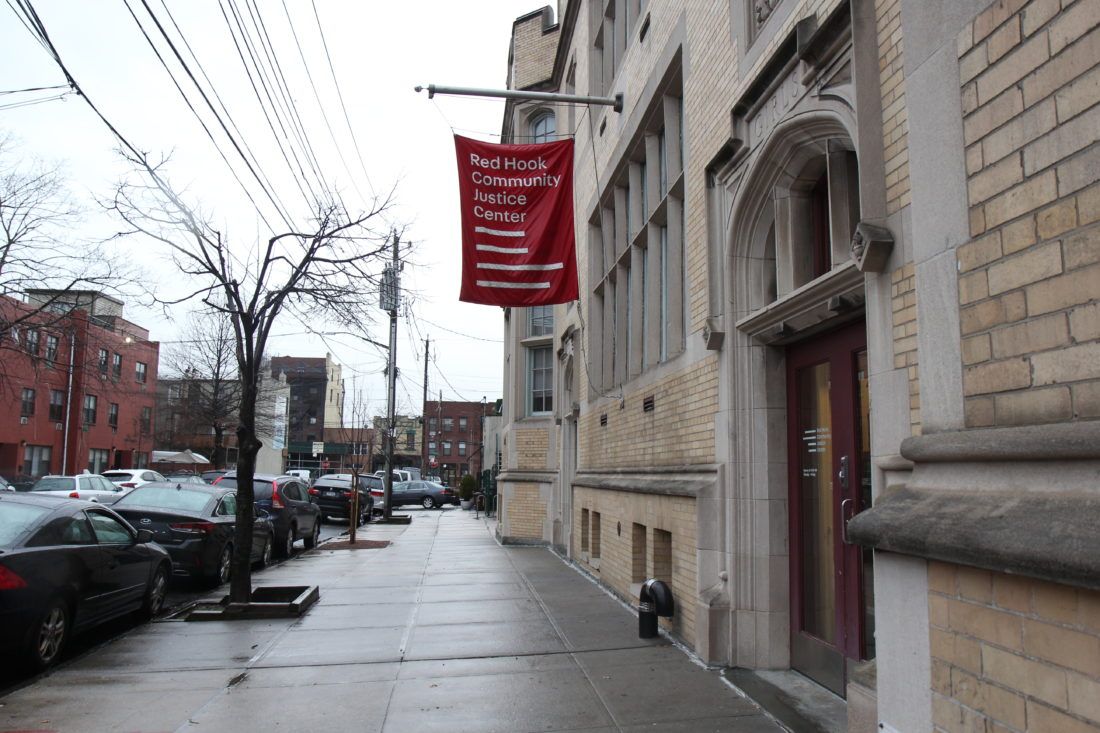 The RHCJC was founded by the Center for Court Innovation in 2000 to serve as a joint family, housing, and criminal court. It is designed to promote procedural justice, or the idea that people are more likely to respect the court process when four key conditions are met: they understand the process, have a voice in it, feel respected, and believe the process is neutral.
The approach is visible in the courtroom, where Judge Alex Calabrese has presided since day one. Last Tuesday, he saw a defendant who was re-arrested on suspicion of drug possession two months after beginning counseling. Although the prosecutor requested bail, Judge Calabrese agreed to release the man with mandatory substance abuse treatment and testing.
He encouraged the man and pointed out that his fianceé had spent all day waiting for him to appear. After his ruling, the judge called the man up to the bench and they spoke for several minutes — something defense attorneys in most courts would never allow.
"Here, they realize that he's just encouraging them and asking, 'What's going to keep you on the right path?'" said Berman. "It's his chance to connect on a personal level, to shake their hand."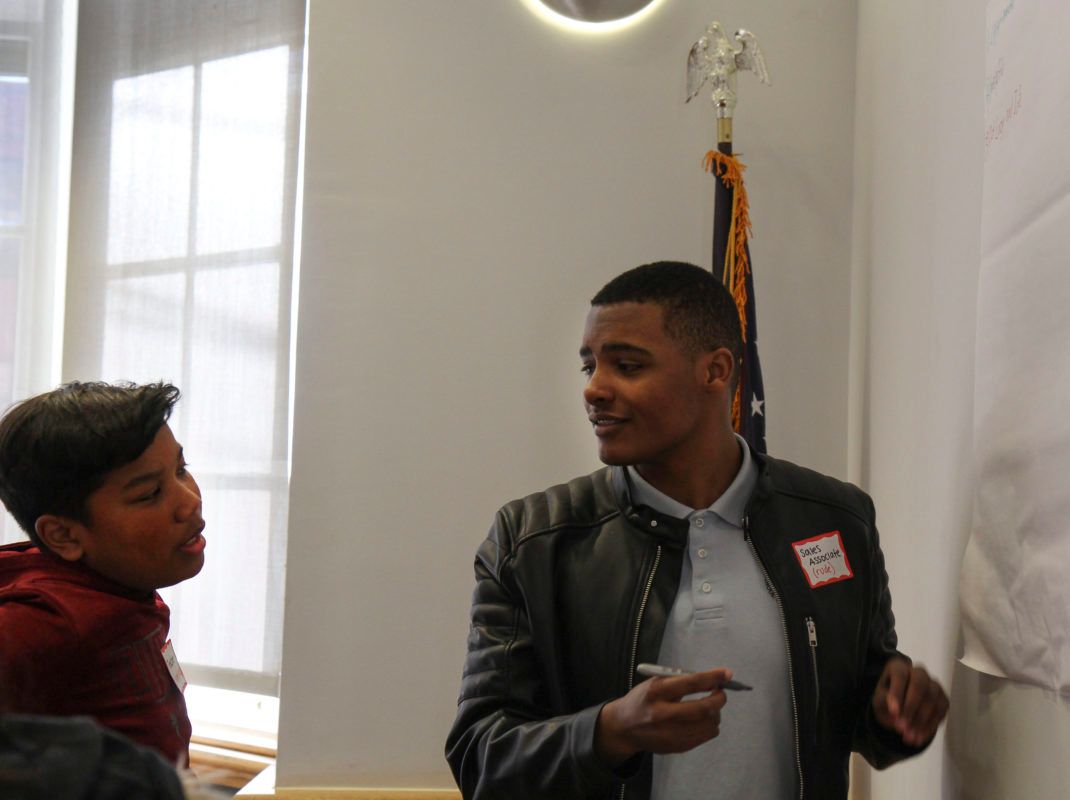 Each defendant is assessed by social workers to match them to on-site programs, like a support group for people who've experienced violence, or referral to outpatient treatments for mental health or substance abuse. All of the center's services are open to residents on a walk-in basis. Locals may recognize a familiar face at RHCJC, which is the host site for more than two dozen Americorps volunteers. Berman estimates about 80 percent of them are from Red Hook, and many have subsequently been hired into permanent positions.
"It sends a powerful message when people from the community come in and see their neighbors and friends," Berman said. "They feel they can trust this place because the people working here are the people who live next door."
One of those people is Marissa Williams, a Housing Resource Specialist at the RHCJC who did Americorps before being hired full-time two years ago. A resident of the Red Hook Houses herself, Williams said neighbors often stop her in a store or on the street to ask for help.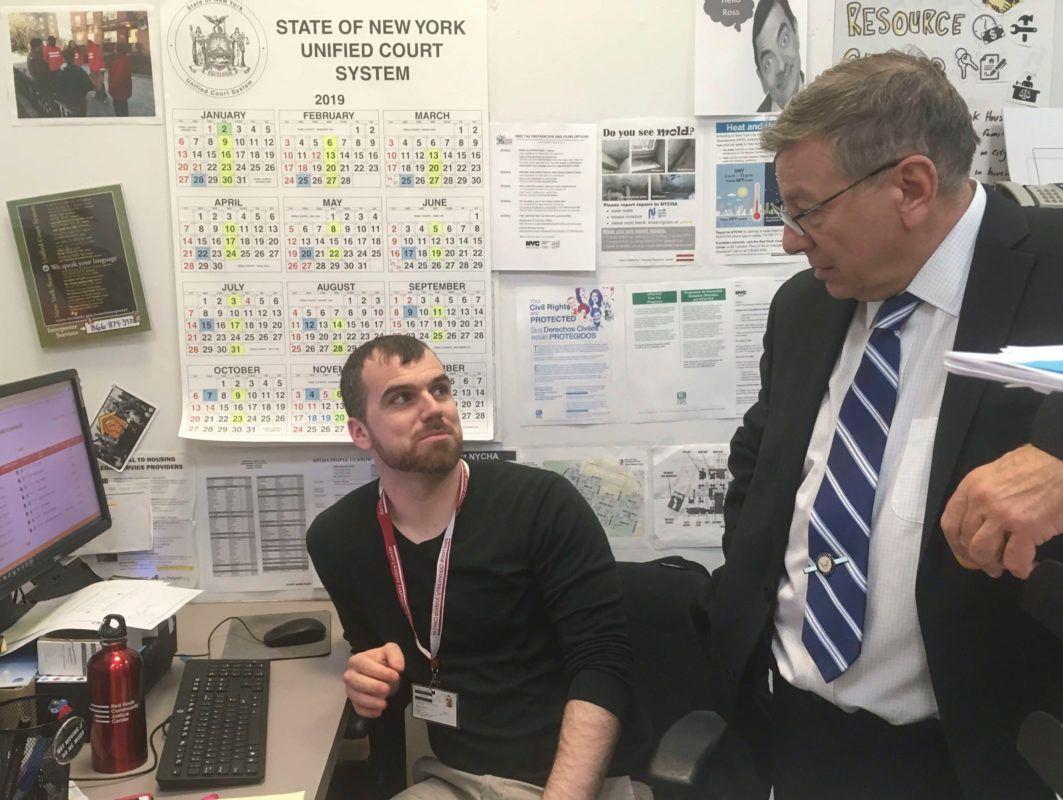 "It doesn't bother me because I know they're frustrated, they've been without repairs or they're scared they're gonna lose their home," Williams said. "I just direct them. I live out here, so I'm for my community and any way I can help, that's what I do."
Often, that means instructing a tenant to document the problem religiously and initiate a claim against NYCHA. Tenants can be reluctant to make noise about maintenance problems; Williams even had to convince her own grandmother that a recurring leak needed a proper fix.
When tenants and agency representatives face off in housing court, Williams keeps a close eye on both parties. She can sense when a breakdown in communication or a perceived slight threatens to derail the process, and she works to soothe tenants by serving as a go-between.
"I play mediator, being that they know me. Once they give me the eye, I go over there to talk to them and calm them down," she said. "Half the time I just get their file and we go directly to the judge so they don't have to talk to [the NYCHA representative] if they don't want to talk to them."
The demand for housing assistance has grown quickly in recent years. From 2016 to 2018, both the number of households served annually and the number of housing court cases initiated by tenants nearly doubled. Berman says she is exploring growing the Housing Resource Center staff to keep pace, but needs to ensure any new position can be sustained in the long-term.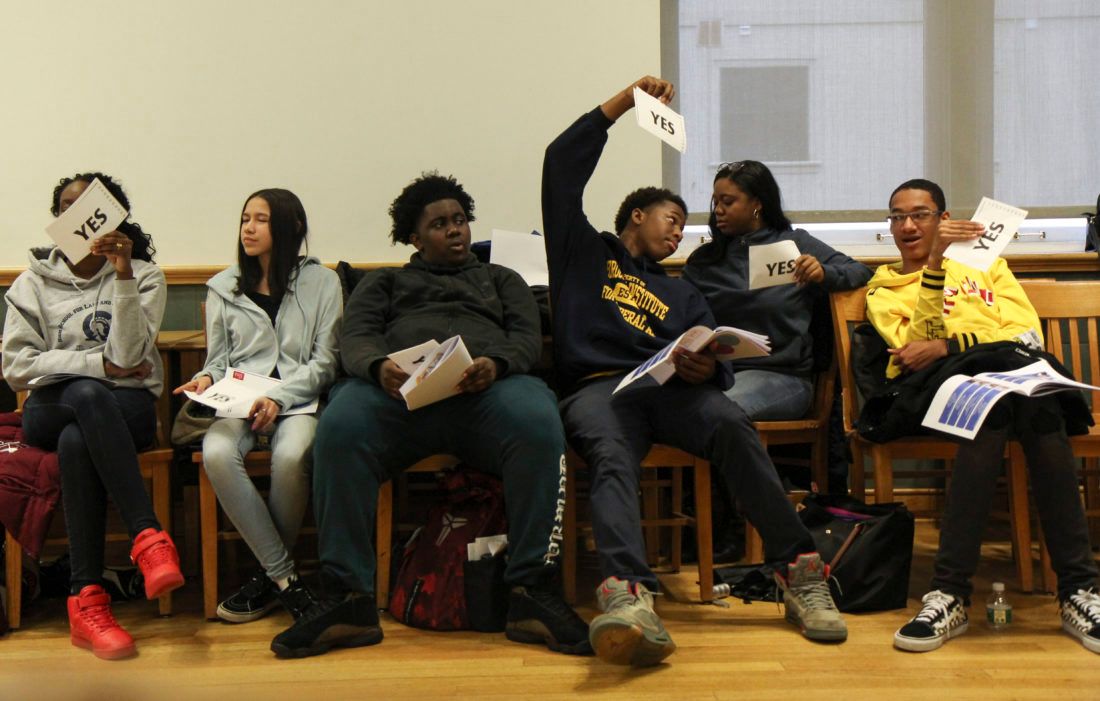 Another program in need of additional funding is the Peacemaking program, a community-led restorative justice program based on traditional Navajo teachings. RHCJC staff train residents and police officers to hold circles that engage people in conflict and devise productive steps to repair relationships and build trust. The circles also cast neighborhood officers in a new role.
"I'm a cop, I'm not usually supposed to be talking about my feelings, but my experiences can help others see they're not the only one who goes through this," said Officer Vegnel Jovin from the 76th precinct. "Sitting in the room, they see we are people too – we do have emotions, we do feel fear, we do feel sad – and it does help with the peacemaking."
By partnering with another Americorps site, the RHCJC has expanded peacemaking circles to nearby South Brooklyn High School, a transfer campus for students who've struggled in other settings. But the other Americorps program will soon end, and the RHCJC is gaming out a way to keep the program alive through a combination of the Spark funds and other grants.
"We're training students to become peacemakers so it can be a sustainable peer-mediation program," Berman said. "They just graduated a class of students who now serve as role models and mediators. It's really important as an alternative to detention, suspension, calling the police."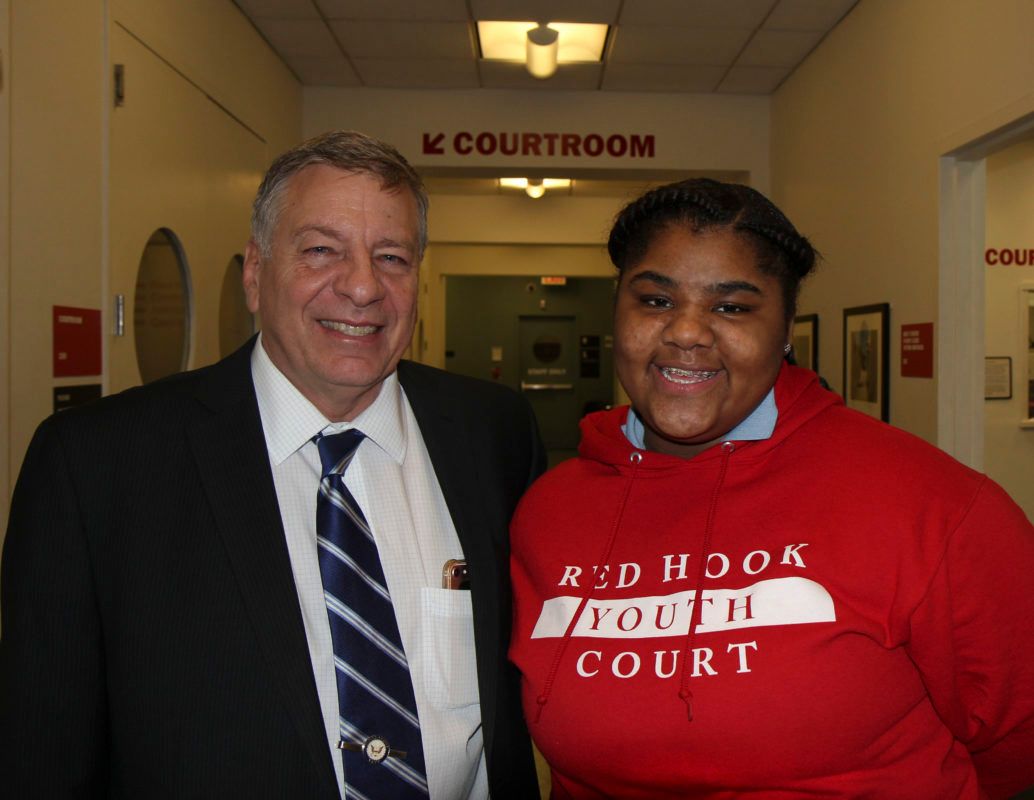 Teens employed by the RHCJC Youth Court program play a similar role as they rotate between serving as the judge, jury, and advocate for minors facing low-level cases. Aniyah Porter, 15, is in her second year in Youth Court and says the experience has already shifted her outlook.
"If you're in a place where you see nothing but negative side of court — you see people come home from jail and say they were treated bad — and then you get to a place where you get to see the positive side of things, it changes your perspective a lot," she said. "Now I'm seeing there's actually things that are trying to be done."
Porter isn't alone in her liking for the RHCJC; a 2016 survey found that more than 4 in 5 residents held positive feelings towards the court. Calabrese says that relationship is by design.
"What you get out of a community court, it's much broader," he said. "You're not looking to lock up your community, you're looking to problem-solve and get them on track by using services."