Food Stuffs: Rice Flour Rolls – Yu King Bakery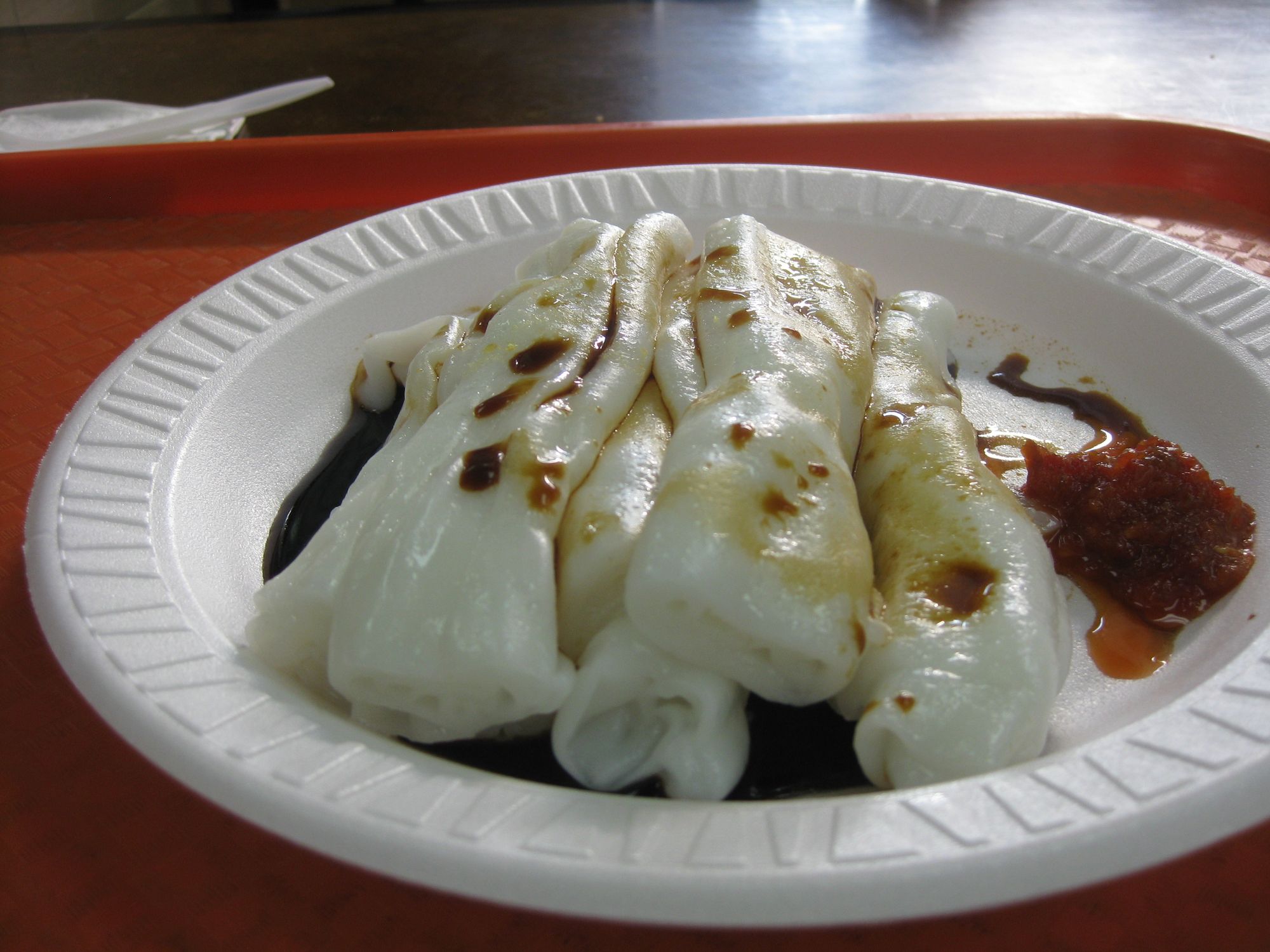 There are many small Asian bakeries that populate 86th Street. These bakeries are full of hearty food, character and wonderfully cranky counter staff. I often find myself running through Bensonhurst trying to meet my Bean colleagues, interviewing oil recyclers and searching for Sandy Koufax – and in need of a quick and cheap bite.
The Yu King Bakery (2335 86th Street) is the spot for such a bite. I walked in and noticed a few older Asian women sitting at tables, drinking tea or coffee and holding court. I don't know what they were holding court on, but I doubt it was about the Giants or Jets season, but you never know. They seemed content and at home as they offered a welcoming smile in my direction.
I wanted to order something light, and I approached the counter staff cautiously. Pork buns and thousand-year egg cookies stared back at me. I asked the staff if they had any food without meat, and the staff responded, "Meat?" Then, they scooped some meat from the steam ovens onto a nice plate and showed it to me.
I told them I wanted something with no meat and they put the plate into the steam ovens. When the oven was open, I noticed the familiar shape of a dim sum prize, the golden glove winner: Rice flour rolls.
There is a secret living in Bensonhurst and that secret is dim sum. You don't only have to to go to Sunset Park or the Canal Street Chinatown to find dim sum. So, I was ready for a simple dish and I ordered the plain dim sum rolls for $2. They had many options of course, rice flour rolls with pork, with shrimp and with beef. I was looking for something a bit more Bensonhurst, like rice flour rolls with eggplant Parmesan or sausage and peppers, but that probably wasn't going to happen.
The rice flour rolls came hot out of the steam oven, and they were put on a bright red tray with a napkin and plastic fork.
I sat at the window seat and looked out into the traffic under the el, the flow of cars and people, the wait for the D train, and enjoyed the warmth of the steam coming of the rolls. I realized that the hot sauce at every table in the ketchup squirt bottles wasn't going to be enough for me so I went back to the counter and asked for more sauce. They gave me a sweet soy sauce that I slathered on my rolls.
The rolls themselves were warm and mushy, they felt healthy and alive. They felt like something that would give me the strength to get anywhere in Brooklyn. I could walk to Bay Ridge from here, or make a right on route to Bergen Beach. A turn in a different direction and the rice rolls could take you all the way to Bed Stuy.
The plain taste of the rolls allows you to enjoy the salty, sweet and spicy combination of the two sauces. You can think for a minute that the D train rumbling by may take you further than New Utrecht.  It may take you to a back alley in Shanghai, where the rolls are always hot, fresh and ready for the day.
When the rolls were finished, the counter staff quickly bussed my tray and sprayed down the table, even though I didn't drop any food. They asked me if the food was good, simply by saying "Good?" I nodded, and thanked them for their service.
It was a solitary meal, a simple roll, and a warm way to embrace the new flavors of 86th Street.
Yu King Bakery, 2335 86th Street
Is there a restaurant or specific dish you think we should check out? Let us know!