Following Shootout, Pols Call For Expanded Youth Services To Bring Down Violence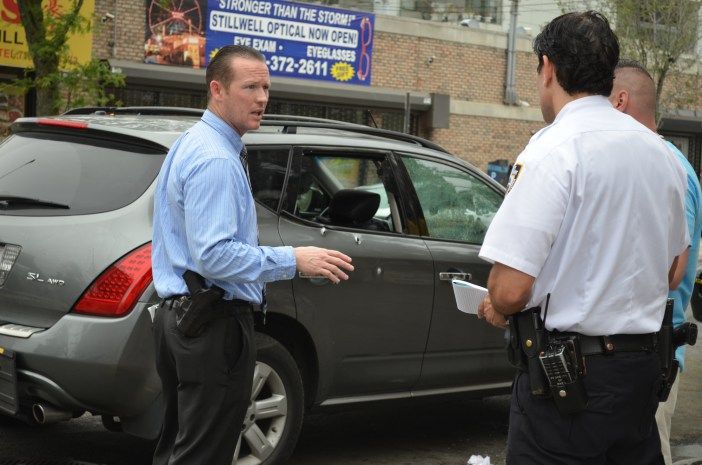 Local elected officials are calling on the city to address gun violence in Coney Island by expanding youth and employment services after a terrifying shootout occurred this week at a crowded intersection this week.
Gunfire erupted Sunday afternoon at the corner of Mermaid Avenue and West 16th Street — sending four people to the hospital. The gunshots shattered car windows and left bullet casing scattered around the intersection.
The gun battle took place barely 10 hours after another shooting up the block wounded a 38-year-old bystander.
City Councilman Mark Treyger, while calling for an increased police presence in the area, said in a press release that law enforcement can't expect to "arrest our way out of these issues."
"The most effective way to prevent further gun violence is to provide residents in Coney Island with more education and employment opportunities. Degrees and jobs are the best preventative measures," he said in a statement.
Treyger has repeatedly highlighted the disparity between the city's investment in Coney Island's amusement district and the neighborhood's west end. Earlier this year, he joined with residents calling for the city to purchase a shuttered property so it could be turned into a community center. Neighbors lamented that two local community centers have not been revived since they were destroyed by Sandy while another is closing.
The city ignored their pleas — allowing grocery tycoon John Catsimatidis to buy the property at auction.
State Senator Diane Savino and Assemblywoman Pamela Harris also joined Treyger in calling for more services in Coney Island in order to discourage youth from violence and gang activity.
"Nothing upsets me more than to hear about not only one but two shootings within my district over the weekend," Savino said in a statement. "We as elected officials must ensure that individuals living in our districts have the necessary resources and education to prevent unfortunate incidents like this from happening within their communities."
There were six shootings and two homicides reported through May 29 in Coney Island's 60th Precinct, according to the latest crime statistics. In one instance, a 57-year-old woman was shot in the face by a stray bullet while crossing the street.
The city has allocated funds to bring the NYPD's ShotSpotter gun detection program to Coney Island and staff up on additional officers for the summer.
However, the elected officials said the efforts of law enforcement must be complemented by additional services that address the root of the problem by keeping young people off the street.
Harris drew on her experience as a correction officer at Rikers Island to explain how the dearth of opportunities for Coney Island's youth is driving the violence.
"I've seen firsthand how poverty can drive our youth to desperation and senseless acts of violence, and I believe one of the most effective ways we can keep our kids on the straight and narrow and ensure our communities stay safe is to create more opportunities – opportunities for learning, opportunities for growth and opportunities for jobs that pay the bills and promote responsible citizenship," she said.