Flu Advice With Dr. Hugh Gilgoff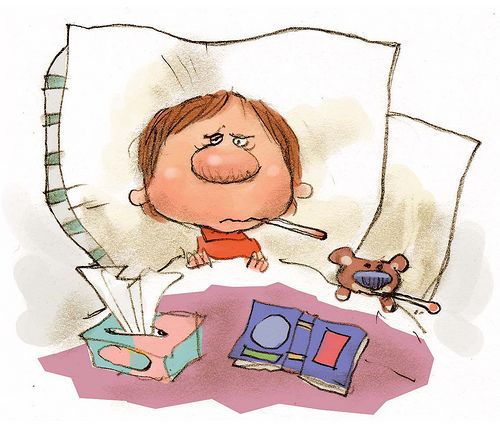 Whether you've got it yourself, know somebody who does, or have just heard about it on the news, the talk of the town right now is flu. How serious is the situation this year? Dr. Hugh Gilgoff, pediatrician at the Mount Sinai Brooklyn Heights Medical Group, sat down with A Child Grows in Brooklyn this week, to set the record straight on the flu virus, and vaccines.
How do you know if you actually have the flu?
When the real flu comes to your house, you'll know it.  It is everything – cough, cold, runny nose, but also sore throat, fevers, chills, abdominal pains, muscle aches, weakness and lethargy.  And that is in a strong person, or "host".  This interaction, between germ and host, is perhaps the most interesting and perplexing areas of medicine.  Why are two different people challenged with the same germ and react so differently.  Why did Uncle Joe only have a runny nose, but after coming to see the newborn baby, the baby got pneumonia or meningitis?  This happens all the time – even within families – where some of the kids get strep, but the others don't.  Or some get a 5 day stomach flu, and others only 24 hours.  It is not just the strength of the immune system, but a complex interaction between the bad guy (the germ) and the good guy (the person as a whole, including their immune system, genes, environment etc.)
Are vaccines safe?
None of the normal vaccines have thimerosal anymore, but there are some flu shots that do.  Ask your doctor which vaccine they have, as of course most parents feel more comfortable getting a thimerosal-free flu shot.  But thimerosal has been well-studied, and it has never been shown to directly cause illness or autism.
Should everyone get a flu shot?
Well – if you don't have kids, or grandparents, and you are strong and brave – perhaps not.  But if we are talking about the young or old, or anyone who lives or cares for them – I would say yes.  For most of us then, the flu shot is indeed worth getting.  In fact the American Academy of Pediatrics recommends the flu shot for each and every child.  It is best to get the vaccine early in the season, perhaps September or October, but it is still worth it to get it until March or even April.
For the full article, visit the Child Grows in Brooklyn website.
Image via Yahoo Images