The 5 Best Jerk Chicken Joints In Flatbush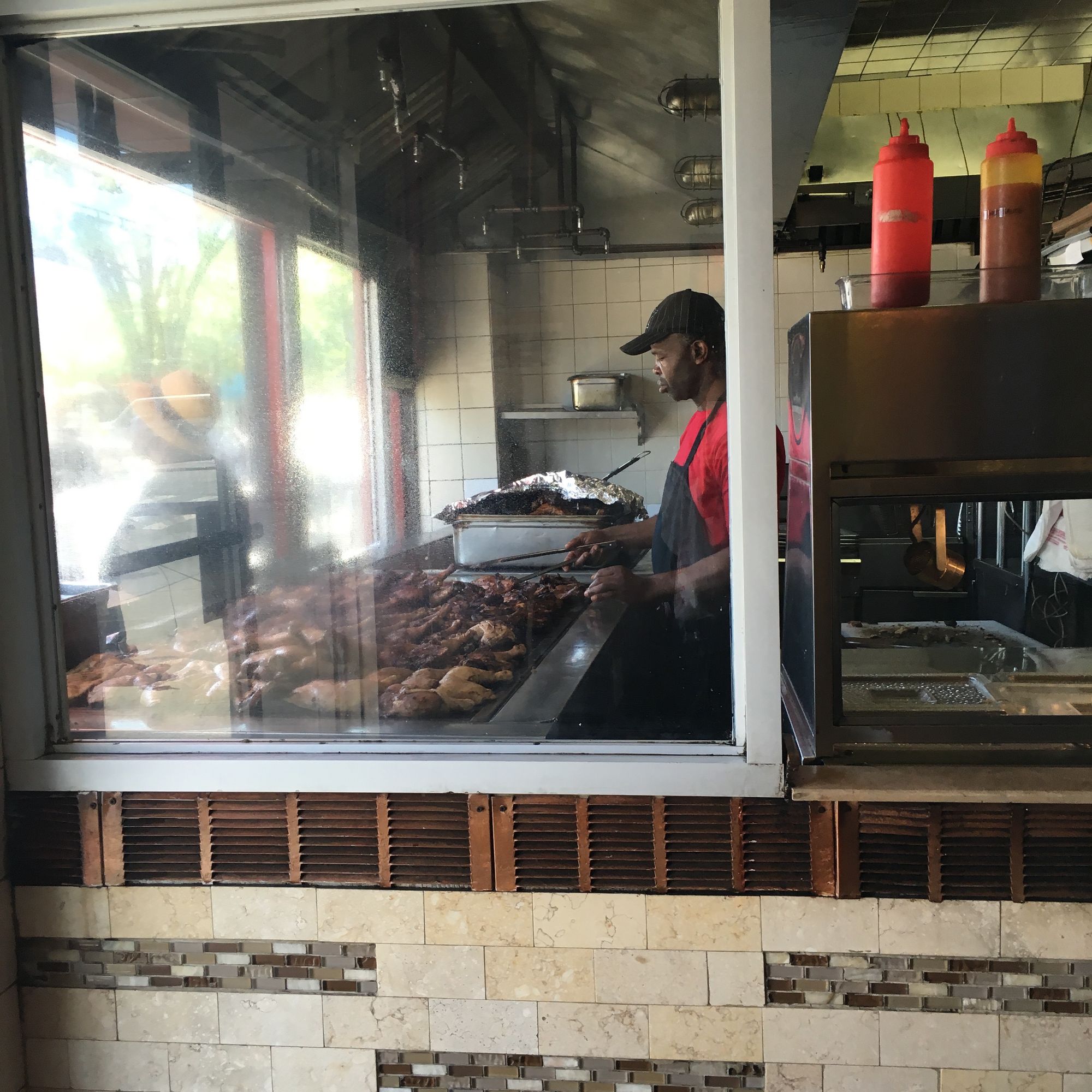 Flatbush, with its legendary population of Haitian, Jamaican, Trinidadian, and Guyanese immigrants—is a mecca of caribbean food. And jerk chicken is one of the easiest, and tastiest neighborhood treats, either as for a cheap lunch or late night meal.
Jerk refers to a style of cooking and an often well-guarded, secret spice blend. As a dish, jerk meat is usually grilled, baked, or broiled with a dry-rub or wet marinade of Jerk spices—mainly Scotch Bonnet peppers, Pimento (or Allspice), with a mixture of cloves, cinnamon, scallions, nutmeg, thyme, garlic, brown sugar, ginger, or salt. In Jamaica and on Flatbush Avenue alike, it's not uncommon to spot the signature charcoal grills lining the streets, made from halved 60-gallon oil drums and filled with charcoal to add that smoky flavor.
With around 50 restaurants adding their own unique approach on the traditional Jamaican dish, The Village Voice calls Flatbush the jerk chicken capital of the world. We put together a list of our 5 favorites—from taste tests, reviews, and word-of-mouth, and if we've missed your favorite, please let us know in the comments!
Exquisite Express (or Exquisite Delight), 2847 Church Avenue, between Rogers and Nostrand Avenues
This spot earned the top jerk chicken rating by both The Brooklyn Paper and The Village Voice, an honor they proudly display in poster-sized, framed reviews in their Church avenue shop. I ordered the 1/4 chicken, mainly chopped leg and thigh, and the to-go container came so stuffed it wouldn't close. This grilled chicken had a flavorful, charred skin, with incredibly tender meat. The jerk spices were especially strong, with a pepper and clove bite. Exquisite is a great place to go for your first jerk chicken taste—they have a 4.4-star rating on yelp, are open from 7am to 12am for early morning and late night cravings.
2. Fisherman's Cove, 2025 Church Avenue at East 21st street, and a second location at 4 Newkirk Plaza
Fisherman's Cove will always be my favorite spot because it's the first place I tried when I moved to the neighborhood years ago. The small shop has a few seats that look out onto the historic cemetery at the Flatbush Reform Church. The jerk chicken is consistently great—slathered in sweet, thick BBQ sauce with smells that permeate the take-out bag. And for $6, the small chicken is a perfect meal (add rice for only a few dollars more).
3. Peppa's Jerk Chicken, 738 Flatbush Ave between Parkside and Clarkson avenues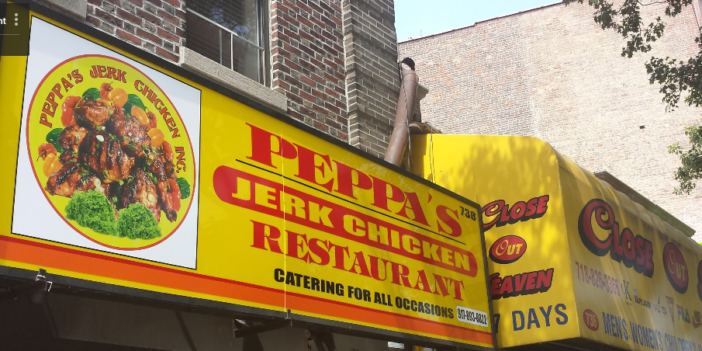 No jerk chicken roundup would be complete without this 24-hour Flatbush avenue legacy. There always seems to be a crowd at this small, dark take-out restaurant, no matter what time of the day or night. With a 4.5 Yelp rating, this review says it all: "After a long day of, well, anything, there is nothing better than walking into an eatery and getting the wind knocked out of you from how tasty it smells. The line is always out the door for a good reason: this chicken is charred, spicy, tender and basically perfect."
4. K & E Jamaican Style Restaurant, 931 Flatbush Avenue between Church and Snyder avenues
This Flatbush avenue favorite must be good—since it can hold its own directly across the street from the famous Golden Krust Bakery. The full Jamaican menu including pepperpots, curry chicken, roti, and sweet pastries, not to mention delicious, charred jerk chicken.
5. Errol's Caribbean Bakery, 661 Flatbush Avenue between Hawthorne and Winthrop streets
Many people we asked said Errol's is in their top bakery list, along with their place as one of the top jerk chicken spots in Flatbush. One reviewer says: "The small jerk chicken platter for like $6…was pretty damn addictive. First off the sauce was on the side which made eating neater and also controlled the spice level. It was a bit heavy on the vinegar but also flavorful and very hot." For more details on the jerk chicken, The Voice says: "The jerk chicken not particularly smoky, but it is plump and pungent. The sauce proved dark and thick and very Worcestershire-y, with allspice constituting a prominent flavor note."
What placed did we miss? Tell us about your favorite Flatbush jerk chicken spots in the comments below.