First Bite: Guinness Stew And Soda Bread At Hartley's In Clinton Hill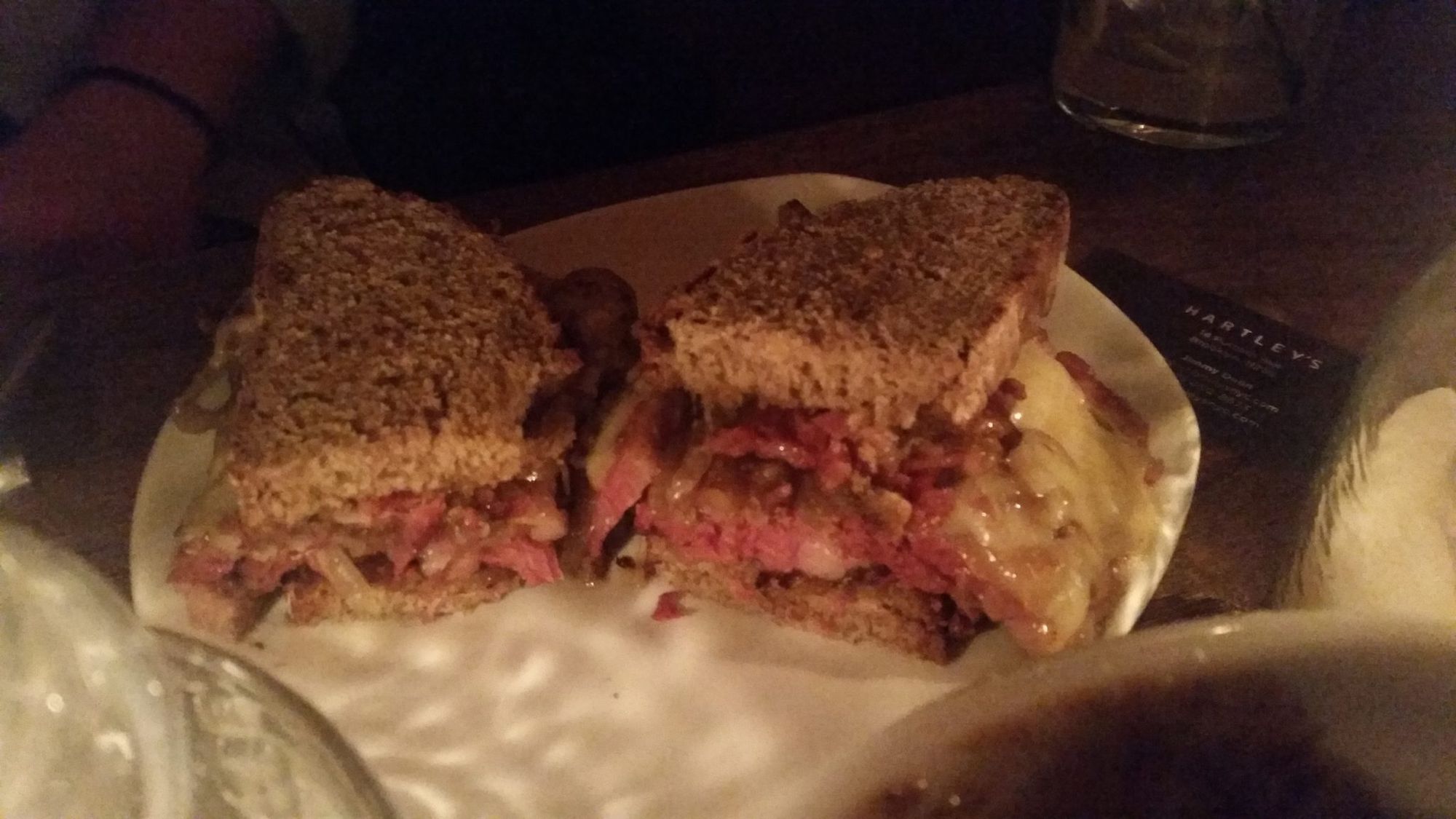 Hartley's is the authentic Irish pub that Clinton Hill never knew it was missing. Open for a month (since mid-December) and owned by three friends who are also Irish transplants with years of combined experience managing and bartending at such NYC spots as Slainte and Dempsey's, the bar/restaurant exudes simple charm and maximizes the space, transforming it into a no-frills public house that encourages conversation. There are many reasons why it is a must for all locals and guests alike, but first, the food.
Soda bread with Irish butter ($4) is a staple of any Irish table and Hartley's versions do not disappoint, surprising even our experienced native New Yorker tastebuds with its subtle earthiness, and not-at-all overwhelming or too-chewy texture. The butter was also refreshingly creamy and the side of salt is a nice option.
We suspect that the reason the soda bread is so awesome is because they're home recipes from the moms of Hartley's owners Mike O'Sullivan, Jim Dunn, and Dan Grace.
"Brown bread is huge for us," said Jim, who hails from Ireland's Midlands and Roscommon County. "Our moms make it every week."
Pair the soda bread with Guinness ($8) and Crispin Cider ($6), or any of the other beers, drafts, and cocktails available and you could be good to go, but Hartley's is also more than just the basics.
Two of Hartley's signature and most popular dishes are the Potato and Leek Soup ($8) and Guinness Stew ($14).
The darkly rich stew features simple ingredients: grassfed beef and roasted vegetables in a thick and noticeably Guinness-flavored gravy.
The equally hearty, yet beautifully bright potato-leek soup is just as filling and makes a perfect healthy dinner or shared starter between two. We loved the chunkiness and creaminess contrast, and soppy up every last bit with soda bread and toasted crusts.
About those toastie crusts. . .  We got those from an Irish Cheddar Toastie with cured salmon ($8+3, swap it with bacon, if you prefer) and the above sandwich of house-spiced beef, Irish cheddar, grilled onion on soda bread ($13).
The toastie is an ideal appetizer for two or even four, and the salmon has good flavor and color. But it is the beef-cheddar-onion sandwich that really caught our attention between the two: it practically melts in your mouth and felt like such a treat to eat that it was a struggle to have to share this one.
Hartley's ambiance matches the food in understated, authentic perfection and charm. Like everything here, the wood tables and bar shelving, and lamps and even the outside sign are all labors of love by Mike, Jim, Dan, and their talented friends.
"We got our hands dirty and put our own stamp on it based on the bars we had at home in Ireland," said Jim. Mike, who hails from Cork, agreed, adding that they "tried to build it as close a replica to old Irish bars we worked at since [we were] 12 years of age, bringing glasses to the counter."
The name Hartley's is also a harkening back to their origins — particularly Mike's: it was his great grandfather's nickname since O'Sullivan is such a common name.
The trio's families are also thrilled and proud of their business venture. "It was hard to commit long-term to not being home," said Jim, "but my dad is living vicariously through us."
Verdict: Small details, big hospitality, genuine heart and charm — Hartley's is hands-down one of our new favorite go-to spots for almost any occasion in Clinton Hill. Both food and drink are covered well, and the service can't be beat. FYI the menu and hours may also expand to include brunch in the near future.
HARTLEY'S
14 Putnam Avenue
Open at 4pm daily
Closes at 1am (Sun-Mon), 2am (Tues-Thurs), and 4am (Fri-Sat)
Brunch is coming soon