Fight For Jim Brennan's Seat May Hinge On Level Of Frustration At Dems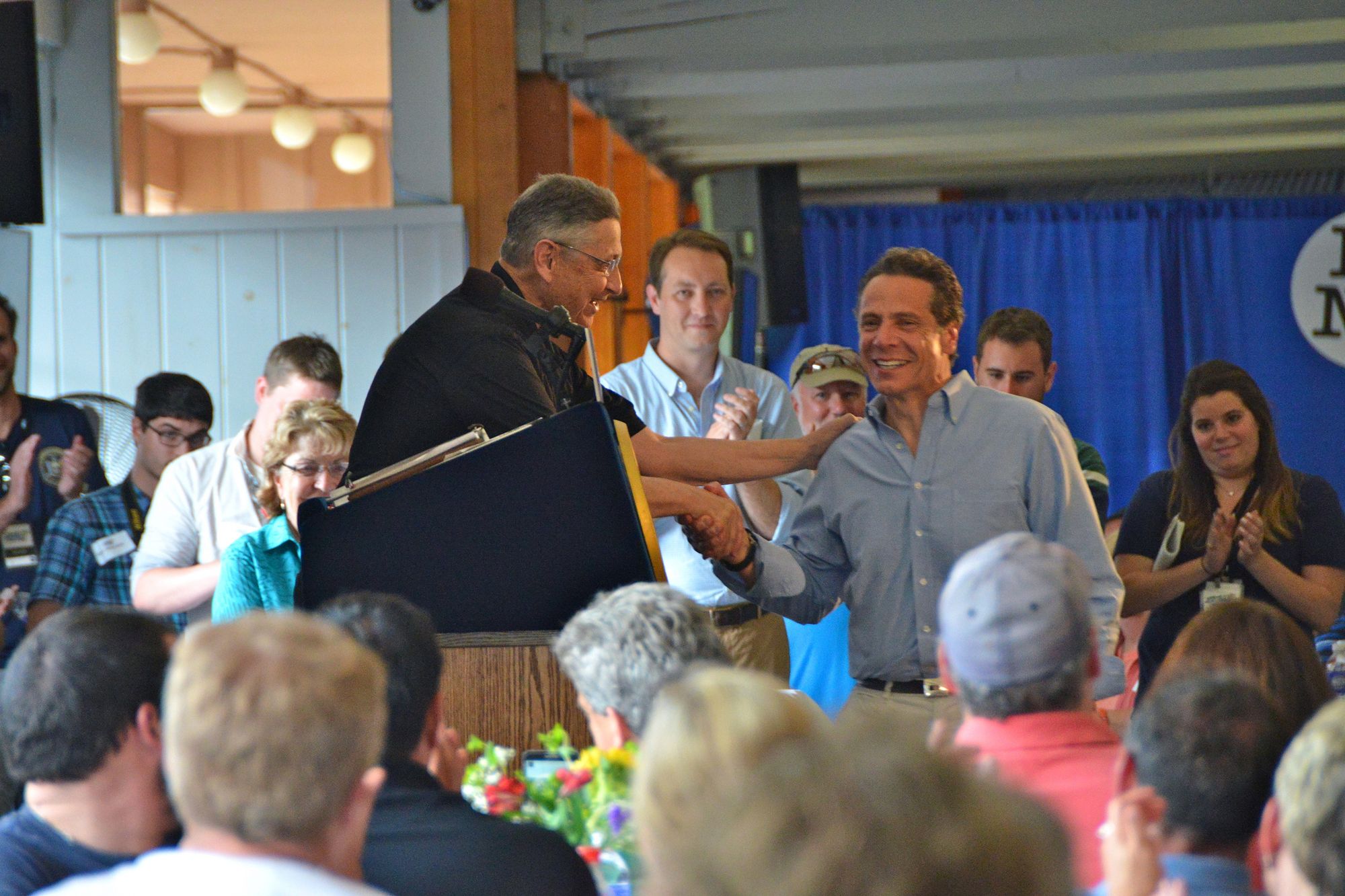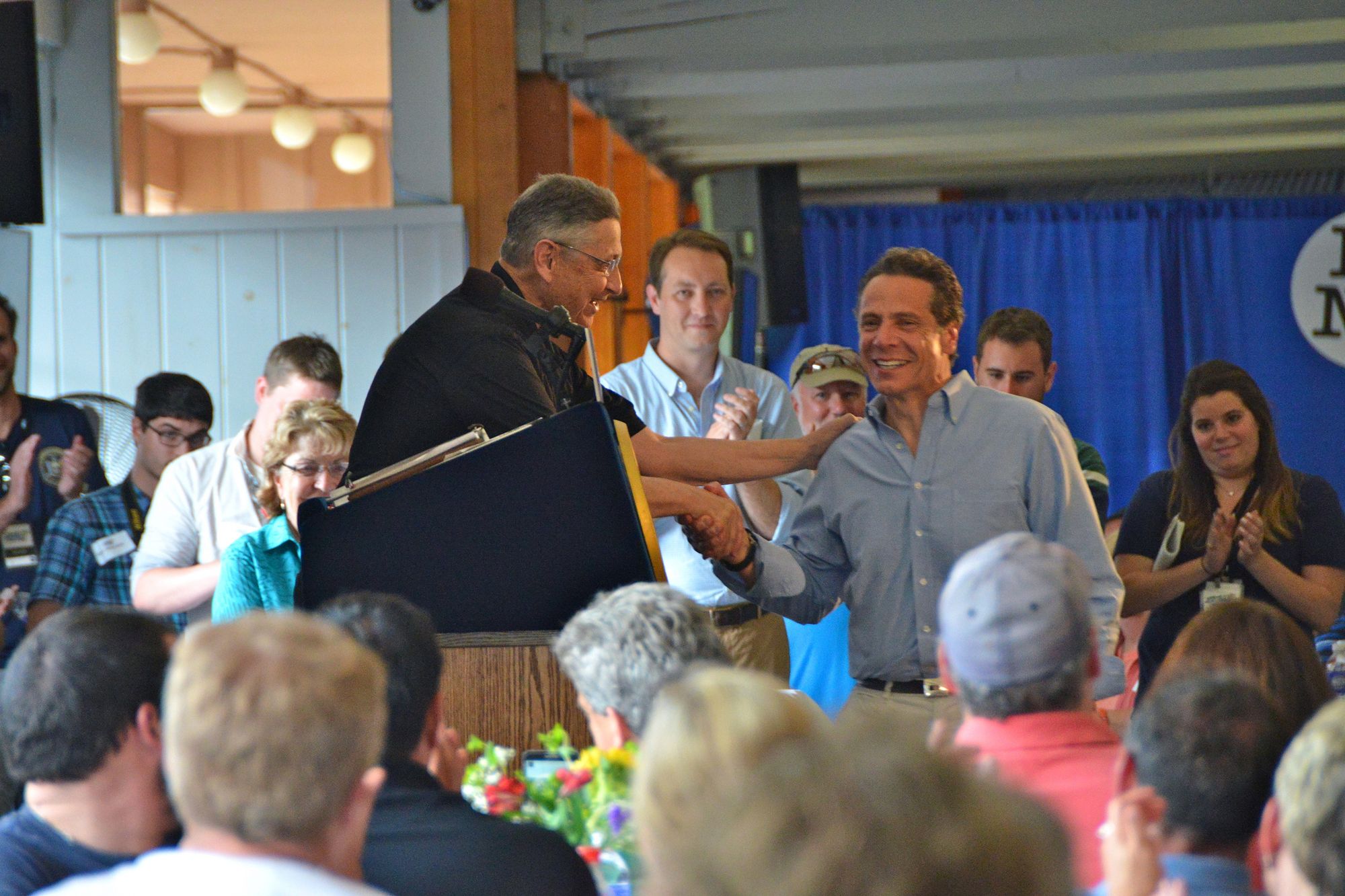 [This story was updated at 2:30pm, 7/18/16]
The battle for Jim Brennan's New York State Assembly seat is heating up, and so is the debate about a new direction for the local Democratic Party.
Three candidates seeking to represent the state assembly's 44th district — Rob Curry-Smithson, Troy Odendhal, and Robert "Bobby" Carroll — will presumably be facing off in the Democratic primary this September 13th.
Glenn Nocera, Republican District Leader of the 44th Assembly District, is reportedly running on the GOP, Conservative and Reform Party lines. The general election is on November 8th.
[The city's Board of Elections told DPC today that it will not be announcing who is officially on the ballot for the 44th Assembly race until August. A volunteer with Troy Odendhal's campaign, now identified as Karah Woodward, Odendhal's wife, has filed a challenge to Robert Carroll's ballot petitions. The matter will be reviewed at a BOE hearing.
When asked for comment, Carroll's campaign said that he had "filed more than 7,300 signatures, collected by over 100 witnesses. This is almost 13-times the number of signatures required by law for this office." Odendhal told us this weekend that the volunteer who filed the complaint (his wife) is "out of contact at the moment."]
The fight for Brennan's seat is significant. The 44th District includes sections of Park Slope, Windsor Terrace, Kensington, Victorian Flatbush and Midwood — stretching as far north as 6th Avenue, and all the way down to Avenue I. Of the roughly 125,000 persons living in the district, 60,587 are active, registered voters according to the state's Board of Elections.
A little over two-thirds of those voters are registered as Democrats.
And whoever wins the seat not only represents our area, but also joins the large Brooklyn delegation to the legislature. Brooklyn's 21 members make up around 14 percent of the entire New York State Assembly.
A Push Against The "Establishment"
It's telling that all three candidates in the Democratic primary have declared that they are progressive, "reform" candidates. The take-no-prisoners political mood that seems to be sweeping the country is on view in our part of Brooklyn as well.
"Our State Government is broken," declares Bobby Carroll's website. "For too long we have been plagued with a system that is not responsive to average people's needs and worse yet we have seen lawmakers enrich themselves, their families and their friends."
Troy Odendhal's website notes he was part of the Occupy movement, and states that he is seeking to "advance a progressive agenda" with a "focus on voter enfranchisement, truly affordable housing, increased funding for CUNY, criminal justice reform and fighting political corruption."
Rob Curry-Smithson describes himself as an "educator, not the establishment" with three priorities — ending political corruption in Albany, reforming the public education system and "democratizing the Democratic Party."
In order to move beyond the rhetoric, Ditmas Park Corner will be talking to each of the four candidates, asking for specifics about their legislative agenda if they make it to Albany, and why they feel they are qualified to represent the 44th District.
Bobby Carroll
We start with Bobby Carroll, a practicing attorney, and member of Community Board 7, the Windsor Terrace Food Co-op and the Park Slope Civic Council.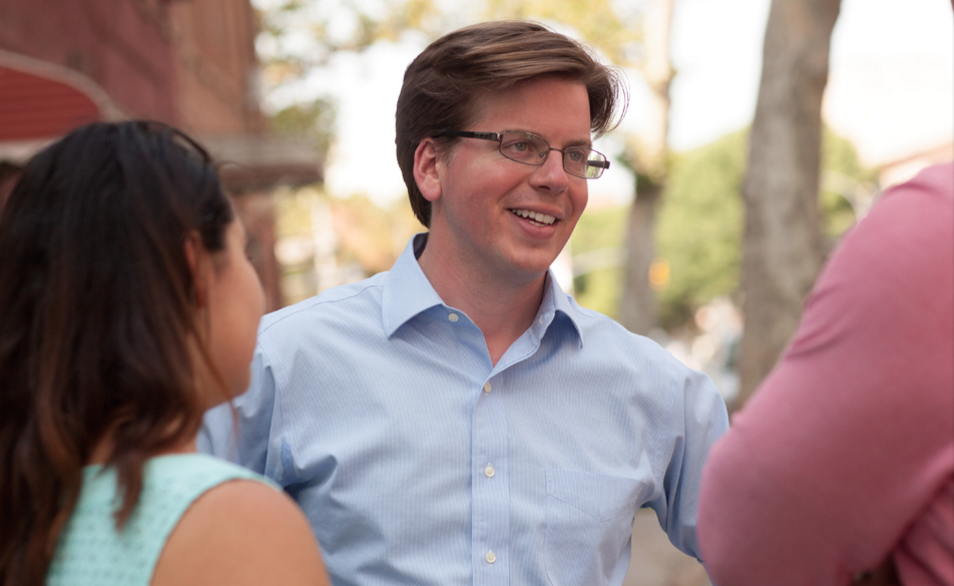 A native of Windsor Terrace and Kensington, Carroll has been endorsed by outgoing assemblymember Jim Brennan, and says he will work to —
"Still A Major Force For Good"
Of all these pressing issues, the one which inspires perhaps the most passion from Carroll is how endemic political corruption in Albany can be rooted out. He acknowledged in a discussion with us last week that there is deep public cynicism about reform within the Democratic Party.
The former Speaker of the Assembly, Sheldon Silver, a Democrat from Manhattan, was recently sentenced to 12 years in prison for profiting personally from his elected office. Governor Cuomo, another Democrat, "could have been much stronger [on corruption]…we need to push [him] to do more," Carroll said.
Nonetheless, Carroll argued, "the Democratic Party is still a major force for good. It's been a champion of all sorts of people."
Carroll outlined to us how he thinks Albany can be transformed — through measures like forbidding legislators to have outside employment; restricting Individuals who own multiple LLC's from making contributions to political candidates from each LLC; and creating a public calendar, maintained by the State Attorney General, that "lists all state elected officials meetings with lobbyists and special interest groups."
Closing the LLC loophole will help to limit the political influence of the real estate industry, which has an "over-sized voice" in Albany, Carroll observed.
Young Veteran of Brooklyn's Political Reform Battles
At age 30, Carroll is two years younger than Jim Brennan was when he took office. Carroll said he has been actively involved in efforts to open up local Democratic Party politics and support like-minded progressive candidates over the last decade.
Carroll's website notes he is a founding member of the Brooklyn Reform Coalition, which first came together in 2012 to "effect…real change in how the [Democratic] Party operates in Brooklyn."
The Coalition says it "helped to organize the campaign to oust former Democratic Party Boss, Vito Lopez, who resigned in disgrace after multiple allegations of sexual harassment and misconduct came to light." Carroll, whose legal work includes election filings, assisted both Lincoln Restler and Antonio Reynoso in their bids to challenge Lopez, who was based in North Brooklyn.
Restler, in a major upset, defeated a candidate for Democratic state committee member backed by Lopez in 2010. Carroll worked as a paid consultant for the campaign, handling the filing of Restler's ballot petitions. And Carroll volunteered with Antonio Reynoso when the Williamsburg native defeated Lopez in his bid for a seat on the City Council in 2013.
(Carroll noted he has also done paid filing work for electeds in our area, including Councilmember David Greenfield.)
Tangling with Lopez had its consequences. Carroll described how he was dragged into court by the party boss after he assisted another reform candidate, Esteban Duran, with his ballot petitions in 2010. The complaint was dropped, but Duran lost his bid to unseat Lopez as Democratic district leader that year.
In 2013, Carroll became the youngest president in the history of the Central Brooklyn Independent Democrats, an organization his grandfather helped to create in 1968. CBID endorsed Bernie Sanders for president in the recent New York State primary, and Carroll worked with the Sanders campaign in our area.
In early 2016, before Assemblymember Brennan announced that he would not run for office again, Carroll moved to challenge incumbent Jacob Gold in the upcoming race for Democratic State Committee Member of the 44th District, a position which Carroll says wields considerable power over the selection of local judges and political candidates.
Gold has held the seat for four decades. After dropping out of that race, Carroll says he has no current plans to endorse anyone for the seat.
Shifting Political Tides
Jim Brennan's endorsement of Carroll in the assembly race, and the support he has received from a wide range of Democratic politicians, ranging from Councilmember Brad Lander to Congresswoman Nydia Velazquez to former Borough President Marty Markowitz, has been used by some of his political opponents to discredit him — Carroll is supported by "political insiders," Rob Curry-Smithson told us.
The irony of the criticism, Carroll argued, is that it is unclear how anyone who runs as a Democrat can escape the label of "establishment politician" if they end up serving in public office.
The political landscape for Democrats is shifting in new and interesting ways. The Working Families Party (WFP), which has just endorsed Carroll, is the same party that ultimately endorsed Andrew Cuomo for governor in 2014 over reform candidate Zephyr Teachout. One year later, the WFP endorsed a self-described Democratic Socialist, Bernie Sanders, for president over Hillary Clinton.
What may ultimately help decide the 44th District assembly race is how much distance voters want to place between incoming Democrats and those that came before them. Do area voters view candidates linked to Jim Brennan as part of the problem, or part of the solution, to issues like political corruption, growing income inequality, and the affordable housing crisis?
Political endorsements notwithstanding, Carroll says he has been preparing his "entire adult life" to tackle those questions on behalf of the 44th District.