FEMA Seeking Applicants For Youth Preparedness Council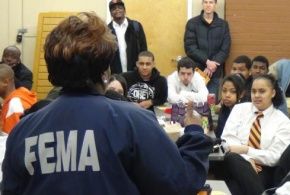 The Federal Emergency Management Agency (FEMA) is looking for nominees to elect to their Youth Preparedness Council, according to a press release.
The Youth Preparedness Council provides an outlet for young teen leaders to serve as a member on a special national council and also complete a youth preparedness project of their choosing:
Those who are chosen will attend the Youth Preparedness Council Summit, a meeting with emergency management leadership to discuss steps to strengthen the nation's resiliency against all types of disasters. Council members may also participate in national, regional, state, tribal and local preparedness meetings.
Participants are expected to represent the youth perspective on emergency preparedness and relay information within their communities. Each council member is expected to develop and complete one preparedness-related project specific to his/her region and interests. In addition to attending the Summit in the summer of 2013, council members may participate in national, regional, state, tribal and local preparedness meetings and present their work.
It is expected that members will meet with FEMA on a regular basis via conference call to provide ongoing input on strategies, initiatives and projects throughout the duration of their term.
If the aftermath of Superstorm Sandy taught us anything, it is that our area is likely to face more devastating storms in the years to come. It is becoming critically important for the youth to be trained and prepared to respond to potential future catastrophes.
If you are a teenager or a parent of a teenager and this sounds like an interesting opportunity to explore, here are the relevant details:
Anyone between the ages of 12 and 17 who is engaged in individual and community preparedness is encouraged to apply or be nominated to serve on the Youth Preparedness Council.
An individual may apply on his or her own behalf, or can be nominated by an adult familiar with the individual's youth preparedness activities.
Those interested in applying must submit a completed application form, a narrative and a letter of recommendation. The letter of recommendation can be from any adult, including a parent, guardian, community first responder or teacher.
All applications and supporting materials must be received
no later than 11:59 E.D.T. on April 19, 2013
in order to be eligible.
Council members will be selected based on vacancies and announced in May 2013. Once selected, members serve on the Council for one year, with the option to extend for an additional year, based on a formal request by FEMA.
For more information about the Youth Preparedness Council and FEMA's work on youth preparedness, and to access the application materials, please visit
www.ready.gov/youth-preparedness
.