Farewell Officer Brathwaite: Luminaries Send 88th Precinct Mainstay Into Retirement In Style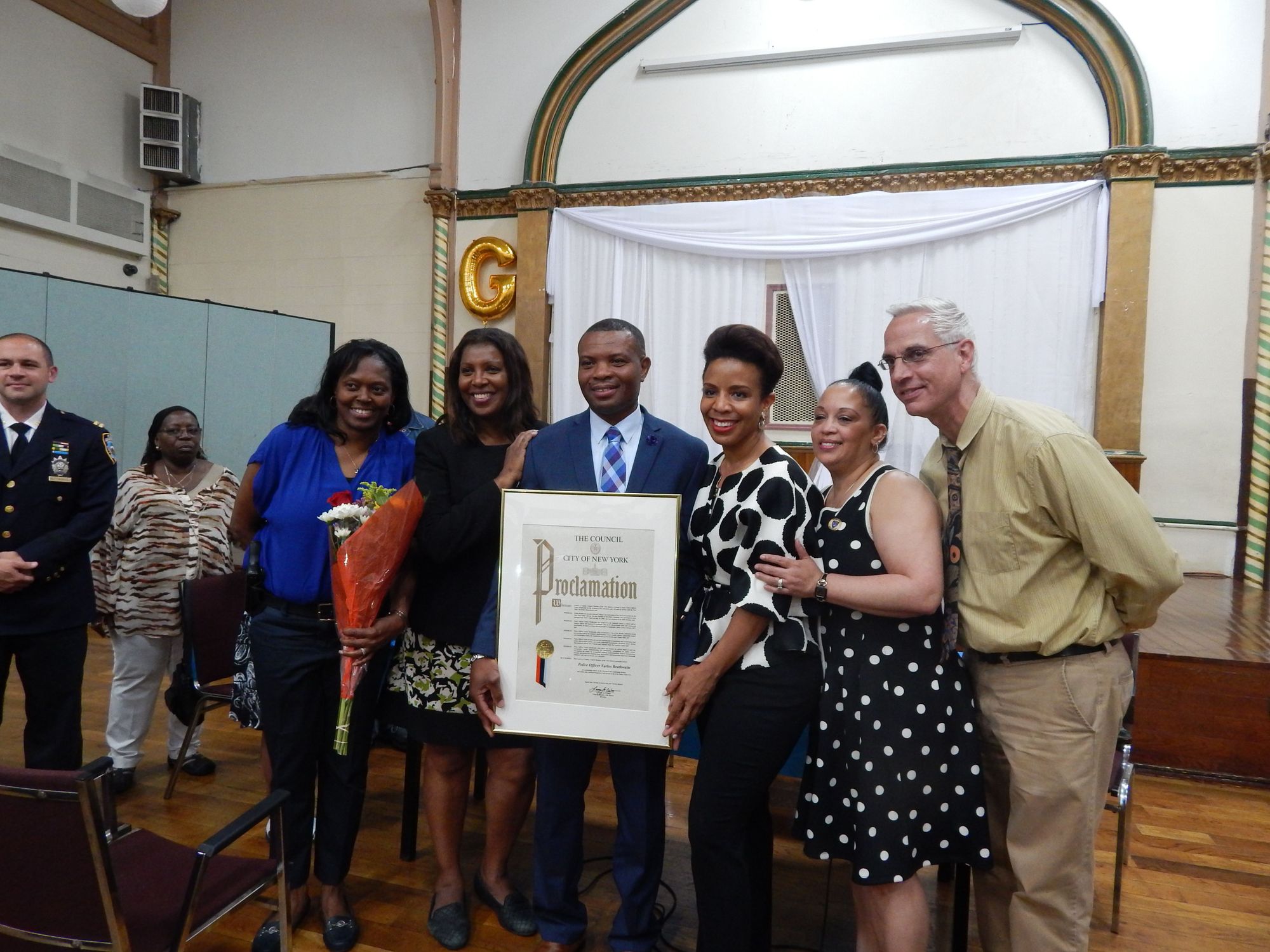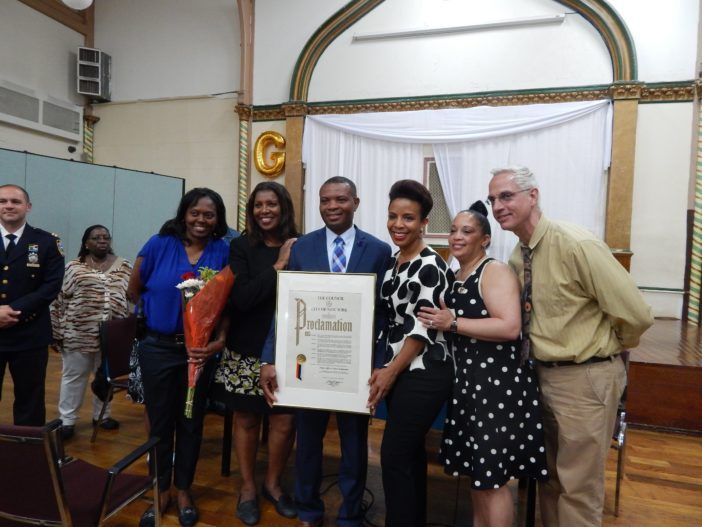 After two decades of faithful service to Fort Greene and Clinton Hill, Officer Varlos Brathwaite is retiring this month from the New York Police Department.
At the 88th Precinct Community and Youth Council meeting held on June 21st at the French Speaking Baptist Church (209 Clermont Avenue), luminaries like Public Advocate Letitia James, Council Member Laurie Cumbo, AFROPUNK co-founders Matthew Morgan and Jocelyn Cooper, Officer Andrene Sargent and Officer Brathwaite's wife and son gathered for an emotional tribute to a much beloved member of the local 88th Precinct.
"Twenty years at the same precinct… wow! If you look around [the room] you'll see exactly why I'm here," Officer Brathwaite said to assembled well-wishers.
Brathwaite added that he "had a lot of great support from my family, and a lot of support from my colleagues," including Officer Sargent, Brathwaite's partner the past nine years who he described as "my rock on the job."
The retiring officer singled out one of his four sons as the reason for an exemplary performance in the police.
"My main goal was to make sure I set a good example for Shavar," he said, gesturing to his son in the audience. "I always wanted him to know that there are a lot of good officers that work for the NYPD."
Surprised that his wife Opal was in the audience, Officer Brathwaite — who believed that she was at their new home in Georgia — quipped: "When I spoke to my wife today she said was going to the movies in Jonesboro."
Another surprise guest was Ms. James, who said that while out in the neighborhood for a stroll, she was told of the send off at the French Speaking Baptist Church.
"There are times when we need to praise the NYPD," the Public Advocate began, then turning to Officer Brathwaite, said: "Some individuals really stand out, and this gentleman is a star, a proud, shining star.
"He truly is someone who has supported this community," continued Ms. James, who spent a decade representing the 35th council district in the New York City Council, where the 88th Precinct is located. "He has been through all of our challenges in this district, the good times and the bad."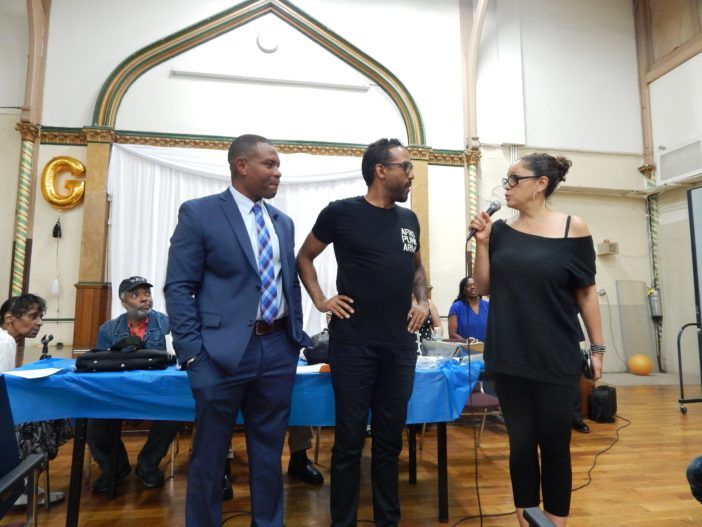 Matthew Morgan, Managing Director at AFROPUNK, who attended with co-founder Jocelyn Cooper, spoke about the early days of the now world-famous celebration of African-American punk music and culture — and how Officers Brathwaite and Sargent were supportive from early on.
"We'd built a skate park in the BAM parking lot and a kid had gone up the ramp and over the other side," Morgan said of a defining incident from the festival's beginnings. "He fell off and he'd just hurt himself. I turn around and a police car comes rolling up."
Morgan said he went over to the car and explained to Officer Brathwaite what happened.
"He was just extremely, incredibly gracious — has been for the last 13 years," he said. "Officer Brathwaite and Officer Sargent are kind of crusaders for us."
Brathwaite's longtime partner said that despite being total opposites they "had a balance with each other."
"I've never really seen him upset," added Officer Sargent, before she thanked her partner and warmly embraced him.
As the evening wound down with more hugs, photos and cake, the newly minted civilian offered some final words.
"For everyone who came out and supported me, I want to say thank you from the bottom of my heart," Mr. Brathwaite said, then added: "This is not the last time you'll be seeing me in the 88th."