Family-Run Prostitution Ring Busted, Earned More Than $7 Million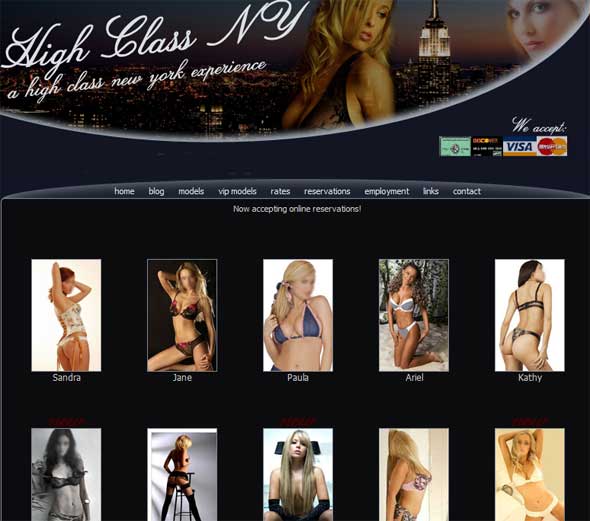 Prosecutors unveiled a slew of charges today against a prostitution network named High Class NY, operating along the Sheepshead Bay-Midwood border, and run by a husband, wife, son and step-son.
High Class NY charged between $400 per hour to $3,600 per hour, with clients often spending more than $10,000 in one night, the indictment alleges. In the three years it has been operating, it earned more than $7 million, using billing techniques to mask the nature of their clients' purchases on credit card statements.
In a press conference this morning, Brooklyn District Attorney Charles Hynes slammed the high-price ring as a low-class venture.
"There is no such thing as a high-class pimp, and as we do with all other pimps, my office will prosecute these defendants and seek the maximum sentences available under the law," said Hynes.
The bust was made with the assistance of the NYPD's Vice Major Case Squad, wrangling up 17 individuals in the indictment, including the alleged ringleader Mikhail Yampolsky, his wife Bronislava, his son Alexander, and his step-son Jonathan Yampolskaya. They face up to 25 years in prison for charges including enterprise corruption, promoting prostitution, money laundering and criminal sale of a controlled substance. Also charged were 11 managers and supervisors, as well as High Class NY's two largest investors that sank more than $1.4 million into the company and were being paid back with interest.
According to prosecutors, the company is charged with operating several escort websites, including highclassny.com, discreteclub.com, nyadultdating.com, cupiddirect.com, and angelofyourchoice.com, which were all run out of an office at 2313 Coney Island Avenue. To help hide the nature of the business, escorts signed employment contracts describing themselves as "models" and stating there would be no sexual contact with clients. But the indictment charges High Class NY took money for sex services, and that the escorts also provided cocaine and other drugs to clients with the profits going to the company. In a separate indictment, two escorts are charged with prostitution, criminal sale of a controlled substance and attempted sale of a controlled substance.
As of today, all of the websites are still operational, except nyadultdating.com, which redirects to a pornography website. Unlike the other sites, cupiddirect.com appears to be a still-in-development nationwide social network for escort matchmaking.
Highclassny.com describes itself on the main page as a companionship service, and descriptions of its model frequently say "sophisticated" and "educated." The website blurb says:
High Class NY is one of the top companionship services for those who expect the best out of life. We introduce fashion models, pageant winners, exquisite students, graduates, and women of successful careers to gentlemen with exceptional standards as NYC Escorts. Our models are more preferable if you are looking to make your evening date, weekend getaway, or business trip enjoyable. We accommodate refined and successful international clientele.
Our services are discrete and confidential. All dates are individually designed to accommodate the needs of your specific occasion. Please keep in mind that each companion has place in her schedule for only a select number of appointments per month, so your date will be a special one for both of you. Our high standards of beauty, intelligence and charm ensure that you always encounter the quality you expect in a woman when with a High Class NY model.
A disclaimer on highclassny.com and discreteclub.com sought to ward off legal problems:
In no way, shape or form does High Class NY consent to or have knowledge of any illegal activity. The exchange of money is only for time and discreet companionship. Anything other than this is by personal choice between adults of legal age and is not allowed by anyone through High Class NY.
The district attorney describes the Yampolskys, their managers, and their employees fielding phone calls 24 hours a day, seven days a week. According to the indictment, they laundered the $7 million in profits between September 2007 and November 2010.
High Class NY's phone line was disconnected when we called for comment.