Exploring The Tastes Of Guyana At Flatbush Avenue's Island Express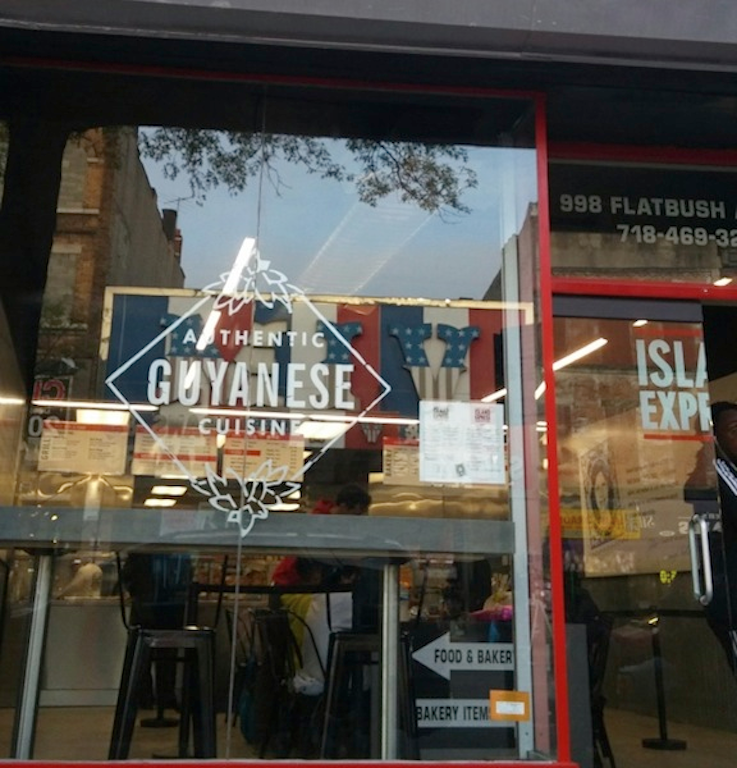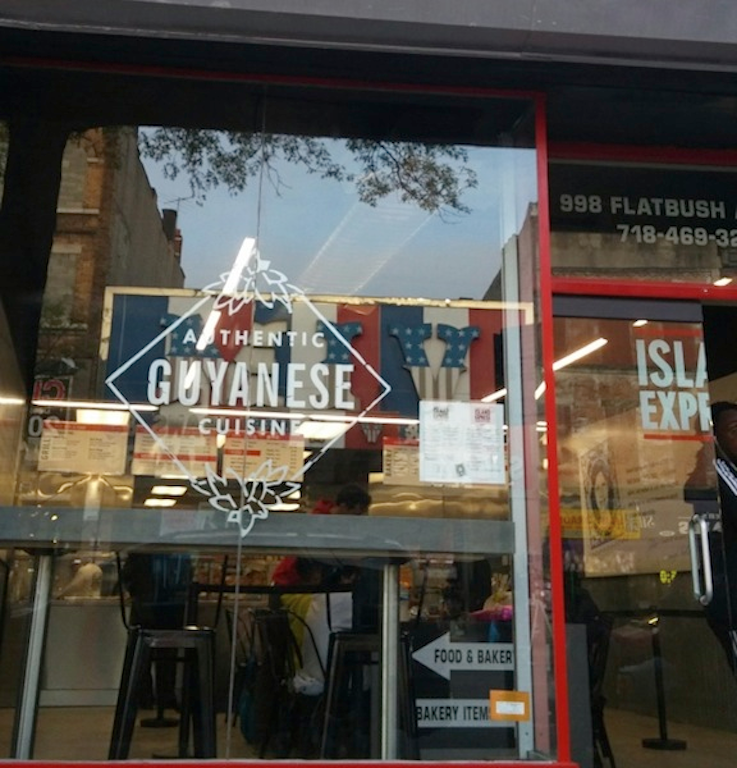 Island Express, a Guyanese grill and bakery on Flatbush Avenue, is a very recent addition to our neighborhood. Located just off Regent Place, and across the street from the Kings Theatre, Island Express's new home is the former location of the Golden Crust Caribbean Bakery.
Although only two weeks old, Island Express is run by a family with a great deal of experience in the restaurant business. It is owned and operated by the same family that established the Sybil's outposts in Jamaica and Richmond Hill, Queens, and until its closing late last year, a Sybil's on Church Avenue off Flatbush.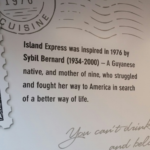 Island Express does not hide its connections to Sybil, whose story is told on two large boards adorning its walls, but this new venture is a rebranding. Island Express, with its modern lighting and exposed duct work, is sleek and modern.
Its menu has been slimmed down from the 50 items offered at Sybil's, to a mere 25 or so. They have done away with serving bones, a mixed blessing for anyone who read my review last week of Exquisite Supreme further up Flatbush Avenue.
At Island Express, up to twelve customers can eat communally around a large, square, stone counter-top table, rather like a kitchen-island, which is appropriate given the restaurant's name. Four more seats face the street.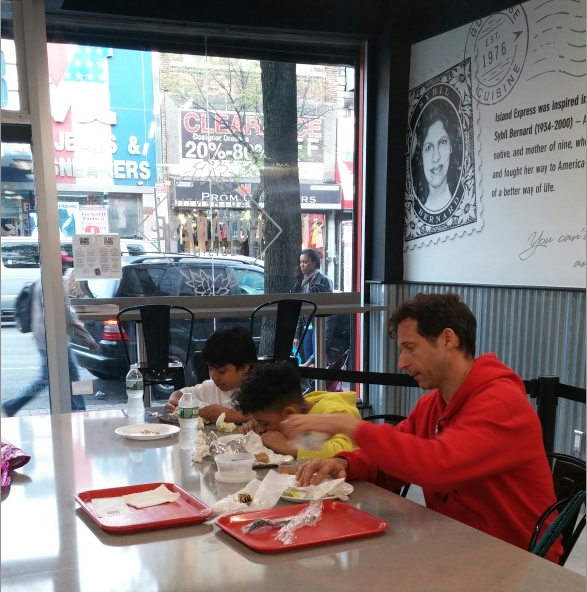 The family's matriarch and inspiration is Sybil Bernard-Kerrutt (1934-2000). A mother of nine, she came to New York City from her native Guyana and worked many jobs to bring her children to America. She began baking in her kitchen, eventually selling her Guyanese pastries in all five boroughs. She opened her first store in 1976.
Along with her brief biography is a sketch portrait, as well as some of Sybil's favorite sayings, such as "never curse the bridge you cross," "you can't drink mauby and belch beer," and a truism she lived by, "hard work never kill nobody."
Caribbean food differs from country to country of course. Guyana, located in South America, is very diverse and its cuisine reflects its Chinese, Portuguese, Indian, and African ethnic heritage.
And Guyanese food, while similar to Jamaican, is seasoned differently. Its curry is made the Indian way, and at Island Express can be served over white rice or rice and peas; or stuffed in a plain roti or a flaky flatbread made with split peas called pouri.
The General Manager of Island Express, Wayne McCarthy (Sybil's grandson), and his mom Gina (Sybil's daughter), spoke to us while taking orders from the steady line of customers. They said that the undertone of flavors at Island Express is meant to cater not just to homesick Guyanese but to people from all over the Caribbean.
My shrimp curry pouri wrap was plainly made, the shrimp mixed only with potatoes, but its simplicity was made up for by the satisfyingly strong flavor of the curry.
The pouri wrap, as advertised, was extremely flaky, a perfect neutral sponge with which to absorb its well-seasoned filling. I supplemented the mildness with a Hot Pepper Sauce (advertised as very hot), and Achar (medium hot), a thicker concoction made of mangos, masala, and hot pepper — really more chutney than a sauce. The other sauce which I did not try is Bajan Mustard Pepper (hot).
Along with the main meal, I had a side dish of sautéed okra. Fried up with onions and tomatoes, and gently seasoned, the dish reminded me a bit of the Israeli stew, Shakshouka, made with tomatoes, chili peppers, and onions, and often spiced with cumin.
The okra added a sweetness that was a nice counterpoint to the spiciness of the wrap. Expertly cooked, it was soft, not slimy, as it could be in the wrong hands.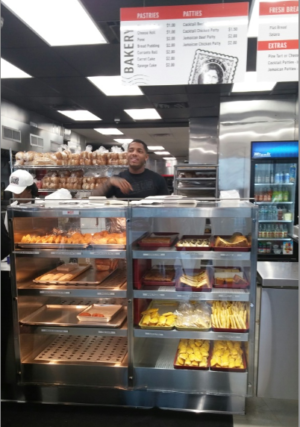 I finished off the meal with Pone. This fragrant and nutty dessert is made with yucca and coconut, whose ingredients render it moist yet firm and chewy, something halfway between a cake and a pudding. It was sweet, but not too sweet.
Pairing it with a glass of milk would have been nice, but not as crucially important as with a freshly baked chocolate chip cookie.
Another reason to check out Island Express is that it bakes all its breads and pastries on its premises, which is unique.
We were unable to try two Caribbean drinks on offer at Island Express — Mauby, made with tree bark, and Sorrel, which comes from hibiscus flowers. These should be available soon. Custom made labels for the drinks are expected to be delivered next week.
Sybil Bernard had another favorite expression, "new broom sweeps clean, but old broom knows the corners." Island Express, a new broom wielded by experienced hands, is a welcome addition to the neighborhood.
Island Express Caribbean Grill and Bakery
Where: 998 Flatbush Avenue (Between Tilden Avenue and Albemarle Road)
Phone: (718) 469-9049
Hours: 8:30am to 8pm (Monday thru Thursday); 8:30am to 10pm (Friday & Saturday); 8:30am to 7pm (Sundays)
Extra Notes: Major credit cards accepted