Even If You Know Me, Don't Park In My Driveway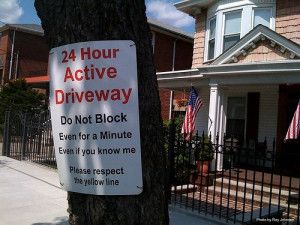 The patriotic owner of this lovely, large Victorian house with two house numbers and two American flags hanging on the front porch columns, posts an interesting warning to dissuade people from blocking his driveway.
The custom-made, carefully worded sign is directed to strangers and neighbors, as well. It says:
24 Hour Active Driveway
Do Not Block
Even For  A Minute
Even if you know me
Please respect the yellow line
How many of us wouldn't just love to have a driveway and a Victorian home in the best neighborhood in Brooklyn. If you can't have those things, one might think that the next best thing is a nice neighbor you know with both those things who might give you 59 seconds leeway.  But, as Dan Hartman sang about in his 1994 song, while it may be something you can dream about, don't even thinkaboutit —  "not even for a minute".
Keep dreaming East 22nd Street neighbors.