Enjoy Breakfast — And Lunch — All Day At Tilda All Day, Now Open At 930 Fulton Street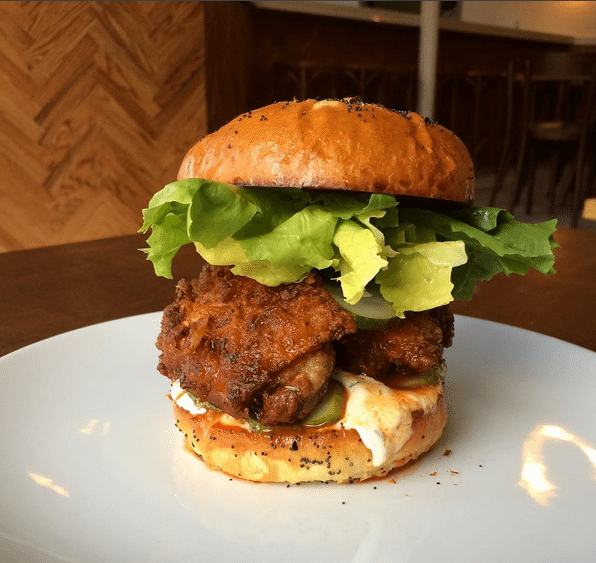 We can't count the times when we've craved a bloody mary to go with brunch-eggs or savory breakfast pastry during the week — only to be deterred by the utter lack of morning cocktails or evening breakfast available. Well no more. Now we have Tilda All Day.
Quietly opening their doors at 930 Fulton Street this past Monday, October 12, owners Samantha Safer and Danny Nusbaum unleashed their all-day concept of one menu from 7:30am to 5pm on the unsuspecting, but grateful Clinton Hill community.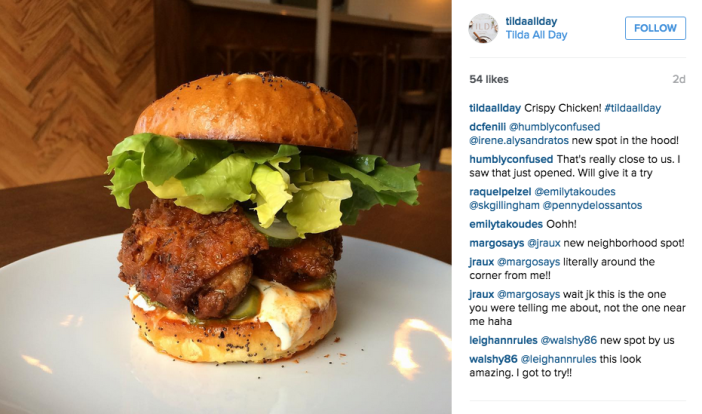 "Basically we have everything you'd imagine getting for breakfast and lunch, but all day. So you can get a cocktail with an egg dish or a fried chicken dish and a sandwich," explained Safer, who has worked at Peck's Homemade and Meltkraft. "It's a seven-day-a-week elevated diner spot."
Prices are also affordable, with a chicken sandwich going for $8. pastries ranging from a $1 cookie to $4.50 for an entire savory baked item to-go. and egg sandwiches for $6.
"We want to provide good portion size but also a great value," Safer said.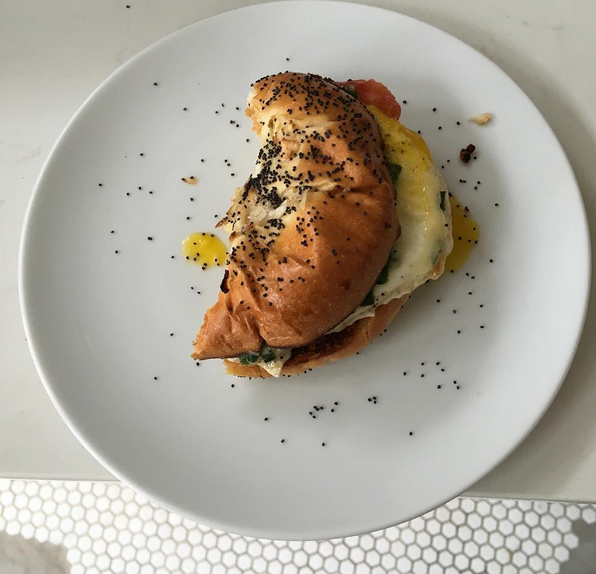 Tilda makes all of their pastries in-house, having partnered with Claire Welle — formerly of Williamsburg's Gwynnett Street — and features a coffee program with neighbor Parlor Coffee Roasters (11 Vanderbilt Avenue, at Flushing Avenue). They expect their liquor license — and the ensuing cocktails — to arrive in about a month.
Named after one of their grandmothers, who "wasn't a cook, but was just a really strong person in both her family and community, bringing people together," Tilda All Day strives to be all about bringing homemade food to people on a daily basis.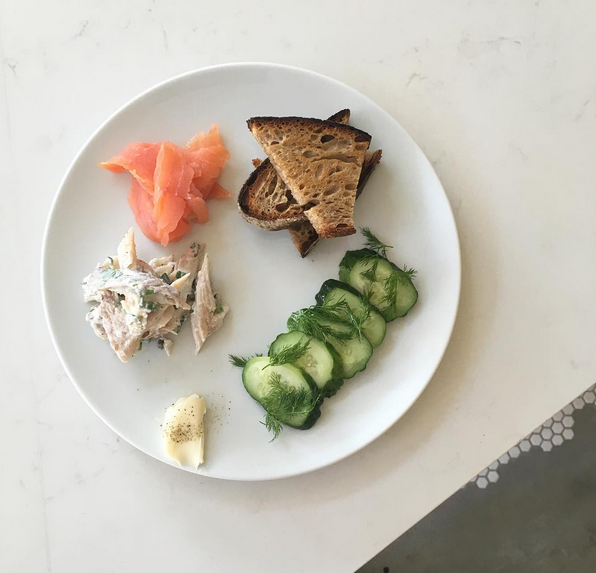 "We've both been in food industry for 10 years now and it was finally time for us to branch out," Safer noted. "After meeting claire, it was the perfect scenario. I have background in beverage, Danny in coffee, and Claire in food. Here, no one is compromising when you go for brunch. You can get everything. We're catering to crowd that really wants to come in and relax and have good meal."
On why they chose Clinton Hill and the spot that formerly housed Three Letters Restaurant, she explained they wanted a "very family-oriented" neighborhood" that also "loves food" and our community is all of that and more.
Tilda All Day is open weekdays from 7:30am-5pm and on weekends until 8pm. They also have free wifi and welcome people who want to relax with a snack.
Welcome to the neighborhood, Tilda!