Elected Officials Break Ground On T-Groins To Prevent Beach Erosion In Seagate
After two long decades, the Coney Island Reach Project is finally getting some love.
The shoreline protection plan, which dates back to 1992, outlines critical restoration, T-groins, and beach replenishment to be implemented and maintained along Brooklyn's southern coast.
U.S. Senator Charles E. Schumer, Congressman Jerrold Nadler, Congressman Hakeem Jeffries, U.S. Army Corps of Engineers, and City officials broke ground Saturday on the long-awaited project, this time focusing on a series of rock T-groins between West 37th Street and Norton Pike in Seagate, which was decimated by Superstorm Sandy.
"I am proud to finally break ground on this long-awaited and much-needed Army Corps project," said Senator Schumer in a statement. "We have the federal dollars, we have the plans and now, we will finally have the protection project. Residents can soon rest easy now that this critical shoreline project is underway as it will finally help make sure Coney Island's waterfront neighborhoods and beaches are secure from future damage."
The Coney Island Reach project strengthens densely populated seaside communities like Seagate, Coney Island, Brighton Beach, and Manhattan Beach, and this latest update would complement the city's comprehensive resiliency plan.
The T-groins, which are T-shaped rock structures built perpendicular to the beach to prevent sand particles from washing downstream, would protect the peninsula and prevent further erosion that has long plagued the shoreline since 1992 and was made significantly worse during Superstorm Sandy. In all, there will be four stand-alone T-groin structures, one rock spur off the existing West 37th Street groin, and stone armoring of the existing Norton Point dike.
Here is a video depicting how beach erosion, or longshore drift, occurs naturally:
https://www.youtube.com/watch?v=P0NkSaVEhhc&feature=youtu.be
Groins are somewhat controversial in addressing longshore drift, because by preserving one coastline, they end up depriving a neighboring beach of sand. The only way groins do not deprive other coastlines is when they are pumped with sand every few years.
In this case, the groins will be filled and replenished with sand accumulated in front of the Gravesend Bay bulkheads, and dredged from the nearby federal navigation channel in Rockaway inlet. The beach fill will be placed along 2,000 feet of the Atlantic Ocean shoreline within the new T-groin field.
Here is a diagram via the U.S. Army Corps of Engineers: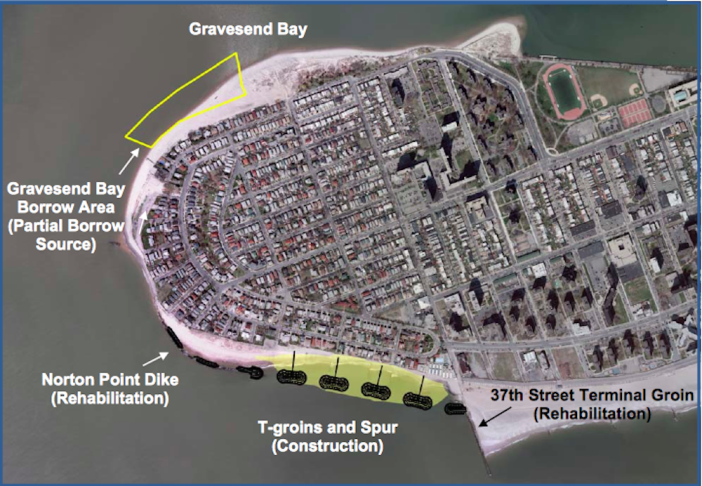 Schumer, Gillibrand, Nadler, and Jeffries have secured $25 million in federal funding for the project in the Superstorm Sandy Supplemental bill, which covers 100% of the project's total cost.
On its website, the U.S. Army Corps addressed concerns that federal funds and resources were being used to preserve a beach that is not open to the public.
Coney Island Reach Timeline
In January 1995, the Corps of Engineers completed the initial construction of shoreline protection project, the Coney Island Reach, which extends from West 37th Street to Brighton Beach.
In October 2012, Superstorm Sandy battered and already eroded Southern Brooklyn coast.
In 2012, Schumer and Gillibrand presented a number of projects authorized by Congress, including the Coney Island project, to the Army Corps of Engineers that must be started quickly.
In March 2013, it was announced that, after months of pressing, the lawmakers successfully urged the feds to fully pick up the tab for the Coney Island Reach project. The Sandy Relief bill that was signed into law required that the feds pick up 65% of the project cost, but that amount could be increased if the projects met the criteria of 'ongoing construction,' and are updated to make them stronger, more resilient and offer better protection against storms. Therefore, the Coney Island project was eligible for full federal funding, with not a single dollar to be paid by local tax dollars.
In fall of 2013, Sandy emergency funds were used to dump nearly 600,000 cubic yards of sand at Coney Island from Corbin Place to W.37th Street to restore the project to its authorized design profile.
In September 2013, Schumer, Gillibrand, Nadler and Jeffries announced the $25.2 million Army Corps contract to H&L Contracting LLC.
In May of 2014, the Army Corps approved a Project Partnership to move forward with the repairs and restoration. The Project Partnership Agreement, a legally binding agreement, describes the responsibilities of the restoration project between the Army Corps and the NYC Parks and the NYS Department of Environmental Conservation.
The lawmakers were joined by local elected officials Saturday, including Councilman Mark Treyger, Assemblyman Alec Brook-Krasny, as well as the City Parks Commissioner Mitchell J. Silver, Director of the Mayor's Office of Recovery and Resiliency Daniel Zarrilli, and the NYSDEC Commissioner Joseph Martens.
Brook-Krasny praised the Army Corps of Engineers' commitment to the people of Coney Island and Seagate, but added, "Recovering is only half of the effort needed to restore our homes and businesses; we must also place an emphasis on preparedness, so that we are equipped to deal with such events in the future."
"For only a small cost, paid for entirely with federal funding from the Sandy Relief Bill, our area will see a very high payout in terms of safety and mitigation of damage. I applaud the United States Government and all its partners at the state, local and neighborhood levels who have worked tirelessly to make this project a reality, and pledge to stand behind their continuing efforts to storm-proof the southwest Brooklyn region," he concluded.
Councilman Treyger echoed the assemblyman's sentiment.
"On behalf of the residents of Seagate, I am excited and relieved that this project is moving forward. This will greatly improve the peninsula's ability to withstand future storms and minimize the impact on nearby homes. The devastating effects of Sandy showed the need for greater resiliency measures along Seagate's waterfront, so my thanks to Senator Schumer, Rep. Jeffries, Rep. Nadler and the Army Corps of Engineers for making this a priority," said Treyger.
Correction: All the new groins will be built between West 37th Street and Norton Pike in Seagate, not between West 27th Street and Brighton Beach, as we originally reported.