El Greco's Property Hits Market For $17.5 Million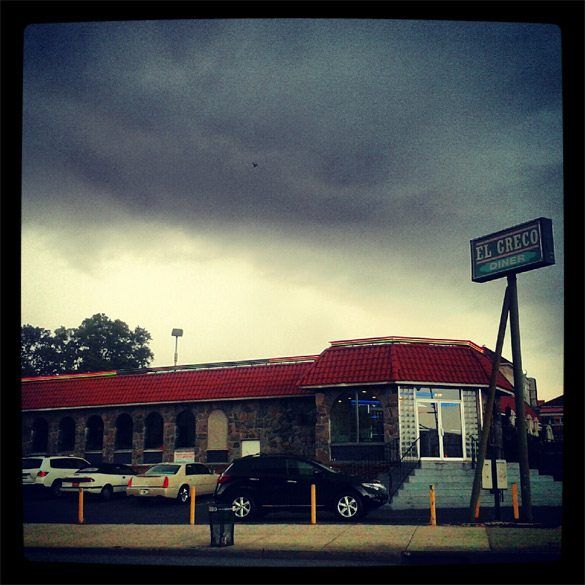 It has been a rumor for as long as I've been alive that El Greco, the Sheepshead Bay staple, is for sale, sold, closing, moving, evaporating, burning, building, growing, shrinking and whatever else. Well, for once, one of those is actually true. El Greco, recently named one of the city's best diners by Gothamist, has put the land it sits on up for sale.
Massey Knakal Realty Services quietly posted the 1821 Emmons Avenue property on its website approximately three weeks ago, boasting that it offers developers "the opportunity to create a large scale, mixed use development on nearly an acre of under-developed land facing the water on Sheepshead Bay." The asking price is $17.5 million.
The business, however, is not part of the deal.
"We're not looking to put a 'For Sale' sign in front of the property. The business isn't for sale. We're gauging interest [in the property] at this point," said El Greco owner George Venetoklis.
Venetoklis noted that the decision was made before Sandy hit, and didn't deter his family from pouring tons of money into the location to bring it back online after the water receded. He noted that the property was put on the market back around 2008, and that they're not looking for any ol' deal.
"This is something that's going to be an ongoing thing and we'll see how it's going," he said.
The property is 41,700 square feet, wedged between the waterfront and the Belt Parkway. It's in R5/C2-2 zoning, which might normally mean that a developer can build a 35-foot-tall mixed use building. But, located within the Sheepshead Bay Special Zoning District, its commercial uses are restricted to waterfront and tourist-related activities. If the building includes large plazas, arcades, accessory outdoor space or additional accessory commercial parking, the developer can build taller thanks to floor area bonuses.
"My understanding is that as long as your uses fit the criteria, your bulk can be 1.2 times the lot size, [in this case] up to the lesser of 75 feet or 7 stories," said Brian Hanson, Massey Knakal's director of sales, and the agent for the property.
According to Hanson, in the few weeks since the listing has been public, it's already received interest from a "mix of retail developers" looking to do a mixed use project, blending retail and residential uses. He notes that, given the price tag, it's unlikely that a national retailer would pick up the spot to build a single tenant property, but that they could be attracted as the anchor tenant for any future project.
So will El Greco move, close, or reopen inside the new development when the property sells?
"I have no idea," said Venetoklis. "That's a question that I can only answer once the next step is taken, and quite frankly I don't know what the next step is." Right now, though, "we're up and running and serving the community."