Early Morning Pile Driving For Guider Ave Bridge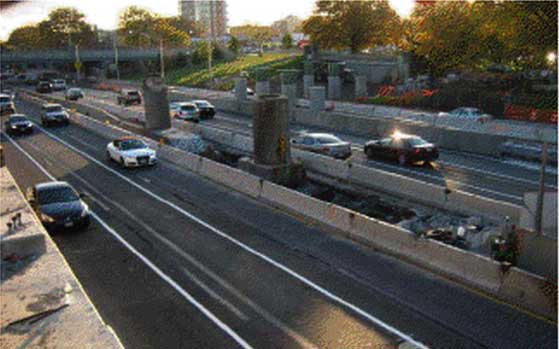 It's been a while since we've checked in on the construction over at the East 8th Street / Guider Avenue bridge, which the city began dismantling in February.
It appears everything's been going swell – except for the rats – and construction is on schedule. The project should be completed in Fall 2011. [Corrected – see below.]
But the next phase could upset neighbors. Starting on Monday, November 8, night time pile driving will occur between 11:00 p.m. and 5:00 a.m. for approximately six nights. Pile driving is the technique of hammering enormous supports deep into the ground by repeatedly slamming a metal weight on top of it. The work will be done near Hubbard Street on the westbound Belt Parkway.
If you've ever had a neighbor hammering some crap in the early morning hours, you know how annoying that can be. Imagine that times 44,000 pounds.
We contacted the Department of Transportation to see if any sound-dampening procedures will be put in place, but haven't heard back yet. Don't get riled up until we do – we're hoping the DOT will do right by us… you know, because they care.
Commuters should also beware. Lane closures continue on the following schedule:
Sunday night through Friday morning:
10 p.m. to 1 a.m. – 1 lane closed
1 a.m. to 5 a.m. – 2 lanes closed**
**On some nights, there will be an all-lane closure at 15-minute intervals. Any traffic backups must dissipate before another 15-minute closure.
Friday night to Saturday morning:
11 p.m. to 1 a.m. – 1 lane closed
1 a.m. to 6 a.m. – 2 lanes closed
Below is the announcement from DOT: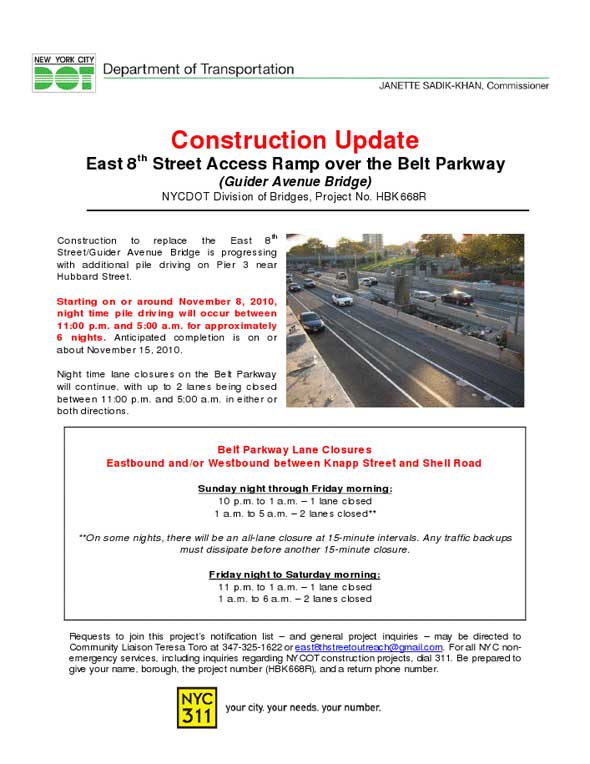 Correction: The original version of this story implied the project would be completed in mid-November. It meant to read that the pile-driving would be completed mid-November, and the overall project would be completed in Fall 2011. We apologize for any confusion.