"Steps To Nowhere" – In Vibrant Technicolor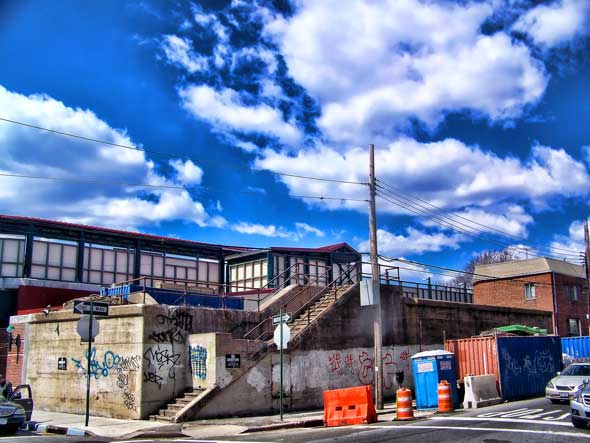 Lisanne Anderson, "knowledgeable of the city's miscellanea as she is," and frequent photo contributor to Sheepshead Bites, submitted this Technicolor gem of the fabled "Steps to Nowhere" outside the Neck Road and East 16
th
Street station.
The "Steps to Nowhere," while just that — a no longer operational facet of the current Q train's Neck Road station on Gravesend Neck Road and East 16
th
Street, looking northwest — used to actually be steps to somewhere… "But where?" you might ask. Or not. But in the event that you are asking, we have done some research.
Opened in 1893, the stairs led to a different, adjacent Neck Road station, which operated as part of the Manhattan Beach Branch of the Long Island Rail Road until May 14, 1924. In other words, these things are so old — 118 years, to be exact — that they likely merit long-term inclusion in the New York Transit Museum.
To see a photo of the steps as they appeared in 1910, and later as they appeared, albeit far more grungy, in 1986, you can check out Arthur John Huneke's page comprehensively covering the New York and Manhattan Beach Railway.
While parts of the former Manhattan Beach line of the LIRR have been removed during the ongoing construction in the area (Did we say "ongoing?" We meant "never-ending"), the "Steps to Nowhere" are likely to be going… nowhere.