Double Murder At Sheepshead-Nostrand Houses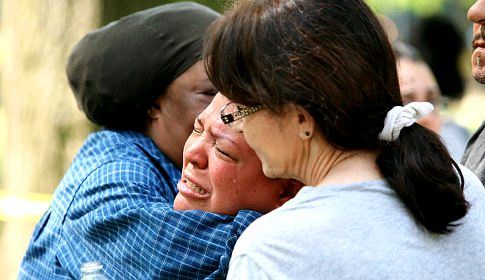 Deadly gun violence broke out at the start of the Memorial Day weekend during a Friday night bloodbath at 2938 Avenue W, resulting in the deaths of a young mother and her boyfriend.
Authorities believe that drugs were the primary factor behind the deaths of Crystal Melody Sweet, 22, and her boyfriend, Timothy Walter, 26. According to The New York Post, the couple was fatally shot as they were returning home to the Sheepshead-Nostrand Houses, with Walter's 30-year-old brother, also wounded in the shooting, from a party they had attended.
While The Daily News established that Sweet and Walter's brother were returning back from the party to meet up with Walter, it is unclear if the party was in Bedford-Stuyvesant, or in East New York, as The New York Times reported.
Shot in the head and neck three times, Sweet was described by her father Ricardo Rodriguez as "an awesome person." She was the mother of a 5-year-old girl and had recently confided to friends that she believed she was pregnant. According to her mother, Josephine Rodriguez, Sweet was a home health worker who aspired to help handicapped children.
While there is no exact known motive for the triple shooting, The Daily News revealed police sources as saying that "Timothy and Cornelius Walter both have extensive criminal records and had each done prison time. Timothy Walter had been arrested 24 times and was on parole. Cornelius Walter had 13 prior arrests."
Walter's rap sheet included arrests for murder and narcotics charges, and sources stated that he and his brother, currently fighting for his life at Kings County Hospital, both had crack cocaine on them at the time of the shooting.
As Sweet's family grapples with their loss, Rodriguez revealed to The Post that cops told him they believe there may be a correlation between this weekend's double murder, and another eerily similar fatal shooting that took place on October 30 of last year in the lobby of the building where Sweet lived.
While a weapon has not been recovered from the scene, approximately 10 9-mm shell casings were found.
A makeshift shrine in memory of Sweet and Walter was erected in front of the lobby where the three were shot.