DOT Wants To Build Pedestrian Plaza In Coney Island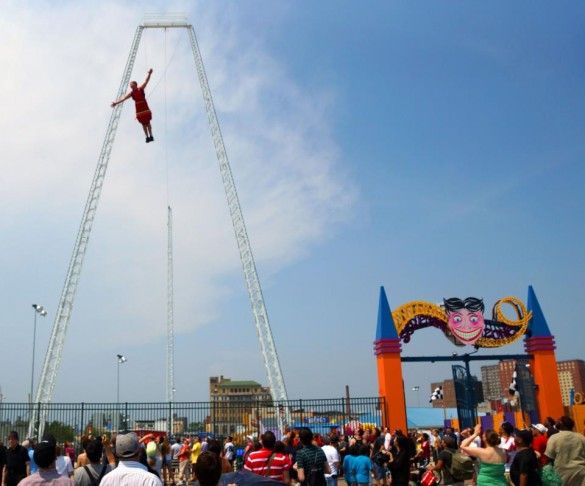 The Department of Transportation (DOT) wants to install a plaza on the southern end of Stillwell Avenue in Coney Island, according to a report by the New York Post.
The plaza would replace 15 metered parking spaces with tables, chairs and decorative potted plants and will cover a block from the boardwalk to Bowery Street. The Post goes on to describe what would surround the plaza:
The dead-end street is currently flanked by the Scream Zone amusement park, go-kart tracks, a beach bar and a 110-foot-high Boardwalk Flyer thrill ride.Valerio Ferrari, president of Zamperla USA, which runs the adjacent amusements, said he supports the plaza "100 percent" because "losing a few parking spaces" isn't as important as "beautifying" the boardwalk's main gateway and "making it more family-friendly."
The DOT's plan, to be presented to Community Board 13 tomorrow, isn't being welcomed by everybody.Steven "Butch" Moran, the CB13 vice chairman, worries that the plaza will just create more traffic on Surf Avenue and make it more difficult for emergency vehicles to reach the boardwalk. Moran also expressed a fear that the elimination of affordable parking will hurt local businesses due to the already limited parking options in the area.Local business owners expressed mixed feelings regarding the possibility of a pedestrian plaza.
Jimmy Kokotas, owner of the nearby boardwalk eatery Tom's Coney Island, said he fears that eliminating the spaces could hurt business but likes that the plaza would offer boardwalk patrons direct access to amusements abutting both sides of Stillwell Avenue without making them cross the street.
"We also don't want it to become a hangout," he said. "You want people eating and sitting there 15 to 20 minutes and then giving others a chance."
We were wondering what our readers think. Does a pedestrian plaza located at the end of Stillwell Avenue seem like a good idea, or will it be a colossal waste of perfectly good parking space? Let us know.