DOT Unveils Water-Themed Mural And Safety Upgrades In Red Hook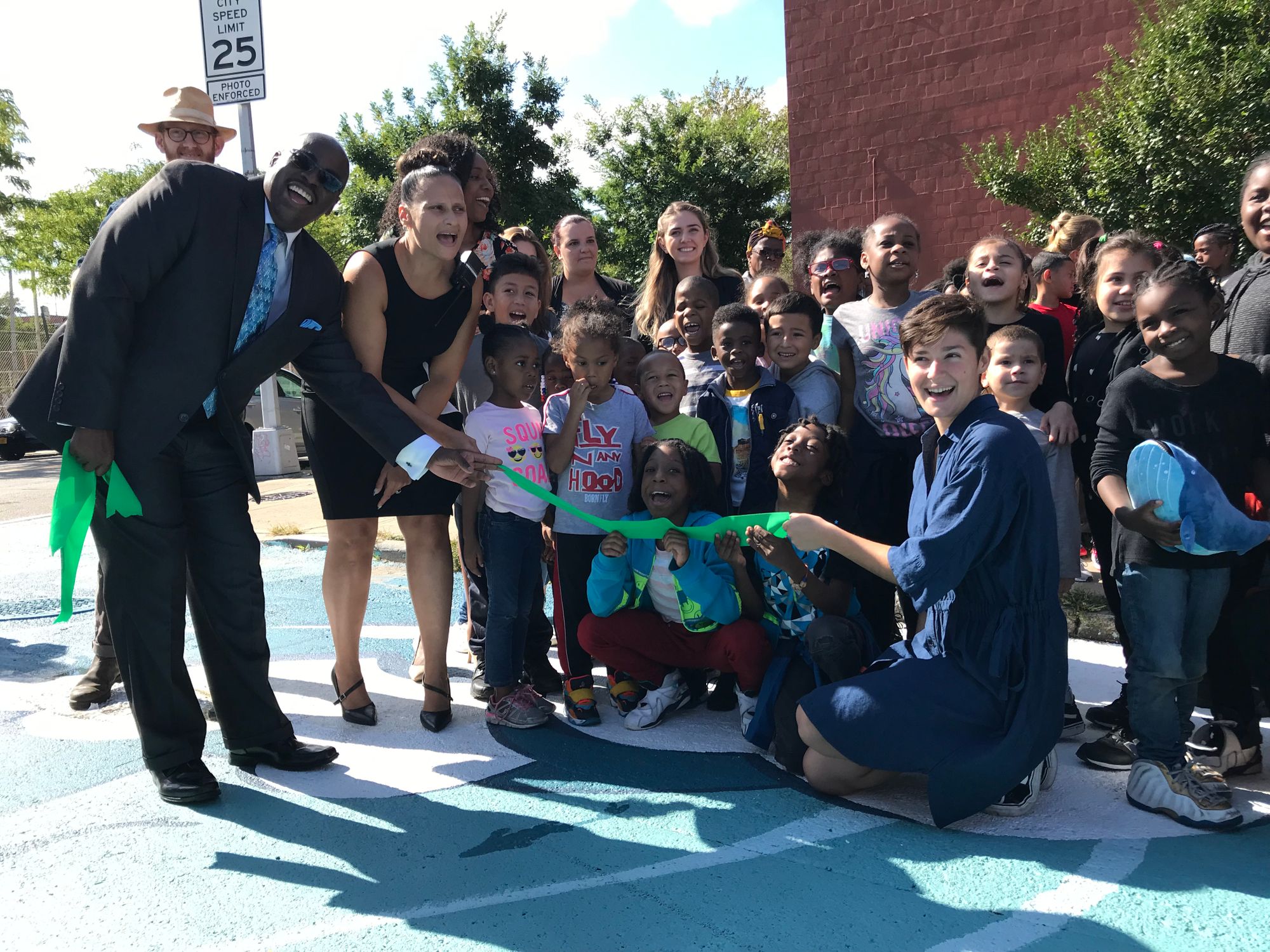 RED HOOK – The NYC Department of Transportation (DOT) hosted a ribbon-cutting ceremony on Friday morning to celebrate the completion of a 2,000-square-foot asphalt mural at the intersection of Columbia and Dwight Streets, across from PS 676 and the Summit Academy Charter School.
Artist Annabelle Popa worked with DOT's Art Program and School Safety Unit to create the aquatic-themed mural titled Cast Into the Deep. The artwork was inspired by the idea of uncertainty and "how can we make uncertainty seem very positive," the artist explained to Bklyner. Painted on the ground, passersby look down into the vibrant scene depicting a red boat floating on blue waters above fish and a whale.
"I was thinking what if we had a fishing boat over an ocean with these massive whales. The fishermen initially think they're not catching anything, but they don't realize the massive opportunities that actually await them underneath the surface," she said, "uncertainty can be scary, but we never know how amazing it can be too."
Part of the DOT Art Program's initiative to activate pedestrian spaces with public art, Popa's mural provides a safe place for students and pedestrians.
"We want to put art in as many places as possible," said Wendy Feuer, DOT's Assistant Commissioner for Urban Design + Art + Wayfinding. "We think that putting art and safety together is one of the most important things we can do for the city of New York," she explained to the PS 676 students who attended the ribbon-cutting ceremony.
Along with Popa's colorful new work, DOT implemented multiple safety upgrades around the intersection of Columbia and Dwight, including new signage, painting two new pedestrian crossings—at Columbia and Luquer as well as Columbia and Nelson—and adding curb extensions to provide more space for pedestrians as they cross the street and to make them more visible to oncoming cars. Five parking spots were removed to accommodate the curb upgrades, according to Elena Lunyova, Project Manager of DOT's School Safety Unit.
DOT presented the safety improvements to Brooklyn Community Board 6 in December 2018. The board unanimously approved the plans.
"As a Red Hook resident and someone who has run across this street many, many times, we want to make it safe for you so that when you come out here and go back and forth to school, it is safe for you to cross the street," said Leroy Branch from DOT's Office of the Brooklyn Borough Commissioner. "Also, with this beautiful mural, it brings the school ideas about saving our environment, saving the whales, and understanding what the waterfront is and what our environment is all about," he added.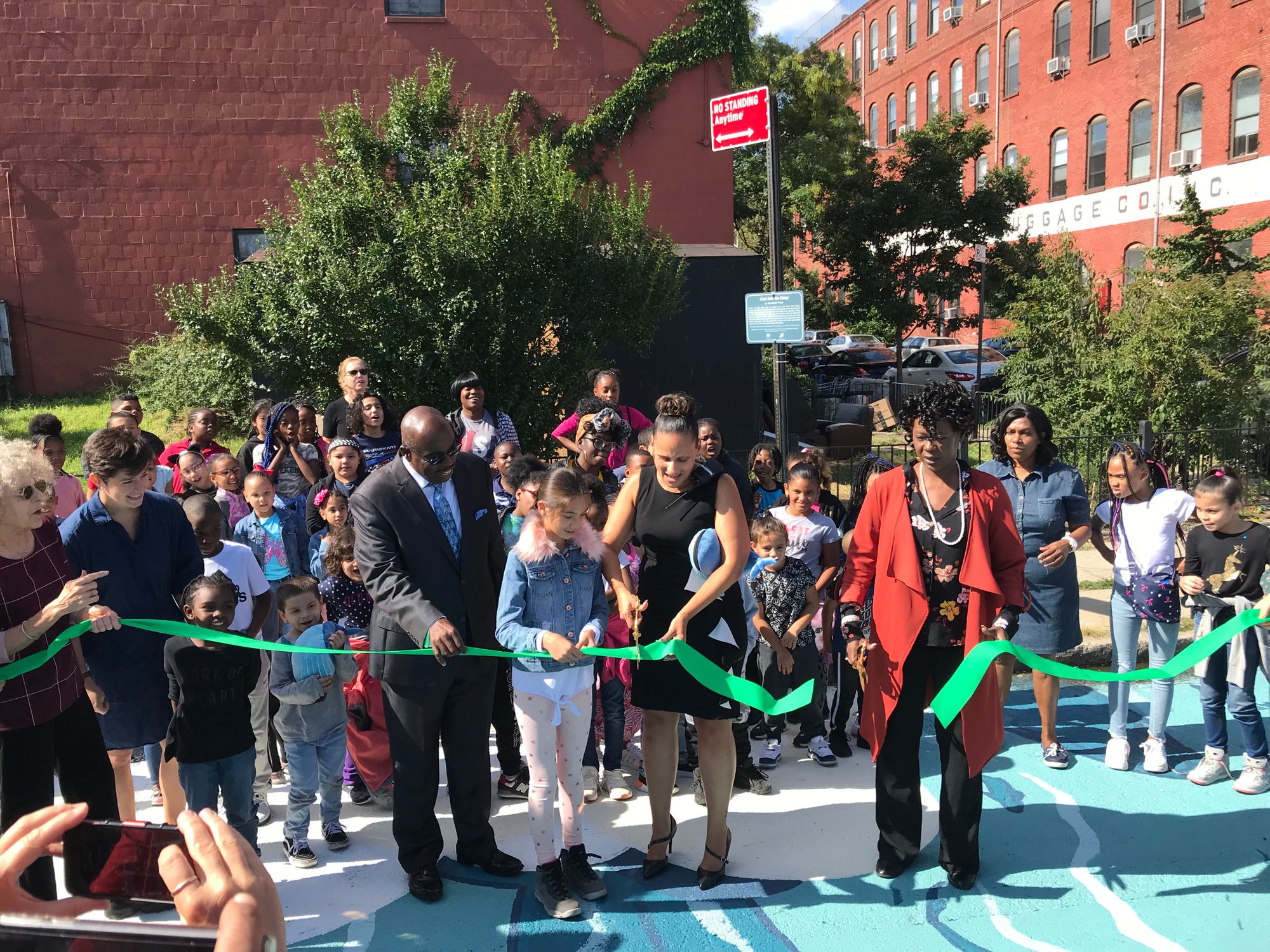 PS 676 Principal Priscilla Figueroa noted that the mural represents her school's "new maritime theme and vision."
"This started off because we wanted to make sure that you are safe and so this mural will make sure that when we cross the streets for fire drills, and when you walk around this neighborhood, you can walk in this area and be safe," she told her students. "This is how this whole partnership started with DOT. Now it's an art project. Now it's allowing us to learn more about marine life and animals in the water."
Figueroa's announcement that the school has adopted a whale in support of whale conservation was met by delighted cheers from her students.