DOT To Correct East 18th Street Parking Sign Error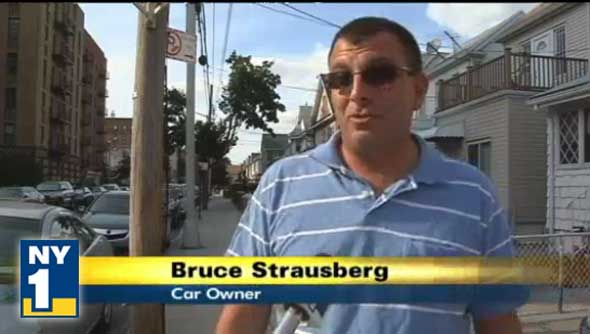 The Department of Transportation is promising to relocate a sign indicating a commercial parking zone in front of a private residence on East 18th Street, after neighbors complained of receiving a slew of erroneous tickets.
The sign once sat several feet over, in front of a supermarket warehouse just off Avenue U that hasn't been used in about 10 years, residents say. After a truck accidentally knocked the sign down, the DOT replanted it about 20 feet over – in front of a private residence. Neighbors pay the price for the city's error.
According to NY1, which first reported the issue:
Bruce Strausberg, has been hit with ticket after ticket.
"It's getting on my nerves. So when I say 10 tickets, it's what I can count upstairs," said Strausberg.
Those 10 tickets cost $95 apiece.
… But Strausberg fights them, taking pictures as proof. Most have been dismissed, except for the last one this June. That time, Strausberg received a letter from the city finding him guilty.
"I have proof that the sign is wrong but I'm still appealing the ticket and as of now, I'm guilty," said Strausberg.
Another resident told NY1 that she's received a half dozen tickets, but finds paying them easier than fighting.
Strausberg contacted State Senator Marty Golden's office, which is helping residents fight their tickets and prodding the DOT into action.
"Shouldn't happen. Sign shouldn't have been there. He shouldn't have gone through 10 summonses before this was resolved," Golden told the station.
The state senator is asking any residents who received tickets near that sign – on East 18th Street, just north of Avenue U – to contact his office at (718) 238-6044 or golden@senate.state.ny.us.