Discovering the Old World at Jubilat Provisions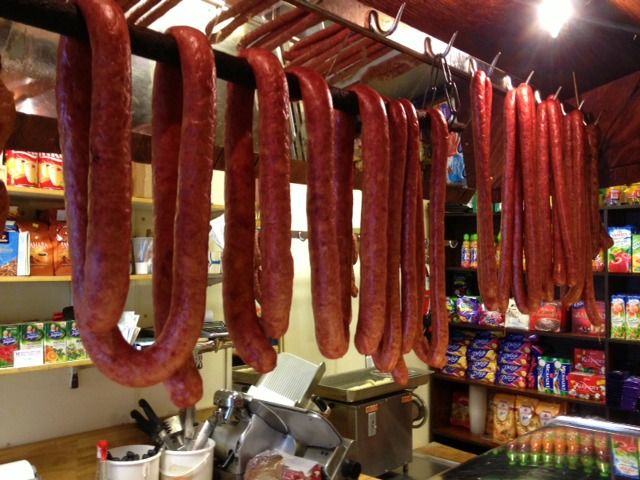 Stanley Myjak is exactly the kind of man you want to buy your sausage from; big, happy, gregarious and Polish. As co-owner of Jubilat Provisions (608 5th Ave), he and his brother-in-law, Krzysztof Kuna, have been making kielbasa and a delicious assortment of other smoked meets in our neighborhood for over 20 years.
The instant you walk in the store, and are hit the warm blanket of smoke scented air, you just know you're in for something good.  The dark smoked meat hangs in rows above an ancient counter filled with all manner of cured meats.
"If it comes from the pig, we sell it," Myjak proudly told us.
The dazzling array of tempting meat products is overwhelming at first, but don't worry, everything is good.  If you're a sausage neophyte, don't be afraid to ask questions.  The staff at Jubilat is happy to advise on just the right sausage to suit your tastes.
When he first moved to Brooklyn in 1978, there was a large Polish population in South Slope, but Myjak says he couldn't find the sausages like he enjoyed in Poland.
Taking matters into his own hands, Myjak traveled to Jersey, bought a whole pig from a famer, butchered it, and made his own sausage and ham in the basement of his home. This worked for a while, until the fire department inspectors shut him down. Rather than stop making the sausage that he loved, he and his brother-in-law decided to open Jubilat Provsions.
All of the recipes come from Poland because as Myjak says, the commercial factories go for quantity, not quality. He insists that there is too much chemistry involved in the 'new' recipes.
"From 100 pounds of meat, they get 150 pounds of sausage. I don't know what they do, but from 100 pounds of meat, after we smoke, we only have 75 pounds," said Myjak.
Jubilat Provisions is more than a meat market. It is a meeting place for people who are from the 'old country' and for people who are just discovering what the old country has to offer. It is a center of culture, and a place where you can find a taste of Poland.  A place where Polish is heard more often than English, and if you close your eyes, our guess is that you could just as well be in Kraków.