Ferry Service Plans Revealed for L Train Shutdown
WILLIAMSBURG – Last night, during a joint presentation to Community Board 1 regarding the upcoming closure of the L train and repairs to the Canarsie Tunnel, the MTA and DOT revealed a host of new information, including new details about additional ferry service during the 15-month closure.
The agencies have long mentioned a direct ferry route between the North Williamsburg ferry landing and Stuyvesant Cove. Now, more details are available.
According to the presentation, temporary ferry service during the shutdown will run 6:00 am-Midnight Sunday through Thursday, with a potential for extended hours until 2:00 am on Saturday and Sundays, pending coordination with the NYC Department of Parks and Recreation.
Some in the crowd raised concerns about safety on the boats, especially in the late hours of Friday and Saturday, citing the plurality of bars in the neighborhood—fears of drunken revelers taking a dip in the East River elicited shouts of "Man Overboard!" from attendees. Agency officials agreed safety was a concern, telling those gathered that discussions about the plan are ongoing.
The late-night ferry rides may cause additional community concerns, as the US Coast Guard requires the operators to sound their horn at each departure. (Last June, service operators Hornblower swapped out high-decibel horns for quieter ones after neighbors up and down the waterfront lodged complaints.)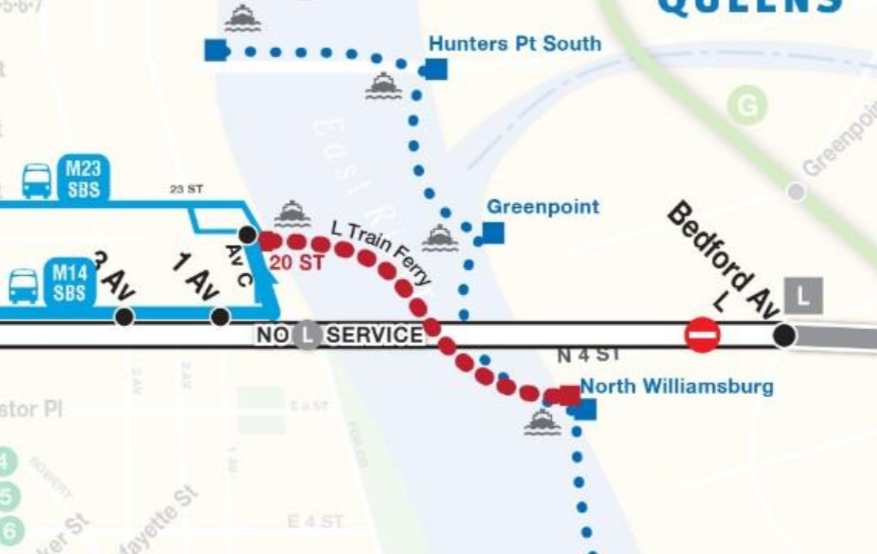 With 225,000 L train riders needing to cross the river each day, whether by boat, bus, bike or another train line, there has been a question about what kind of capacity the ferry system could muster during the shutdown, even with a direct service route.
Luckily, the MTA and DOT representatives came prepared with figures: during rush hours (which have yet to be defined), the plan is to run 8 boats per hour in each direction—one every 7.5 minutes. With a capacity of 149 passengers per boat, that means up to 1,200 riders an hour in each direction between Brooklyn and Manhattan. That's equivalent to about 22 standard buses (but only 1 L train).
Transfer to the ferries will be integrated with the M14 and M23 SBS routes, which will provide crosstown bus service on 14th and 23rd Streets in Manhattan. Riders will transfer at a temporary bus stop at Stuyvesant Cove, located at 20th Street and Avenue C.
Of course, regular East River ferry service will still be available as well, with boats running from Wall Street, at Pier 11, to DUMBO, South and North Williamsburg, Greenpoint, then Hunter's Point in Queens and finally back across to East 34th Street in Manhattan.
As the city moves inexorably towards the April 2019 shutdown, the fears of commuters have grown steadily, but the new flow of information has led to some optimism—though whether or not it's smooth sailing during the shutdown remains to be seen.