Destination: Brooklyn Grants Help Six Local Arts Groups Spread The Word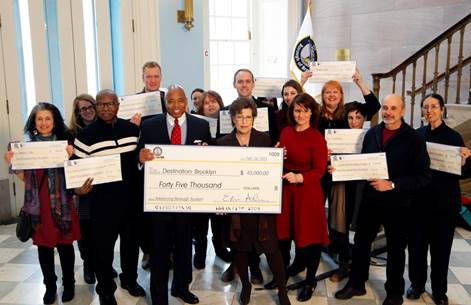 Congratulations are in order for the six local Fort Greene and Clinton Hill-area arts groups that received $1,500 mini-grants under the Destination:Brooklyn program — organized by the Brooklyn Arts Council and the Brooklyn Borough President's Office — designed to help support organizations in their tourism and outreach efforts!
In our area, the list of awardees include:
For just about all of these organizations, the funds enabled them to create promotional materials — designing and printing brochures, rack cards, theater programs and the like. In doing so, the grants also allowed these small groups to save money for things like paying actors and holding more programs.
"We used it for programming materials in January and February [and] by getting the grant, we were able to reallocate more money towards artists," said John Del Gaudio, artistic producer at the Target Margin Theater  (138 South Oxford Street). "So that opportunity is a great one for letting us focus on people and artists and making."
Rose Gorman, director of public programs for the New York Writer's Coalition (NYWC), agreed, noting that "the last time we had a new brochure made was in 2009 or 2010, so we used the grant to work with a professional designer and add updated information" about programs in health and wellness, youth and criminal justice, as well as personal stories about "writers like Najaya Royal, 18, who has been with us since she was nine years old."
"It was an opportunity for us to take a look at our history, be happy with where we are, and jump start strategic planning," Gorman explained.
For Elders Share the Arts, having updated brochures and rack cards is also key to getting the word out sooner and more effectively to senior citizens who may rely more on print, rather than online, outreach materials.
"We are a community arts organization that provides free or low-cost arts education to older adults throughout the city, in libraries, senior centers, community centers, parks and wherever seniors go," said Jenny Smith, executive director of Elders Share. "Their artwork is a great way to give elders a voice instead of letting them think their story doesn't matter. Not only does it matter, but it's vital for the community to hear. It affirms their story and passes it on."