Bedford Avenue Flooded For Four Days, City Says Homeowner Is To Blame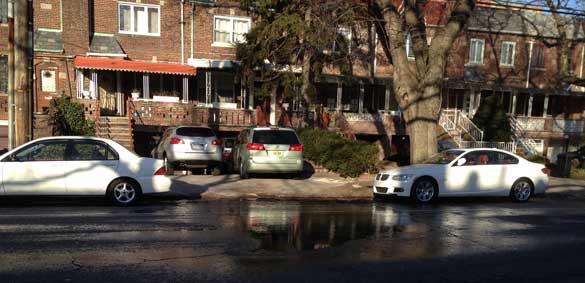 Water has been bubbling up from beneath the asphalt on Bedford Avenue for at least four days. While neighbors complain, the city says the problem is the responsibility of one local homeowner.
Neighbors initially claimed the flood was the result of a broken main, keeping Bedford Avenue between Shore Parkway and Voorhies Avenue under water since last Thursday.
Reader Andrey G. was the first reader to tell us about the flooding, and said he and his neighbors' calls to 311 have yielded nothing:
I live on Bedford Ave between Voorhies and Shore Pkwy, and I noticed water seeping through the pavement smack in the middle of Bedford Ave [on Thursday]. Two of my neighbors reported this to 311 on that same night, and so did I [Friday]. So far the City has taken no action while the amount of water flowing has increased substantially. If this keeps on going for a couple more days a sinkhole is bound to form.
That e-mail came on Saturday, and as of this morning there has been no fix, according to another tipster, Tom P.:
On Bedford Ave between Shore Pkwy and Voorhies Ave [address omitted by editor]. Water coming up from the street on the double yellow line. I reported it to 311 on Saturday and they said they would respond in 8 hours. Today still leaking a medium gusher so I called CB15 to report it again.
Threat of sinkhole or not, the city has not made any effort to make the repair themselves since they say it's the result of a broken pipe on private property.
"That particular location that you asked about is not a water main break, it's a broken service lane" belonging to one of the homeowners, a Department of Environmental Protection press officer told Sheepshead Bites. The agency visited the homeowner on Friday and served a three day notice to make the repairs. "The service line is the water line that belongs to the property, not part of the city system. It's considered private property, and [the property owner] has until tomorrow to find a permanent fix."