Crown Heights Developers Promise Expensive Condos, If No Up-zoning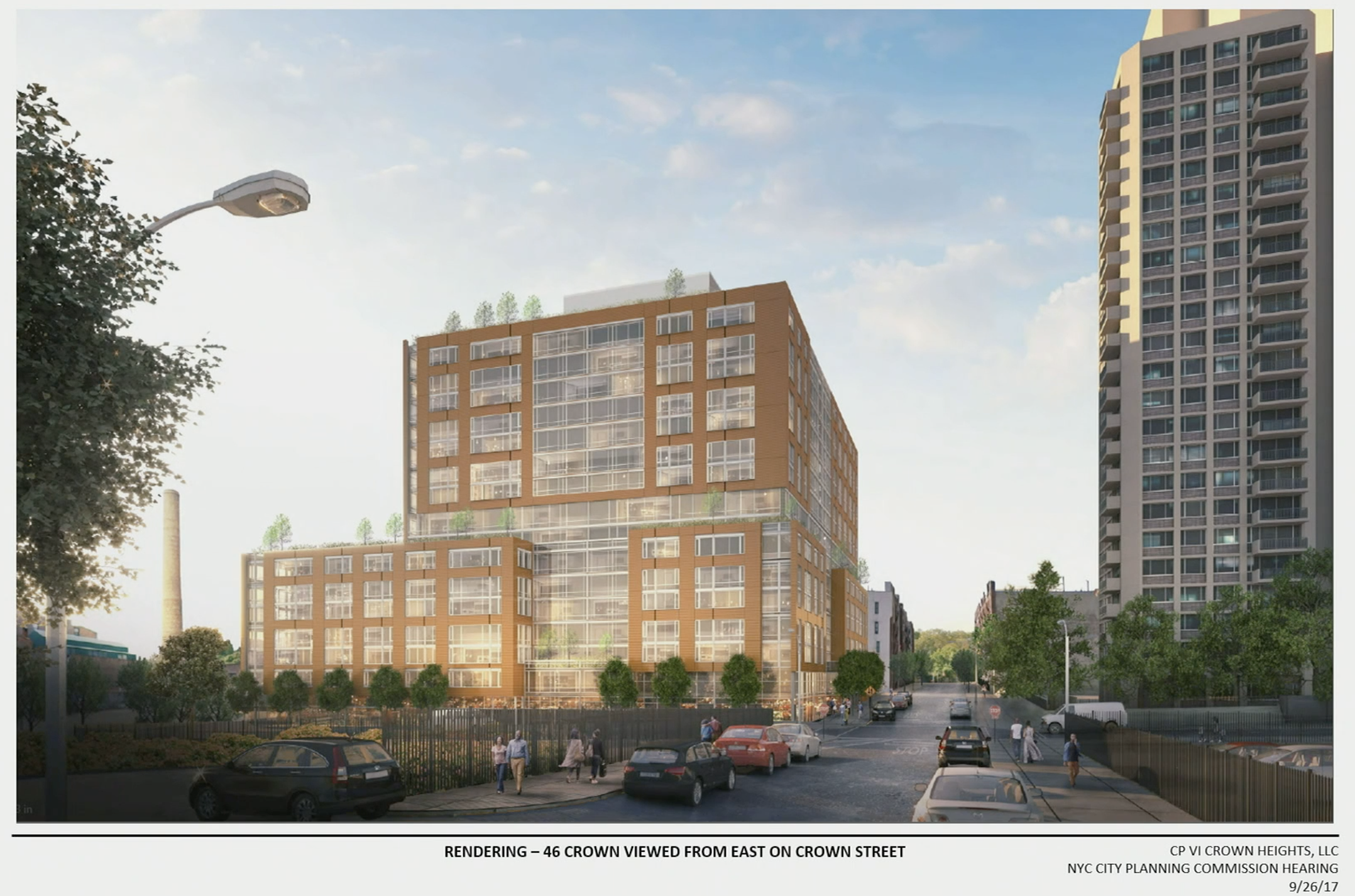 CROWN HEIGHTS – Developers looking to build a new 16-story tower off Franklin Avenue said their condo rates for a 1-bedroom apartment could start at nearly a million dollars if the project isn't upzoned.
Carmel Partners confirmed, at a City Council Land Use hearing on Thursday, November 15, they will not offer affordable units if their rezoning application is denied.  The building at 40 Crown St. would accommodate around 280 apartments—likely all condominiums— at $1,200 per square foot as of right.
"If the upzoning is not happening, we have to develop this project at its best economic use, which at this time it could be condos, even if that has a detrimental effect on the character of the neighborhood," said a representative for the developer when prompted by City Councilman Laurie Cumbo.
Condos at $1,200 per square foot would put a 575 sq. ft. one-bedroom just under $900,000, according to the developer. This is an area where 50% of residents complained of rent burden when surveyed between 2012 and 2016.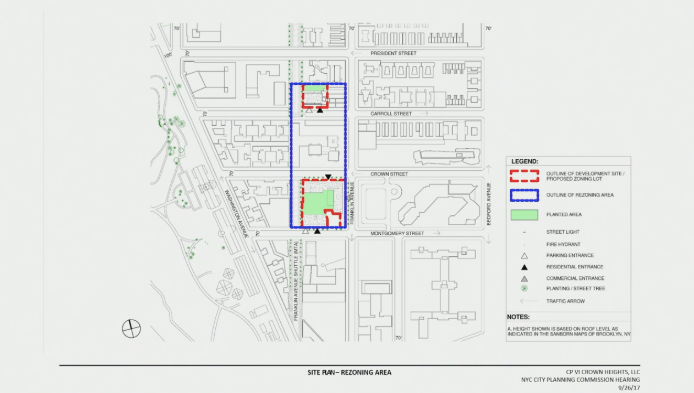 Should the city approve the rezoning project (geographical outline above), the tower would provide 518 units of which 140 would be permanently affordable under the city's Mandatory Inclusionary Housing program. Rental rates will vary.
Studio: 400 sq. ft.
1 bedroom: 575 sq. ft.
2 bedrooms: 775 sq. ft.
3 bedrooms: 950 sq. ft.
The 114 parking spaces will go exclusively to tenants with market-rate apartments.
At least three people testified against the project during the Land use meeting. Alicia Boyd, of Movement To Protect the People, argued Carmel Realty misrepresented the number of units proposed and therefore escaped an environmental impact analysis.
A representative from 32BJ which, represents doormen across the city, also opposed the project claiming Carmel Realty and its affiliates terminated service contracts at other properties.
"We find this alarming considering building service jobs are typically filled by local residents," he said.
Developers did, however, "commit to Union staffing," after Cumbo pressed for low-income retail space and local hiring.
"A project like this has the potential to be able to train, hire, employ and give the expertise that many of them will need on this job as well as many others, said Cumbo about unemployed men in the area.
Six supporters testified in favor, including Rabbi Eli Cohen of the Crown Heights Jewish Community Center and District Leader Geoffrey Davis. In passing, Davis and Alicia Boyd exchanged words during the hearing.
"Sell out," she called him.
Correction: The previous version of this article incorrectly named 40 Crown Street as 40 Franklin Avenue.