Councilman Gentile Honors Andrew Torregrossa Jr. Way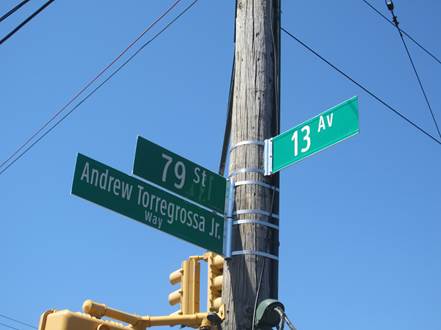 The following is a press release from the offices of Councilman Vincent Gentile:
This past Saturday, family and friends from across the tri-state area, spanning four generations, assembled at the corner of 79th Street and 13th Avenue to celebrate the renaming of "Andrew Torregrossa Jr. Way."
Since 1929, Torregrossa & Sons Funeral Home, located at 1305 79th Street, has been a family-owned and operated institution of community service, committed to serving families and caring for their loved ones during the difficult time of loss. Andrew Torregrossa Jr. built the business with his father and passed it down to his sons who own and operate the business today.
At the ceremony, Gentile along with his colleagues in government, community leaders spoke of Andrew's unrivaled dedication to his family, church and neighborhood.
"The purpose of a street renaming is to honor a person whose contribution to the community was unforgettable and everlasting," Councilman Vincent J. Gentile said. "Today, it's our chance to return the favor to a man with roots in our community like an oak tree – whose leaves and branches touched us all."
Gentile introduced the legislation to rename the corner of 79th Street and 13th Avenue after a "consummate family man, business man and important member of this community."