Council Member Lander Celebrates Bus Time Clocks, Calls for Collaboration with LinkNYC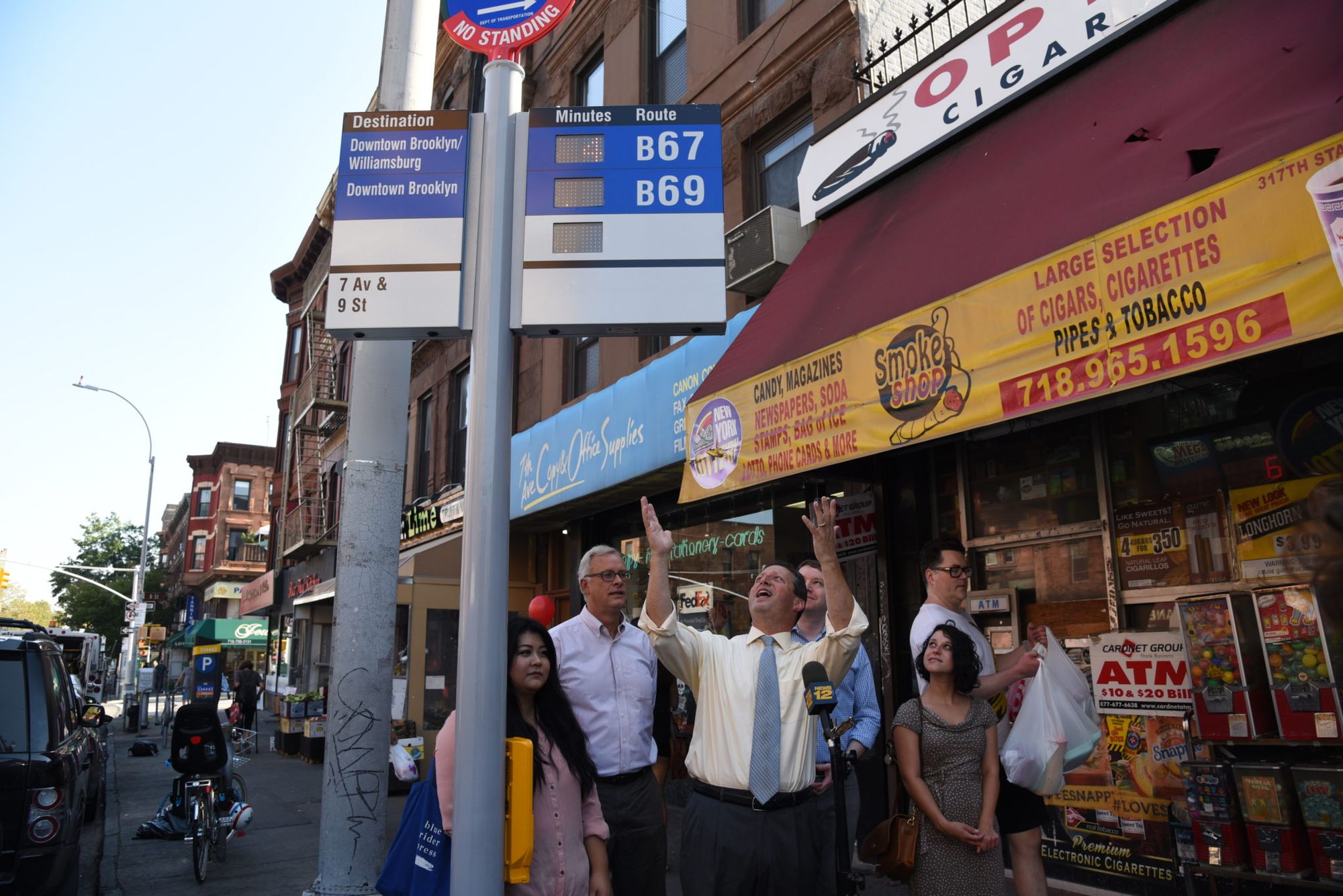 PARK SLOPE – As Bus Time clocks arrive slowly but surely in Brooklyn, Council Member Brad Lander (District 39) called for a new initiative in expanding coverage: teaming up with LinkNYC to display bus arrival information at their info terminals throughout the city.
Below the bus time clock at 7th Avenue and 9th Street, buses arrived and departed on schedule, as Lander outlined the reasons for his call to collaborate. Namely, the new bus time clock signs cost $35,000 each and there are roughly 15,000 bus stops in NYC, which presents a significant expense.
Alternately, LinkNYC stations are installed at no cost to the city. With 7,500 stations planned, they could significantly augment the installation of bus time clocks. Currently, there are more than 1,000 LinkNYC stations in the city.
Lander said that displaying bus time on LinkNYC terminals—via the MTA's Bus Time feed—would mean "no additional cost," but he did admit that there would be a "one-time effort" for the company to actually develop, program and install the app.
Council Member Lander said he has had preliminary conversations with LinkNYC about the possibility of collaborating to display bus arrival times.
Even if LinkNYC opts in to displaying bus times on their stations, Lander stressed that bus time clocks would continue to be installed at high-traffic bus stops and in places where Link terminals aren't nearby.
John Raskin, executive director of the Riders Alliance, was present as well, crediting Council Member Lander on his push for bus time clocks.
"Brad Lander actually brought us to the issue," Raskin said. "He said this is something New York City could use, and Brad was absolutely right."
About 2.5 million people ride MTA buses every weekday, Raskin said, and the biggest impact of the "slow and unreliable" service is on the low-income and elderly communities, which are the biggest users of buses.
Bus ridership is down as commuters turn to subways and for-hire or carshare services, so the new countdown clocks will let potential passengers make informed decisions about their commute timing, hopefully encouraging them to ride the bus.
During the street side press conference, passers-by remarked on how useful the new signs were. And if each $35,000 sign can convince about 12,725 additional riders to hop on board, well, they'll have almost paid for themselves.