Councilman Deletes Tweet As Jewish and Muslim Leaders Navigate Tensions
SHEEPSHEAD BAY – Council Member Chaim Deutsch deleted a tweet blaming two Muslim leaders for a recent spree of anti-Semitic incidents after Bklyner asked him to clarify his statement.
Deutsch's now-deleted tweet referred to several anti-Semitic incidents that have taken place in the last ten days in New York, including the smashed window at a Bushwick synagogue and the swastika stickers on the L Train. The tweet also added that "Anti-Semitism is on the rise worldwide. In 2018, crimes against Jews rose by 24% in NYC. Public figures like Linda Sarsour & Ilhan Omar are using their platforms to normalize anti-Semitism. The only way to fight back is by standing together."
There is no evidence that any of those despicable anti-Semitic attacks were politically motivated, or that Muslims including Sarsour and Omar were involved in any way. The tweet also tagged right-wing accounts (among others) including Ben Shapiro and Ivanka Trump. Being divisive was never the intention, his office tells Bklyner.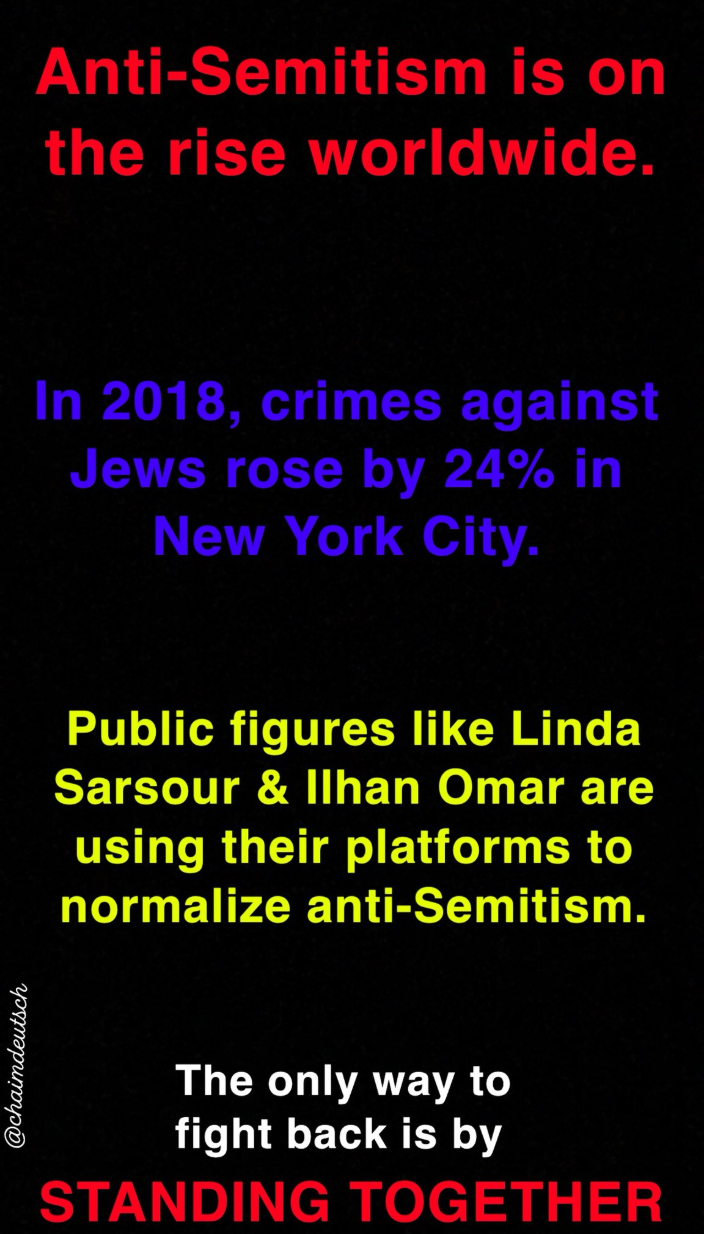 The tweet was deleted last night. His office said it was becoming divisive and causing hurt feelings, and that was just never the intention.
Carlos Menchaca expressed his concerns on Twitter, saying, "I know @lsarsour & @IlhanMN, two vocal Muslim women who also stand with the Jewish community. Instead of making accusations of anti-semitism to short circuit dialogue, let's talk. #apologize #engagehonestly #solidaridad."
He then thanked Deutsch for deleting the post and said, "It's important we engage in thoughtful dialogue as representatives of diverse communities."
"Weaponizing anti-Semitic attacks to undermine any criticism to Zionism/Israel and to attack the Muslim community is a shameful tactic of the Islamophobia industry. As a Councilman, you should be careful to not otherize part of your community, that leads to violence against them," tweeted activist Raja Abdulhaq.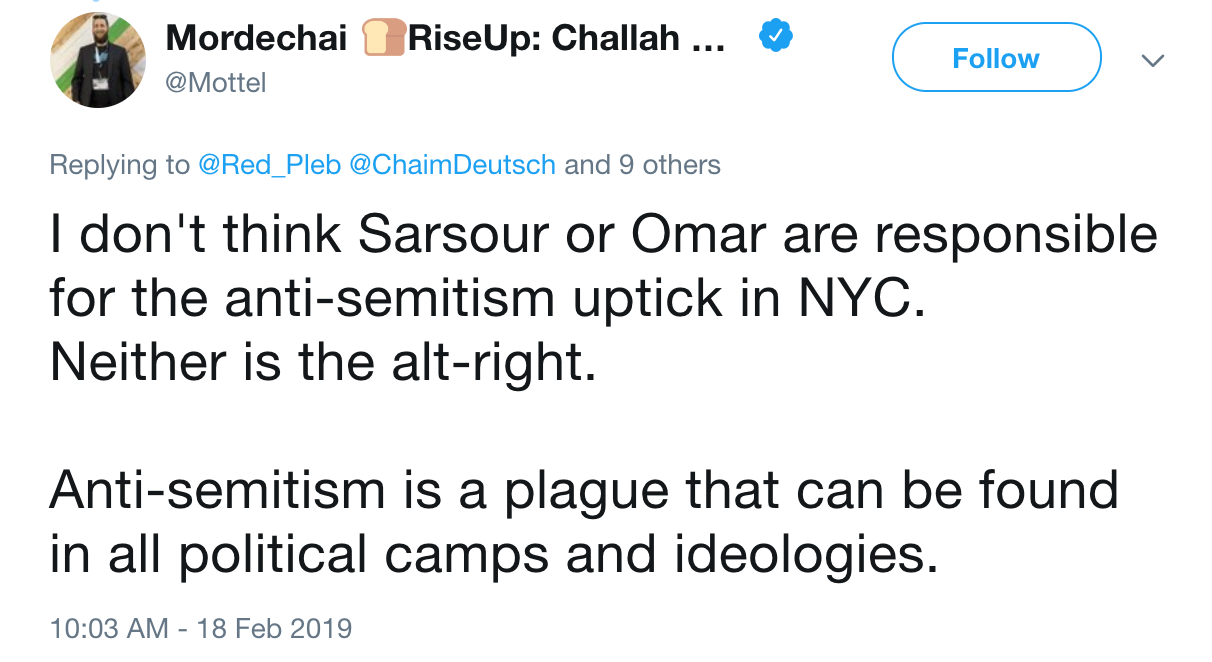 One person, Sergio Tupac Uzurin tweeted, "I've been the victim of anti semitism in NYC, and none of my assailants looks liked Sarsour or Omar."

Uzurin told Bklyner that he was in a car and drove past the Bushwick synagogue. It all became too real. When he was younger and in Maspeth, he was harassed after people found out his grandfather was Jewish.
"Seeing Deutsch's statement about hate crime statistics and then immediately connecting it to Sarsour and Omar is gross. It is not Arab women attacking Jewish people on the street in NY," Uzurin said. "He then used the Bushwick Chabad incident to deflect legitimate criticism of the state of Israel. Criticism of not just war but where our tax money goes to."
"If we are critical of a country and its policies and if we are critical of lobbying organizations, it is not mutually inclusive of its religion. For example, if I express concerns or comments on the Pakistani government and its policies and also question and comment on Pakistani American PAC, does that make me Islamophobe?" asked community activist Kashif Hussain.
"We should all be constructively questioning and commenting on any type of policies nationwide and internationally without fearing backlash and repercussion."
He said Deutsch should not have tweeted that statement relating "two well known and highly respected Muslims."
"What makes Americans great is to work collectively to address issues without taking a jab at each other. Dialogue, apologies, praises, and support win the heart," he said.
There were some who defended the council member, like Chaskel Bennett who tweeted, "When Jews are beaten in our streets & synagogues are being targeted we expect others who understand this pain, to stand with us or reserve comment. Being lectured too about weaponizing bigotry as WE pick up the glass & clean up the blood is ill timed. Tolerance is a 2 way street."
Deutsch clarified his tweet and told us his office is all about unity, not divisiveness. In fact, when asked if he was connecting the anti-Semitic attacks to Sarsour and Omar or Muslims in general, his office said no; he was in no way, shape, or form trying to insinuate that Sarsour, Omar, or any Muslims were responsible for the anti-Semitic incidents in NYC. They said Deutsch was condemning divisive language, not contributing to it. In his statement, Deutsch did not apologize.
"In response to questions on this tweet, I'd like to clarify that my comments were in direct response to the rising incidence of anti-Semitism across the city be it through violence, language or intimidation. While noting my outrage & condemnation of those hateful attacks, I also point out that hurtful & hateful language contribute to the atmosphere of divisiveness and should be avoided at all costs," Deutsch said.
"I am deeply appreciative to many colleagues & friends from across our diverse city including Islamic faith and community leaders who have reached out to express their support in the face of rising anti-Semitism in New York City. Anti-semitism is real and words of hate & bigotry must be challenged," his statement continued. "I have a long record of advocacy on behalf of all faith-based communities and I remain committed to continuing as an ally and a friend to my Muslim constituents and neighbors. I believe that standing united with people of all faiths and from all communities is the only way we can achieve tolerance here in NYC."