Cops Release New Footage Of Suspects In Brutal Midwood Mugging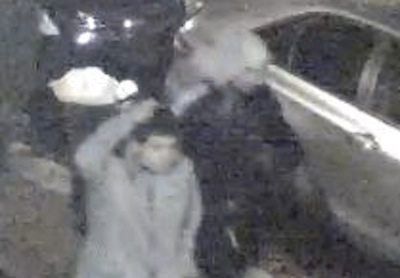 https://youtu.be/Wxn_oi8rb3s
Police have released new surveillance video of the two men believed to have assaulted and robbed a 55-year-old Jewish man on a Midwood sidewalk early Monday morning.
The NYPD could not immediately provide further details about where the new footage was taken, but it shows the two suspects exiting a black car and then walking together on the sidewalk. The timestamp on the video signals the footage was taken within minutes of the attack.
Police describe both suspects as light-skinned men with thin builds. They are wearing hooded sweatshirts in the video.
According to the NYPD, the attack occurred on Avenue M, near East 8th Street, at 12:48 Monday morning, when one of the suspects shoved the unsuspecting victim headlong into a car and then punched him repeatedly in the face. Video of the attack, first published by JP Updates, shows another robber join the attack and both suspects begin to riffle through the victim's pockets.
https://youtu.be/0nUQ_5tdOyg
Police say the attackers made off with the man's wallet, which contained credit cards.
The victim suffered cuts and bruises to his head, knees and hands and was treated at Maimonides Hospital, according to the NYPD.
Local elected officials expressed outrage at the brutality of the crime and have offered cash rewards for information leading to an arrest of the two attackers.
"This is a shockingly brutal robbery in the heart of our Midwood community. It is heartbreaking that, especially during the holiday season, outrageous crimes like this are happening in our very own backyard," City Councilman David Greenfield said in a press release announcing a $1,000 reward.
Assemblyman Dov Hikind and State Senator Simcha Felder have also offered a $3,000 reward and the Bay Democrats are also offering $1,000 to tipster who help catch the attackers.
Anyone with information is asked to call the NYPD's Crime Stoppers hotline at 800-577-TIPS. The public can also submit their tips by logging onto the Crime Stoppers website or by texting their tips to 274637 (CRIMES) and then entering TIP577.