Controversial Development Site Up For Sale, Project May Be Nixed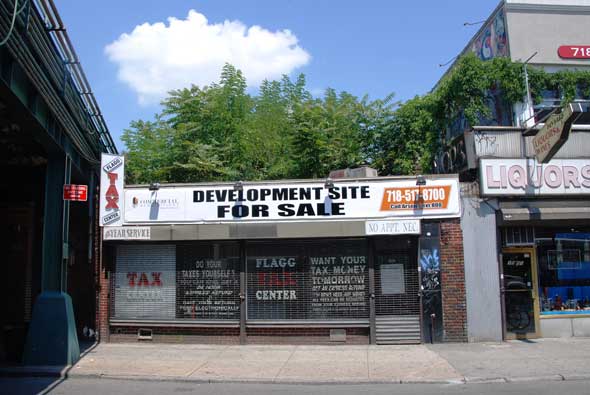 A proposed nine-story development may be nixed as the site goes up for sale, giving a sign of hope to opponents who were outraged that the plan's 101 parking garage would create a traffic nightmare for the area.
For sale signs went up at 1501 Sheepshead Bay Road recently, and representatives of the property have confirmed to Sheepshead Bites that plans are now up in the air. The original plans called for a 115-foot building wedged into a narrow strip of land abutting the train tracks and existing buildings, running all the way from Sheepshead Bay Road to Avenue Z.
"The property is for sale because the owners have another opportunity at another location and can't proceed with two constructions at the same time," said broker Arsen Atbashyan, who represents the property.
Atbashyan is marketing the site for $2.8 million with approximately 31,400 square feet to build upon. But the community shouldn't be sounding the all-clear yet – the lot comes with partially approved designs for an eight- or nine-story building. And the spark for outrage, the 101 car garage with an entrance-exit on a congested strip of Avenue Z that's also home to a bus stop, continues to exist.
Still, the new plans show a reduction in the garage size from four floors to two, and it's unclear if the architect, Robert Palermo, who created the original design, will be involved in the project.
"[Architects] are a little gun-shy of that," Palermo said. "We're not going to represent an unknown seller. So, I think, at this point, we're not really part of the package."
Palermo had originally designed the property to be a ground-level retail establishment, four stories of office/medical space, and a four-level freight-elevator garage. When the property owners came before Community Board 15 for two special permits – one to reduce the number of required parking spaces, and the other to legalize a nearby property at 1401 Sheepshead Bay Road by using the new building to accomodate the other's legal parking needs – the board and local leaders bashed the plans, and voted against issuing the permits.
Now that the project may soon be in someone else's hands, and the garage appears to be scaled down, critics are breathing a small sigh of relief.
"The proposed development of these properties was a threat to the quality of life of the residents of this community," said Assemblyman Steven Cymbrowitz, who was a vocal opponent of the plan. "While I am happy that the developer may have decided not to proceed with his ill conceived and community-damaging project, my concern now shifts to what will be built on this site and how will the developer … will fulfill this other property's legal requirement to provide off-street parking spaces. I plan to remain vigilant."