Controversial Civic Virtue Statue Moving to Green-Wood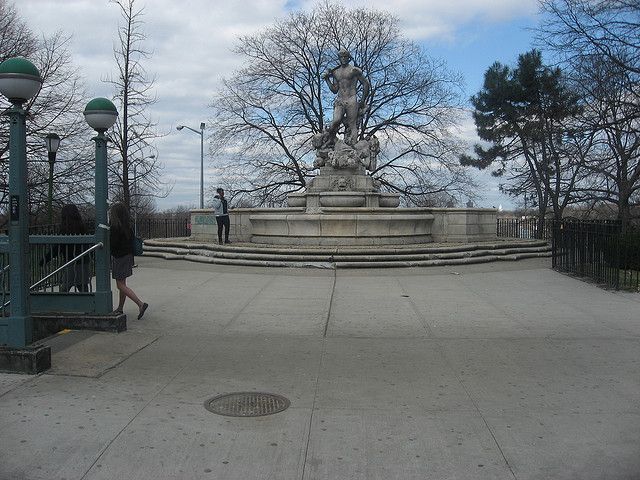 The most traveled statue in NYC will soon be settling down in Green-Wood Cemetery.
Designed in 1920 by Frederick MacMonnies as an allegory of virtue over vice, the statue, which made its debut at City Hall during the height of the women's suffrage movement, faced criticism from day one.
Depicted as two female serpents, Vice winds around the feet of a muscular man, Virtue. Cries of sexism were instantaneous. The League of Women Voters, who unsurprisingly failed to see the allegorical side of MacMonnies work, told the New York TImes in 1922 that, "in this age, woman should be placed not below man, but side by side with him in any representation of civic virtue."
Perhaps due to its inhospitable welcome, disdain followed Civic Virtue into the modern world. Queens Borough Presidents Claire Shulman and Helen Marshall have both sought to have the statue removed from its current home in Kew Gardens. Former Representative Anthony Weiner also spoke out against the sculpture, saying that the, "allegory grew out of a sexist notion."
It should be noted that not everyone in Queens is against Civic Virture. Queens Community Board 9 has been fighting for years to have the statue restored, but faced resistance from government officials. Additionally, the group, Triumph of Civic Virtue, has campaigned for the sculpture's restoration and hoped to kindle Kew Gardens interest in keeping the work in place.
It does appear, however, that critics have finally received their wish. Quietly approved on November 13 by the Design Commission, Civic Virtue is now on "long-term loan" to Green-Wood Cemetery, and will reportedly reside on Jasmine and Garland Avenues.
What do you think, South Slope? Is Civic Virtue a representation of pervasive sexism or a misunderstood work of art? Let us know in the comments.
Photos via Rego-Forest Preservation Council