Congressman Michael Grimm's Fraud Trial To Begin In December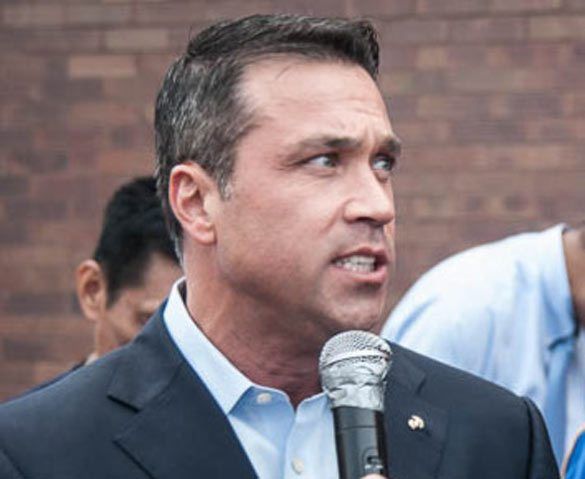 Congressman Michael Grimm's trial on fraud and tax evasion charges is set to begin on December 1 after a federal judge yesterday denied a request from the lawmaker's defense team to delay it.
The trial will take place after the November election, but not long enough after it to satisfy Grimm's defense who worry the jury will be tainted by campaign ads focused on the pol's alleged misdeeds.
Capital New York reports:
"We're obviously in the heart of an election cycle right now," Jeffrey Neiman, an attorney representing Grimm, told the court. He noted that the DCCC has begun featuring ads attacking Grimm that showcase his corruption trial, including a new one that began airing locally yesterday, which includes a clip of U.S. Attorney Loretta Lynch announcing the 20-count indictment against Grimm.
"We're concerned about ensuring Mr. Grimm has a fair trial, and if the jury sees these repeated ads, we're concerned that there may be prejudice," Neiman said, asking for "a bit of a cooling-off period post-election" that he said would "more than ensure a fair trial for Mr. Grimm."
Neiman requested a one month postponement, but the judge assured him that the court was capable of ensuring a fair trial for a high-profile defendant.
Grimm was slapped with a 20-count indictment for tax evasion, fraud, conspiracy and illegal hiring practices earlier this year, all in connection to an Upper East Side restaurant he once owned. The pol has denied wrongdoing.
Long before those charges, the congressman was dogged by probes of his fundraising for the 2010 campaign. While no charges were filed against the pol, two associates including an ex-girlfriend face charges.
Diana Durand, the reported former flame, is accused of using straw donors to steer more than $10,000 in illegal donations to Grimm. She is scheduled to enter a plea deal in court today.
Grimm faces a challenge from former councilman Domenic Recchia, who is trouncing the incumbent in fundraising with help from national Democrats.